Caterpillar (NYSE:CAT) is a market behemoth, which has recently been very ill. The recent quarterly report was a sheer disappointment for the company's shareholders:
Revenues have fallen by 26% to $9.5B since $12.7B in Q1 2015.
Operating income has decreased by 71% to $494M.
Earnings per share were $0.46 in Q1 2016 compared to $2.03 in Q1 2015.
Cash flows from operations, which show cash inflows the company receives from its key businesses, have declined from $1.27B to $489M. This decrease was caused by falling demand for the company's products and services and high SG&A expenses.
Caterpillar has recently frozen its dividends at $0.77 per share. Despite being a positive signal for the market, the dividends will still eat into the company's cash flows. I think that the company may have to borrow money to keep paying dividends and will therefore increase its existing debt load.
Nevertheless, I see four positive catalysts that will cause an increase in the company's valuation in the short-term.
1. The weakening of the Japanese Yen
From the currency standpoint, many companies, especially the US corporates, have been suffering from FX swings lately. Strong US dollar is to blame in this case. In Q1 2015, the company announced that JPY and EUR have had major impacts on its profitability. When JPY and EUR decline in value relative to US dollar, the company sees weakness in the top line. However, when we look at Caterpillar's expenses, we see that weak JPY cuts dollar-denominated expenses because a lot of manufacturing is done outside of USA, particularly, in Japan. Subsequently, when the costs are down, operating profits are up. The key point here is to determine which of the two factors has a greater impact on the bottom line. In either case, the currency headwinds are not uniformly detrimental to company's financials.
2.The recovery in the oil & gas sector
It is evident that the energy sector has been weakening for a while, and Caterpillar has seen its numbers decline in tandem with it. However, I have reasons to believe that the energy sector will gradually recover in the next few years. When this happens, Caterpillar's O&G customers will resume its business relationships with the company and will start spending more on capital projects. This will undoubtedly have a positive impact on the company's numbers.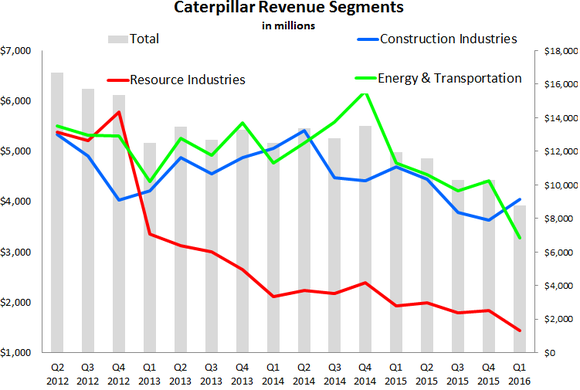 (Source: Fool.com)
3."Internet Of Things"
Internet of things is "the new thing", which can help companies substantially decrease costs. If a company can successfully implement this technology, it can surely gain competitive advantage in its market. Caterpillar is looking at this new technology, determined that there are many places in the business structure where it can be implemented. Theendgoalistoincreasethecompany'svaluation.
There are couple place where this technology can greatly benefit Caterpillar. First, the company can use IoT to control machinery from distance. This is definitely going to help the company save on SG&A. Secondly, this technology can help gather precise data on direct costs, which can be used to further fine tune business processes. 
4. Optimizing human capital
Caterpillar has recently made a decision to cut jobs in order to boost cash flows and increase margins in the short-term. To do that, it closed five factories in the US and slashed 820 positions. Restructuring is another way to have a lasting positive effect on the company's financial health. It is estimated that Caterpillar will spend about $550M on restructuring activities in 2016.
Conclusion
I think that Caterpillar's shares will be in the downtrend in the near term (it is likely that this will continue through the year-end). Nevertheless, Caterpillar is a great dividend stock – it has been paying dividends since 1933 and has been continuously increasing them up until recently. In my opinion, the stock has hit the rock bottom and should start recovering in the mid-term.