National Oilwell Varco Inc (NOV), the largest U.S. oilfield equipment maker, said it would cut its quarterly dividend to 5 cents per share from 46 cents, as it struggles to cope with a prolonged slump in oil prices. its shares closed down 6.1% at $27.32.
The company cut its quarterly dividend by 89%, saying that market conditions continued to deteriorate through the first quarter.
A prolonged oil price slump, of more than 60% since its peak in 2014, has forced many companies to slash or scrap dividends, lay off employees and cut executive pay.
The dividend cut was expected to improve future net cash flow by about $615 million per year, Chief Executive Clay Williams said in a statement on Monday.
The company forecast a 20% fall in first-quarter revenue from the fourth quarter. This would imply a first-quarter revenue of about $2.16 billion, based on fourth-quarter revenue of $2.70 billion.
National Oilwell, which laid off more than 21% of its employees in 2015, said in February that the oil price slump would weigh on its order book for the "foreseeable future" as customers clamp down on spending.
Oil <!== INSTRUMENT %% %1440% ==!>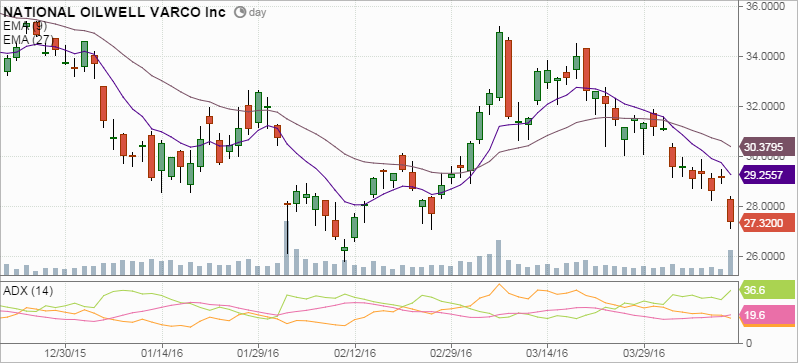 is not falling, so it may be a good trade today to buy a bounce.