NEW YORK (TheStreet) -- Shares of Campbell Soup (CPB) were down in pre-market trading on Thursday after posting lower-than-expected earnings for the 2016 fourth quarter and issuing weak fiscal 2017 guidance.
Before the market open, the Camden, NJ-based food maker reported adjusted earnings of 46 cents per share, lower than analysts' estimates of 50 cents per share.
Revenue of $1.69 billion was in line with analysts' projections.
CEO Denise Morrison said she is "not pleased" with the results.
"While we have made progress, we recognize we need to deliver sales growth - and it remains a top priority," she added in a statement.
For fiscal 2017, the company expects to report adjusted per-share earnings between $3 and $3.09, while analysts are looking for per-share earnings of $3.14. Campbell Soup expects revenue to grow between 0% and 1% for the year.
But the board increased its quarterly dividend by 12% to 35 cents per share to reflect its "confidence in our long-term growth prospects and strong profit performance this year," according to a company statement. The dividend will be payable on October 31 to shareholders of record as of October 12. (More on TheStreet.com) 
Let's take a look at the chart:
CPB daily chart 9/1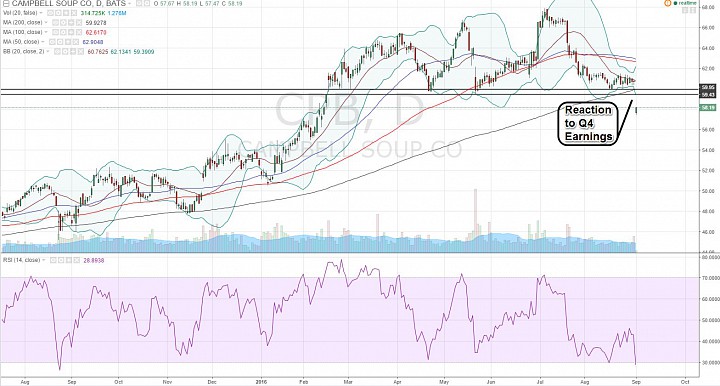 (click to enlarge)

Price top:
- We can see that price has been consolidating since February. 
- Although price was making higher highs, the lows key coming down to the 59.40-60 area, which became a critical support.
- The reaction to the Q4 earnings report dragged CPB below this critical support, thus completing a price top.
Price gap:
- There is a price gap because the reaction occurred after hours (after the 8/31 session).
- With the RSI at oversold levels, we might see a pullback.
- If we do see a pullback, it will be important what happens in around 60.
- We should expect price to find resistance at 60, no higher than 61, if we are to anticipate further downside.
Above 62:
- I think a rally above 62 would suggest today's reaction to be a false break, which could translate into a bullish continuation scenario.
Downside risk:
- If CPB does find resistance at 60, or even 61, then there should be downside risk towards at least the 55 support/resistance pivot. 
- With such a large price top, the bearish momentum can carry CPB down to 50, or the low on the year around 50.50. 

Basically we can look for the market to shave off 15% or so from 60.00.