A day after China reported another month of disappointing trade data, overnight it confirmed that all that communist talk of "recovery", and "for make benefit glorious concept of central planning" is hot air when overnight not only its CPI missed, rising just 1.3% and below the 1.5% expected, but PPI tumbled by -5.9%, which was the 44th (!) consecutive month of declines and at the current accelerating pace, China may have another 44 months of gate deflation before anything improves.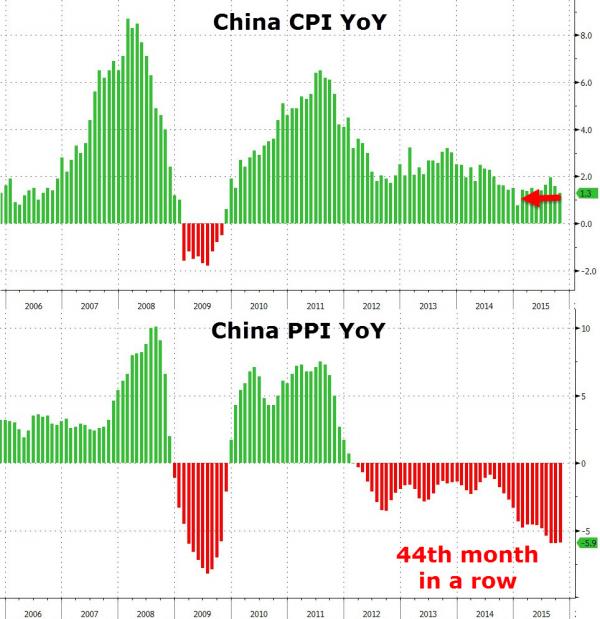 And with both trade weak, and inflation disappointing, it meant one thing: demand for industrial metals was slumping, leading to another day of tumbling prices overnight, led by nickel...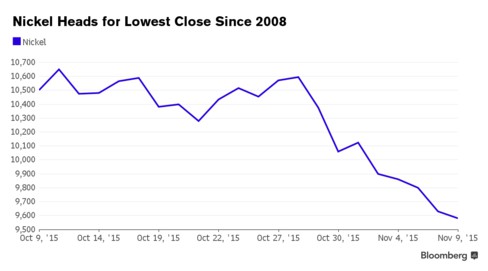 ... and copper, both of which dropped to their lowest levels since before 2010.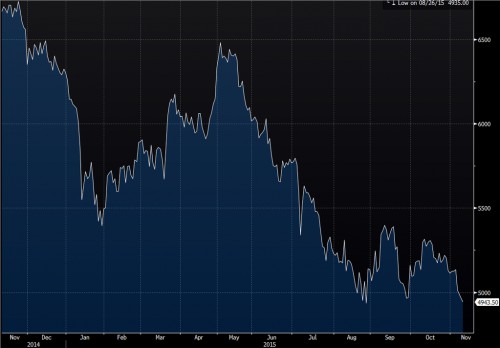 It would appear all those Glencore copper production cuts didn't do anything after all, just as predicted.
Stocks, however, were a different matter and more bad news out of China's economy is just what the market wanted at least initially, and resulting in the following Bloomberg headline: China Deflation Threat Gives PBOC Room for More Monetary Easing. However, it appears the latest bad news wasn't bad enough as the Composite failed to continue its 4-day winning streak, and closing down fractionally just 0.2% on the session, despite expectations of another imminent stimulus from someone.
Mockery of central planning aside, the ongoing failure of China to achieve any stabilization in its economy, after already cutting interest rates six times in the past year, and the prospect of a U.S. interest rate hike in December, had made markets increasingly jittery and worried which is not only why the S&P 500 Index had its biggest drop in a month, but thanks to the soaring dollar emerging market stocks are falling for a fourth day - led by China - bringing their decline in that period to almost 4 percent, and the global stock index down for a 5th consecutive day.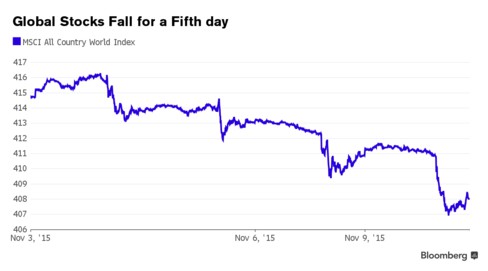 Elsewhere in Asia, Asian equity markets traded mostly lower following the lacklustre close on Wall St. which saw the worst intraday decline in a month, amid fears over a Fed December rate hike coupled with the OECD downgrading their global growth forecast. The Shanghai Comp. (-0.1%) fluctuated between gains and losses amid increased speculation of further easing after the latest Chinese CPI figure printed a 5-month low, signalling concerns of slowing demand in China. Hang Seng (-1.4%) was weighed on by weakness in casino names after Wells Fargo cut Macau's November gaming gross revenue guidance. Nikkei 225 (+0.2%) has seen a relatively mixed session, tracking the fluctuations in Chinese stocks with modest support provided by the healthcare sector. 10yr JGBs traded higher amid risk-off sentiment which prompted inflows into Japanese paper.
Asia Wrap:
MSCI Asia Pacific down 0.7% to 133
Nikkei 225 up 0.1% to 19671
Hang Seng down 1.4% to 22402
Shanghai Composite down 0.2% to 3640
S&P/ASX 200 down 0.4% to 5099
Key Asain News:
Tencent Profit Rises to Record as Online Gaming Lures Users: 3Q net income 7.45b yuan vs est. 7.51b yuan
Aussie Business Loan Bonanza as Bank Margins Slide May Stall RBA: Borrowing rates for corporates have dropped by at least 57 basis points since Jan.
Short Sellers' No. 1 Target Is Surging in Hong Kong as CEO Buys: Shrs of China Huishan Dairy have soared 90% since early Jul., despite highest level of short interest in HK and analyst price targets implying 46% tumble over next 12- mos.
Morgan Stanley Sees BOJ Shift in Easing Methods as Bonds Run Out: BoJ will be forced to change its stimulus strategy as soon as next autumn as it runs out of gov't debt to buy from market, Robert Feldman said
In Europe, equities (Euro Stoxx -0.36%) have continued the trend set in the US and Asia and reside in negative territory , led higher initially by stock specific gains, but subsequently led lower by the materials and energy sectors. The aforementioned sectors have underperformed as a result of disappointing data out of China, as highlighted by the latest CPI and PPI data overnight . The FTSE 100 (-0.35%%) underperforms in Europe, weighed upon by mining names, after Barclays downgraded both BHP Biliton (-1.4%) and the sector as a whole. Telecoms is the outperforming sector after Vodafone (+4.2%) reported positive earnings including organic service growth of 1.2% for the quarter, beating expectations. Utilities is the second best performing sector, coming off the back of National Grid's (+1.8%) announcement that it has begun the process for its stake sale in the UK's gas grid. The pharma heavy CAC 40 (-0.37%) outperforms its major counterparts in Europe, as a flight to quality ensues.
Fixed income has trended higher, with Bunds supported by the growing consensus suggested by source comments yesterday that some members of the ECB are pushing for a larger than 10bps depo cut as they think that 10bps is already priced in.
European Wrap:
Stoxx 600 down 0.4% to 374
FTSE 100 down 0.4% to 6272
DAX down 0.5% to 10766
German 10Yr yield down 3bps to 0.63%
Italian 10Yr yield down 5bps to 1.7%
Spanish 10Yr yield down 6bps to 1.9%
S&P GSCI Index up 0.3% to 351.9
European Top News:
ABN Amro Seeks Up to $4.6 Billion in IPO as State Cuts Stake: Dutch govt is selling a 23% stake in ABN at EU16- EU20/shr, valuing the co. at >EU18.8b at the high end of the range
Portuguese Premier Set to Be Ousted as Socialists Eye Power: Loose alliance of Portuguese opposition parties poised to vote PM Coelho's govt out of power on Tuesday
Asda Calls Time on Black Friday as U.K. Turns Back on U.S. Rite: Instead of having customers line up all night for a limited number of heavily discounted items, Asda plans to cut prices by GBP26m across the season
FX markets have remained quiet amid no tier one data releases from Europe . Price action continues to be subdued in the wake of NFP report last Friday, with the USD remaining firm as FFR futures are now pricing in a 70% probability of a fed rate hike at the December meeting. As such, USD/JPY continues to trade above the 123.00 handle. EUR/USD now trades in negative territory however, with hawkish comments by ECB's Weidmann failing to bolster EUR.
The commodity complex remains quiet for the session with WTI and Brent trading flat, with precious metals continuing to be maintained in range by the firmer USD and industrial metals being weighed upon by the aforementioned weak Chinese inflation data overnight.
Looking ahead data is light on the US calendar, with Import Prices and Wholesale Inventories at 8:30 and 10:00 am respecitvely, and a 10Y auction at 1pm; we are expecting comments from ECB's Coeure, BoE's Cunliffe and Fed's Evan's.
Top News:
China Deflation Threat Gives PBOC Room for More Monetary Easing: Consumer price index rose 1.3% in Oct. from yr earlier, missing the 1.5% median est.
ECB Faces Three Suits Over Quantitative Easing in German Court: EU1.1 trillion asset-purchase program the target of lawsuits pending in Germany's top constitutional court that challenge the country's role in the policy
Obama Immigration Plan Stymied as States Win Again on Appeal: Court refuses to let program begin while 26 states fight to derail it
Battle for Asciano Intensifies as Qube Makes Counteroffer: Qube and its North American backers made a A$9b counteroffer for Asciano, rivaling bid from Brookfield Asset Management
Synchrony Financial Will Be Added to S&P 500, Replacing Genworth: Genworth will take Rovi's place in S&P MidCap 400
Goldman Sachs Sees 60% Chance U.S. Expansion Lives to See Ten: U.S. economic upswing now the 5th longest since 1900
Loomis Avoids Treasuries on View Fed to Lift Rates Twice by June: Loomis Sayles portfolio manager Matt Eagan predicts Fed will raise interest rates in Dec. and again in June
Gundlach Says December Rate Increase a Threat to Stocks, Bonds: Would potentially drive up the value of the dollar to the point where it weakens the economy, Jeffrey Gundlach, CEO of DoubleLine Capital, said late yday on call with investors
Vodafone Service Revenue Beats Estimates on Europe Recovery: 2Q organic service rev. growth 1.2% vs est. 0.8%, boosts lower end of FY2015/2016 Ebitda range
VW Starts Talks to Win Worker Backing for Post-Scandal Cutbacks: Two sides sought to present a unified front after a daylong board meeting on Monday, saying they're starting 10 days of talks
Bulletin Headline Summary from Bloomberg adn RanSquawk
Treasuries gain for first time in over a week after weaker than expected Chinese inflation data sparked global stock selloff; quarterly refunding continues with $24b 10Y, WI 2.305%, highest since June, vs. 2.066% in Oct.
China's CPI rose 1.3% in October from a year earlier, below 1.5% median forecast in Bloomberg survey; producer prices fell 5.9%, its 44th straight monthly decline
China's giant banks got a nine-year breather to issue the securities they need to meet standards for loss absorbency laid down by the FSB, an acknowledgment of the challenge this implies for the largely deposit-funded lenders.   
The EC has proposed that the EU's overhaul of financial markets regulation -- MiFID II -- be delayed by a year, according to the European Parliament's lead rapporteur on the dossier, Markus Ferber
German politicians who failed in previous attempts to have courts derail EU monetary policy filed lawsuits at the country's top court challenging the ECB's EU1.1t asset- purchase program
Obama's plan to shield more than 5m undocumented immigrants from deportation before he leaves office was dealt another blow by an appeals court's refusal to let the program begin while 26 states fight to derail it
A London judge ruled former Deutsche Bank AG trader Christian Bittar was improperly identified in a regulatory sanction notice against the bank over Libor in a significant setback for the Financial Conduct Authority
In a speech today, U.K.'s David Cameron outlined for key demands for reforms as he seems to keep Britain in the EU; U.K. Independence Party leader Nigel Farage said speech shows there is no major renegotiation and there should be no delay in holding a referendum on membership
Chinese police slapped a two-year freeze on more than $670m of shares owned by the mother of Xu Xiang, the Shanghai hedge fund boss under investigation for alleged insider trading and stock manipulation
$16.95b IG priced yesterday, $1.08b HY. BofAML Corporate Master Index OAS holds at +161, YTD range 180/129. High Yield Master II OAS widens 4bp to +594, YTD range 683/438
Sovereign 10Y bond yields lower. Asian, European stocks fall, U.S. equity-index futures decline. Crude oil gains, gold little changed. copper falls
US Event Calendar
6:00am: NFIB Small Business Optimism, Oct., est. 96.5 (prior 96.1)
8:30am: Import Price Index m/m, Oct., est. -0.1% (prior -0.1%)

Import Price Index y/y, Oct., est. -9.4% (prior -10.7%)

10:00am: Wholesale Inventories, Sept., est. 0% (prior 0.1%)

Wholesale Sales, Sept., est. -0.1% (prior -1%)

1:00pm: U.S. to sell $24b 10Y notes
Central Banks
3:05pm: Reserve Bank of New Zealand's Wheeler holds news conference in Wellington
5:15pm: Fed's Evans speaks in Chicago
DB's Jim Reid completes the overnight wrap
It's straight to China this morning where soft inflation data is dominating the headlines. CPI in the month of October was -0.3% mom, the first monthly decline in prices since May. That's seen the YoY rate fall to +1.3% (vs. +1.5% expected) following a +1.6% reading in September with food prices in particular appearing to be a large contributor to the decline having fallen to 1.9% yoy from 2.7% yoy in the month prior. Prices at the factory gate continue to remain under pressure meanwhile with PPI of -5.9% as expected and unchanged from last month, marking the 44th straight monthly decline.
Chinese equity markets had initially fallen as much as 1% immediately following the data, only to then rebound and trade as much as +0.5%, but have since declined again following the midday break with the Shanghai Comp and CSI 300 both down -0.41%. The Nikkei is +0.08% while the Hang Seng -1.27%, Kospi -1.50% and ASX -0.40% have fallen and base metals have all sold off following the data. US equity markets are a touch firmer while Oil markets are half a percent stronger after the International Energy Agency forecasted that supply outside of OPEC is set to stop growth by 2020.
Friday's strong US employment report and subsequent Fed rate hike re-pricing dominated much of the tone in markets again yesterday as risk assets starting the week on the back foot with the S&P 500 retreating -0.98%, Dow closing -1.00% and European equity markets down a bit more. The OECD added to the softer tone, joining the IMF in cutting its growth forecast for this year (2.9% from 3.0% previously) and next year (3.3% from 3.6% previously). Meanwhile, Oil markets slid through the afternoon session with WTI eventually closing the session -0.95%, its sixth consecutive down day. Treasury yields nudged a bit higher, the 10y eventually closing up +1.8bps at 2.344%. Credit markets weakened with CDX IG a couple of basis points wider but again the primary market shrugged off any concern as 11 issuers were out with new deals in the US, with nearly $17bn of bonds getting priced. Estimates for supply this week are running at around $25-$30bn.
Yesterday's Fedspeak didn't offer a whole lot of new information. Chicago Fed President Evans said that he is not predisposed against liftoff in December while the Boston Fed President Rosengren said that all future meetings, including December's, could be an 'appropriate time for raising rates' should the economy continue to improve as expected. Like his Fed colleagues, Rosengren also highlighted that he prefers a path that involves only a gradual increase in interest rates.
So given the renewed focus on the higher probability of a Fed rate hike we thought it was worth re-highlighting this year's Long-Term Study (Scaling the Peaks – 07/09/2015 -http://pull.db-gmresearch.com/p/6523-08FD/52242465/LT_Study.pdf) where we looked at the impact of Fed hikes on various financial and economic indicators using 12 hiking cycles since 1950. The results are on pages 10-14 of the document with data from the first hike in the cycle on page 11. Generally the results emphasize the traditional lag of monetary policy on financial and economic variables.
If we look at the first hike in the cycle, real GDP growth has tended to steadily climb into the move and then actually accelerate in the half-year afterwards. From 6 months to three years after, the pace of growth incrementally slows as the long lag of monetary policy and subsequent rate hikes bite. For equities performance in the 6 months before the first hike and 6 months after are fairly similar. It does seem though that there is a trend for equity returns to stall 12-24 months after the first hike which again perhaps reflects the lag in monetary policy. For credit spreads, we see tightening for around 12 months after the first hike. However after this for the next two years this tightening is fully and progressively reversed hinting again at the lag.
While we think there are good reasons to think this cycle is different to the last twelve it's a useful reminder that we may not know the consequences of any imminent Fed move until maybe 2017. We have a bias to believe that a rate hike now would be a policy error mainly because global growth and inflation are so low that you risk activity tipping over into a recession in say 2017. Clearly a lot can happen between now and then but that's our current thinking.
Moving on, the Euro was under some pressure yesterday following a report released by Reuters suggesting that the ECB was considering more aggressive easing (relative to market expectations) in December. The article, quoting four governing council members, suggested that a consensus is forming at the ECB to move the deposit rate further into negative territory at the December meeting, although the article noting that the move might be even greater than the 10bp cut currently expected by markets according to the policymakers. Interestingly the article quoted one Governing Council member as going so far as to say that 'there is no bottom to the deposit rate in the near term' and that 'it could be lowered quite sharply still'. The Euro was off as much as -0.6% from the day's highs but closed pretty much unchanged. 10y Bund yields ended down just over 3bps in at 0.660%. The same couldn't be said for yields in the periphery however as political headlines dominated markets there.
Portuguese government bond yields moved quite sharply wider yesterday (10yr +16bps) as the main opposition Socialist party reached an agreement with radical-left parties over the weekend. This makes it almost certain that the minority centre-right government will be defeated – a no confidence vote is expected on Tuesday – and increases the likelihood of a leftist government outcome. Although the Socialists' revised economic programme remains moderate, our economists expect stasis on the structural front with risks tilted towards greater fiscal slippage.
Spanish government bond yields also increased (by a lesser +4bps in 10yrs) as the Catalan pro-independence parties approved in the Catalan Parliament a resolution to begin working on a separate social security system and treasury with the aim to secure independence as early as 2017. This is not a surprise. The pro-independence parties come from a very heterogeneous political spectrum. Hence, they have only the pro-independence battle to unite them. The likely next step is for the Constitutional Court to annul the Catalan resolution although this is unlikely to stop the pro-independence parties. But political risk in Spain is not uniformly increasing, opinion polls ahead of the general election on 20 December in Spain are painting a slightly less fragmented picture, with a slightly higher probability of a pro-business government coalition.
Wrapping up yesterday and specifically the economic data that we got, Germany's trade balance reading for September revealed a slightly better than expected trade surplus (€22.9bn vs. €20.0bn expected) after exports rose +2.6% mom (vs. +2.0% expected) during the month. French business sentiment for October was up a point last month to 99, while Euro area investor confidence rose +3.4pts to 15.1 (vs. 13.1 expected) for November. In a quiet day for data, the only release of note in the US was the October labour market conditions index which rose 0.3pts to a slightly below-market 1.6 (vs. 1.9 expected).
In terms of the day ahead now, this morning in Europe see's more industrial production prints out of France and Italy, along with the monthly manufacturing production read in the former. The calendar picks up a bit in the US this afternoon starting with the October NFIB small business optimism index reading, followed by last month's import price index and then the September wholesale inventories and trade sales data later this afternoon. Meanwhile it's a busy day for Central Bank speak. The ECB's Coeure, Weidmann and Nouy are all scheduled to speak at various points, while over at the Fed we're due to hear from Evans (at 10.15pm GMT) after the US close.