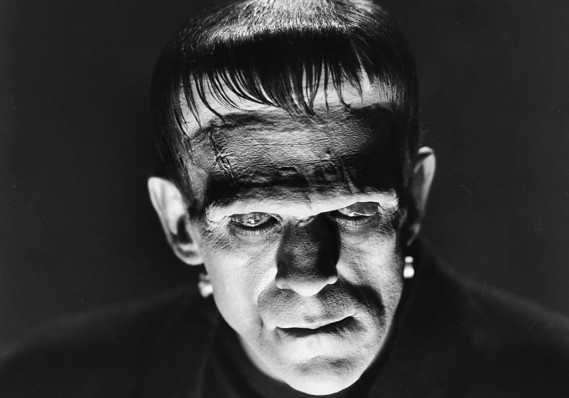 Happy Halloween! America's been having fun dissecting and transplanting body parts onto Adam Smith theories since 1776, molding a Frankenstein monster into an economy for narcissist billionaires. It worked for a while. Now its a serial killer on a rampage, turning against the soul of the nation that gave it birth, into a coliseum for political, economic and cultural zombies tearing each other apart.
Cue music. Dense fog rolls in. The drumbeat of Michael Jackson's "Thriller" pounding, fills the graveyard of economic horrors draining America's GDP of its lifeblood: "Darkness falls across the land. The midnight hour is close at hand. Creatures crawl in search of blood." The crypts in Adam Smith's mausoleum prepare to receive the remains of a Frankenstein economy. Vampires rise in the dark, now destroying themselves from within, taking the global economy down with it. Listen to the beat, feel the lust for the dark evil of economic blood:
"They're out to get you ... No one's gonna save you ... from the beast about to strike ... The foulest stench's in the air ... The funk of forty thousand years ... Grizzly ghouls from every tomb ... are closing in to seal your doom ... You fight to stay alive ... Your body starts to shiver ... No mere mortal can resist ... the evil of the Thriller."
Halloween once was the family favorite across America, loads of fun. But this year, it seems zombies, ghouls, vampires all de-materializing, draining all the bloody spirit out of Halloween. America's Frankenstein economy is in line with Daron Acemoglu and James Robinson predictions in "Why Nations Fail: The Origins of Power, Prosperity, and Poverty": Nations grow. Wealth concentrates at the top. The elite manipulate to protect their wealth. They close doors that got them to the top. Economies collapse. Nations fail.
This Halloween that same pattern is accelerating across America as wealth rapidly concentrates at the top, GDP growth keeps declining. This time, however, the door is also closing on entrenched zombie capitalists as the inequality gap widens. They are losing the battle to control government, threatening insiders, setting up revolutions. Here are seven signs of this classic pattern:
1. Frankenstein economics is a mausoleum for trickle-down capitalism
This theory that policies that help the rich get richer will "ultimately help everybody," has been with us a long time. Foreign Policy says it was coined by the great urban philosopher Will Rogers when he commented on Herbert Hoover's 1928 tax cuts: "The money was all appropriated for the top in the hopes that it would trickle down to the needy," but the president didn't "know that money trickles up."
Since the presidency of Ronald Reagan...
More