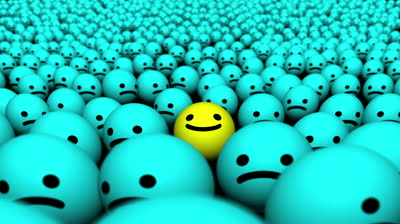 Can you find Boeing VP Wojick, enjoying a great day of trading?
There is a fascinating financial scenario unfolding over the past few days in the world of top-tier aviation manufacturing, and this is directly vis a vis the repercussions of the tumbling price of oil on the aviation fuel market.
American manufacturer Boeing and their European opponent Airbus have both been enjoying banner years when it comes to orders of new models--for Boeing this goes for its smaller 737 airship as well as its flagship 777 (the backbone workhorse of outrageously successful Emirates airlines) widebody and of course the new 787 Dreamliner. For Airbus this corresponds to their brand new entry into the widebody market--the a350, which competes directly with Boeing's Dreamliner. 
The demand for these planes from the two manufacturers come of course from carriers who seek at all costs to offset the pain of fuel overhead. "Back in the day" when fuel was up in the $100/barrel zone, these new, lighter, highly fuel-efficient (versus older models) models gave the carriers a route to increased profitability by spending less per trip on fuel. Every dollar saved via the building in to these new liners plastic "composite" materials that were far lighter than the typical aluminium used in nearly 100% of older craft main parts were very important vehicles to maximize operating efficiency.
Now, with the price of oil slashed tremendously, and the trickle down effect seeping into the world of aviation fuel, there are manifold effects, some of them bizarre.
First, Boeing and Airbus are feeling an intermittent pressure squeeze from carriers eyeing these new, more efficient models, to lower prices--the demand for them just is not as much of an emergency as they once were. Older, heavier airliners with more weight and more drag--say, a Boeing 747-400 versus the new 747-8 which appropriated the wing design and use of composites from the Dreamliner to deliver increased fuel efficiency and cleaner, greener operation versus the 400 (and of course the older 200)--are now being looked at anew with rekindled affection. Why spend a fortune on new airliners with incremental fuel savings when we've already found ourselves saving a gigantic bundle just via the natural bonanza of plummeting fuel prices? Why not just spiff up our old workhorses and save all that treasure we were going to spend?
Or something thereabouts, at least in terms of the party line. The general message to the twin manufacturing titans is--"The need isn't as dire as it once was . . . you've got to lower the price tag of these new models to make them the more effective long term choice in this new market."
Another strange byproduct is this: in India, for the first time ever, owing to a strange confluence of events, hi-grade jet fuel now costs less than lower grade petrol for automobiles .  .  .  this is due to the government slapping of increased duties, four in a row over three months, in an attempt to plug a budget deficit, on vehicle gas. 
Anyhow, it will be interesting to see how Boeing and Airbus react to the new model pricing scenario, and how their stocks move along. Both companies stocks are performing well, particularly Boeing who is enjoying a bump today of (so far) 1.93% based on extremely strong orders for the regional hauler, the 737. Interestingly John Wojick--Boeing's VP of Global Sales & Marketing said the following today:
 "We don't think the decrease in oil prices drives a significant change in demand for new fuel efficient equipment."
In other aviation news, David Learmount has delivered an interesting theory about the location of the missing MH370 vis a vis a conversation Boeing 777 captain Simon Hardy. You can read the article summarizing the captain's well reasoned hypothesis on flightglobal, which is a more deeply considered and sober analysis of the available technical evidence .  .  .  and is not very much at odds with the present search route.
Preston Clive
1/22/2015***