Just when you thought it couldn't get any worse for US foreign policy, or for the credibility of the US state department, already at rock bottom, to slide further, it got much worse.
Less than a day after US ambassador to the UN, uber-warhawk Samantha Power informed Russia of the latest US foreign policy by tweet, in which she called "on Russia to immediately cease attacks on Syrian oppo[sition and] civilians" in the latest desperate attempt to halt the Russian campaign against US-created ISIS which may wipe out the terrorist threat in just a few short days, it was the US itself which admitted that early on Saturday, the US airforce bombed a hospital run by medical aid group Medecins Sans Frontieres in the Afghan city of Kunduz in an air strike that killed at least nine people and wounded 37.
It is w/ deep sadness that we confirm so far the death of 9

https://twitter.com/MSF

staff from bombing last night of MSF's hospital in Kunduz. 37 Wounded.

— Jason Cone (@jtcone1977)

https://twitter.com/jtcone1977/status/650233141714513920
As the Executive Director, of Doctors without Borders Jason Cone tweeted, "all parties 2 conflict, including in Kabul & Washington, were clearly informed of precise GPS Coordinates of @MSF facilities in Kunduz" and that the "precise location of @MSF Kunduz hospital communicated to all parties on multiple occasions over past months, including on 9/29."
In other words, this morning's US bombing was nothing more than another example of the utter carelessness and incompetence when it comes to US disregard for innocent civilian lives, something we have already seen for the past 6 years as a result of the thousands of innocent people dead as part of US drone attacks.
The attack, which started at 2:15am local time, took place when almost 200 patients and employees were in the hospital, the only one in the region that can deal with major injuries, Medecins Sans Frontieres said.
The aftermath of the US bombing: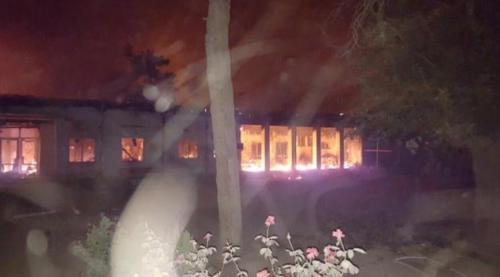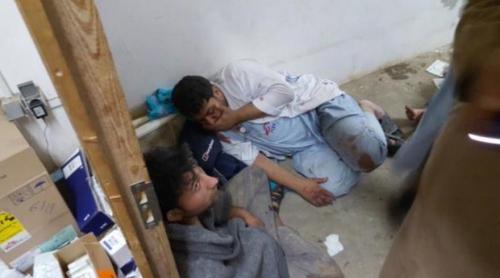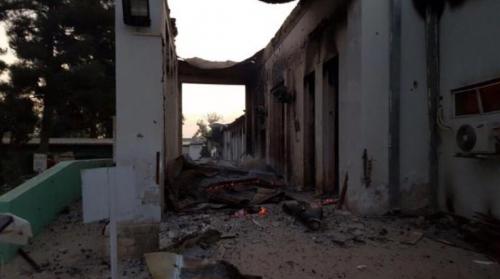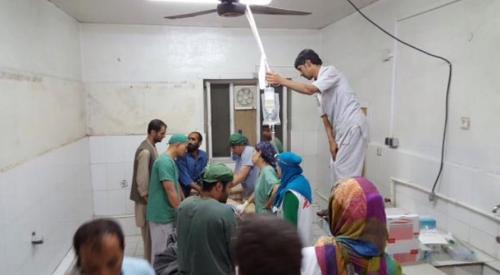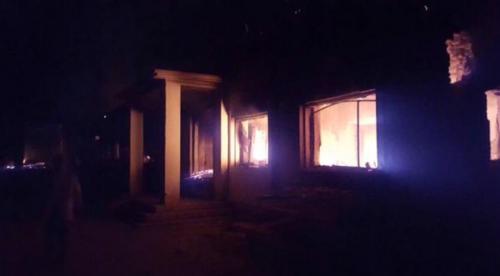 At the aid group's bombed-out hospital, one wall of a building had collapsed, scattering fragments of glass and wooden door frames, and three rooms were ablaze, said Saad Mukhtar, director of public health in Kunduz.
"Thick black smoke could be seen rising from some of the rooms," Mukhtar said after a visit to the hospital. "The fighting is still going on, so we had to leave."
"We are deeply shocked by the attack, the killing of our staff and patients and the heavy toll it has inflicted on healthcare in Kunduz," the aid group's operations director, Bart Janssens, said in a statement.
"I could hear sounds of heavy gunfire, explosions and airplanes throughout the night," said Khodaidad, who has only one name. "There were several huge explosions and it sounded like the roof was falling on me."
As expected, Doctors without Borders was furious after the attack:
1/ MSF condemns in the strongest possible terms the horrific bombing of its hospital in Kunduz full of staff and patients.

— Jason Cone (@jtcone1977)

https://twitter.com/jtcone1977/status/650234649562607616
Worse, as Cone adds, the US bombing raid "continued for >30 minutes after American & Afghan military officials in Kabul & Washington first informed of proximity to hospital." Not only was the US bombardment uncalled for, but it continued long after supervisors were made aware they should call it off.
Perhaps the only thing the US military got right was admitting it was responsible for this latest murder of innocent civilians, when it issued a statement acknowledging that it carried out airstrikes, claimed they were conducted "against individuals threatening the force," and conceded that "the strike may have resulted in collateral damage to a nearby medical facility."
Oh well, oops.
"Collateral damage" - US statement on Kunduz hospital strike pic.twitter.com/Xa4LAaFsdg

— Stuart Millar (@stuartmillar159)

https://twitter.com/stuartmillar159/status/650271482057113601
Meanwhile the drama at the hospital continues:
Many

https://twitter.com/MSF

patients & staff remain unaccounted for.

https://twitter.com/hashtag/s?src=hash

keep + as we develop clearer picture of the aftermath of horrific bombing in Kunduz.

— Jason Cone (@jtcone1977)

https://twitter.com/jtcone1977/status/650237126945042433
While the US tried to justify its latest murder of innocents by supposedly engaging the Taliban, a spokesman Zabihullah Mujahid said U.S. air strikes targeted the hospital, killing killed patients, doctors and nurses adding that "no militant fighter was a patient" the group said. The U.S. military has unleashed twelve air strikes this week in support of government forces in the city. Most airstrikes hit targets on the city's outskirts and the overnight strike was only the second in a central area, the military said.
MSF said it had treated almost 400 patients in the 150-bed hospital since fighting broke out, most for gunshot wounds.

 

So many patients have flooded in that the hospital has had to put them in offices and on mattresses on the floor. The International Committee of the Red Cross said it was "deeply shocked" by the incident.

 

"This is an appalling tragedy," said Jean-Nicolas Marti, head of the ICRC in Afghanistan. "Such attacks undermine the capacity of humanitarian organizations to assist the Afghan people at a time when they most urgently need it."
As Glenn Greenwald points out, "it's impossible to fathom what the U.S. media would be saying and doing if Russia did something like this in Syria. By contrast, the reaction to this airstrike by their own government will be muted and filled with apologia, ironically quite similar to the widely vilified caricature of Jeb Bush's comments about the Oregon shooting spree: stuff happens."
It's quite possible to "fathom" what the "objective" US media's reaction to this horrific tragedy will be: utter silence. Which, however will not be the reaction from the rest of the world, which with every passing day realizes that when it comes to Pax American, the only this that matters for the Obama administration is appeasing his generous backers from the US military industrial complex which just happen to arm all sides in the conflict. That and the banks who provide the loans, of course.
However, when it comes to the now four-year-long attempt by the US to pass a Qatar gas pipeline under Syria, even if it means crushing the nation, destroying its economy, and unleashing the worst refugee wave in European history, one thing is clear: the US has just lost any US credibility when it comes to criticizing Putin's or anyone else's "attacks on civilians."