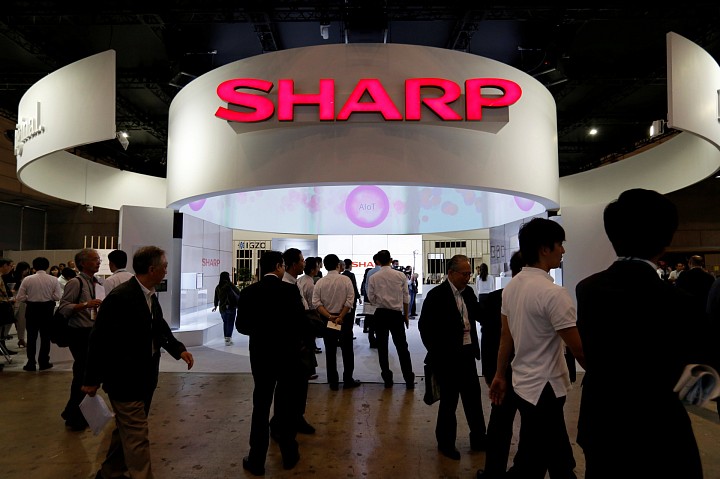 TOKYO— Sharp Corp. SHCAY 0.06% is looking to spend some ¥100 billion ($878 million) in an expanded plan to build organic light-emitting diode displays, a technology coming in Apple Inc.'s next iPhone series, people familiar with the matter said.
Sharp and other makers of OLED displays are trying to catch up with Samsung Electronics Co. , which both manufactures the displays and uses them in its Galaxy smartphones. Apple has decided to use OLED displays in one iPhone model to be released later this year, people familiar with the matter said earlier.
Osaka-based Sharp, majority-owned by Taiwan's Foxconn Technology 2354 0.21% Group, hopes to make at least 30,000 display-panel sheets a month at its Japanese factories starting next year, said people briefed on the company's plans. That will require about ¥100 billion in investment, they said, up 74% from a plan disclosed last September to spend ¥57.4 billion on small-scale OLED production lines by June 2018.
A Sharp spokesman declined to comment.
OLED panels give consumer-electronics manufacturers more freedom in designing their products because the panel—unlike traditional liquid-crystal displays—can be bent during production to create a curved or angled screen. Consumers can't bend the OLED screens themselves.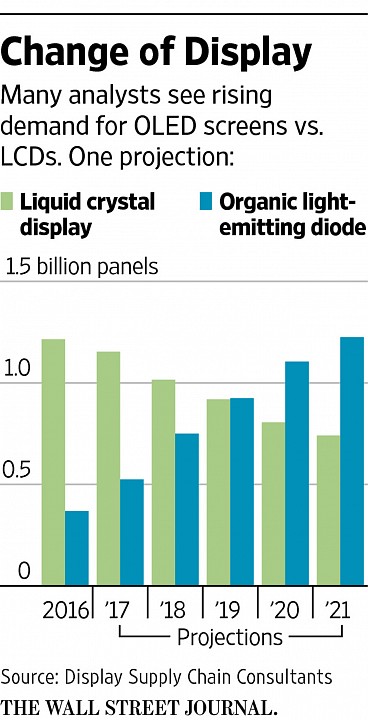 Yoshio Tamura, a co-founder of market research and consulting firm Display Supply Chain Consultants, said Sharp's planned production would translate into about 15 million smartphone display panels a year—insignificant, he said, given that the number of smartphones made annually is in the hundreds of millions.
"Thirty thousand sheets a month is equal to doing nothing," he said.
Samsung produces more than 95% of the OLED panels used in smartphones, analysts say, in part because rivals face difficulty in obtaining the machinery to make the panels. LG Display Co. of South Korea, Japan Display Inc. and China-based makers such as BOE Technology Group are among those speeding up plans for OLED factories.
"Smartphone makers are likely to consume one billion OLED panels a year in 2020, up from 500 million panels this year," Mr. Tamura said.
Executives at Sharp and its parent have wavered in their enthusiasm for OLED. Foxconn, formally known as Hon Hai Precision Industry Co., initially said when buying Sharp last year that it wanted to spend ¥200 billion to build a cutting-edge OLED factory.
Subsequent studies determined that such a factory would actually cost at least three times that much, the people briefed on Sharp's plans said, so the company decided instead to beef up the small-scale OLED lines planned at existing display factories.
Sharp and Japan Display have long supplied Apple with liquid-crystal displays. Both are working on ways to create bendable or differently shaped LCD screens, and executives have suggested that rather than OLED, improved LCD technology might become the future standard.
More