Safety experts have bemoaned poor maintenance standards, aging equipment and a lack of trained inspectors.
In the third incident of its kind within a week in China, a 35-year-old shopping mall employee had his left lower leg amputated after it became stuck in the escalator that he was cleaning, writes Rishi Iyengar for Time.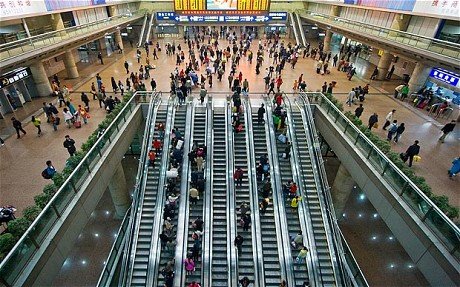 Three tragic escalator incidents in just seven days in China
The employee, identified only as Zhang, was cleaning the escalator at the Longemont Shopping Mall in the Changning district of Shanghai when the it collapsed. He was cleaning the escalator "with a mop, which became trapped inside the gap in the stairs, which caused cracks in the comb plate," according to the mall.
Mall officials have accused Zhang of using an "improper" cleaning method, while a relative of the victim stated: "the doctor said he had to amputate the [foot] to avoid the injuries from deteriorating."
State media reports that the worker did not follow regulations which stipulate that the escalator must be shut down before cleaning.
"Since the incident, the shopping mall has stopped its escalator cleaning service, and held an emergency meeting to heighten the safety procedures for cleaning," Lin Yun, the deputy general manager of Cloud Nine mall told CNN.
"Before the escalator cleaning services can be resumed, the shopping mall has requested a list of the cleaning supervisors and workers that have undergone training as well as to provide the training report to the...
More