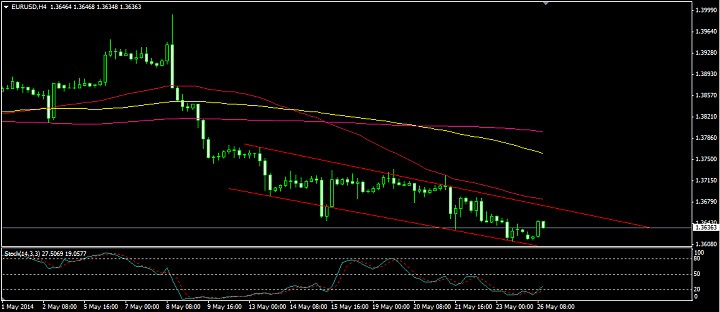 (EURUSD : 4 Hour Chart)
EURUSD didn't showed much reaction today after the European Central Bank President Mario Draghi said that the Bank see a risk of deflationary pressure taking hold which may cause households and firms to defer their expenditure. According to the analysis by Bank credit constraints are putting a break on the recovery in stressed countries of euro area which is adding disinflationary pressures. So seems like the bank is ready to act and is considering a wide range of stimulus options like liquidity injection or asset purchases and interest rate cuts to recover inflation in the euro area to the target level. 
On the 4 hour chart, the pair seems like trading within a downward sloping channel. Because of the holiday there is no key data releasing today. We will see a major move in the pair when ECB will decide for the stimulus.