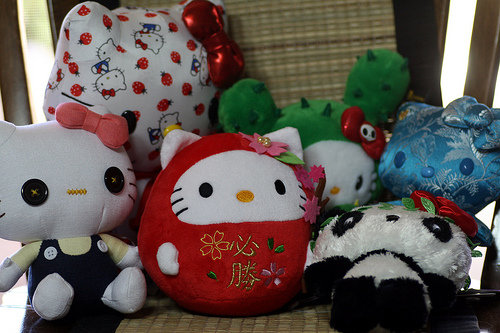 Think Hello Kitty (PINX: SNROF) is just a cute, cartoon staple from the 80s? Think again.
While the Japanese kitten has remained popular over the past 40 years, its parent company, Sanrio, has recently given it a big push in order to appeal more broadly to an aging audience and children alike, CNN Money reported.
New products include licensing partnerships with jewelry makers and makeup brands in order to diversify the iconic kitten's audience even further. The partnerships also ensure that Sanrio remains in completely creative control over the products creating, setting them to a very high and specific standard.
"We can take Hello Kitty as a celebrity, so you have to think of yourself as a manager of an entertainment company," CFO for Sanrio in Asia Caroline Tsang said, according to CNN Money. "Hello Kitty is number one, and you have to choose what is suitable for her – you cannot ask her to do whatever."
Sanrio profits from the Hello Kitty brand from licensing it out, raking in royalty fees that account for 75% of Sanrio profits yearly, according to CNN Money. Last year alone, Sanrio made approximately $6.5 billion from Hello Kitty.
As a child, I was obsessed with Hello Kitty. From wallets to clothing, shoes to school supplies, I was the ultimate fan, with all over the accouterment to back it up.
Even still, when I pass a store with Hello Kitty merchandise in the window, I smile nostalgically. Which is, essentially, the entire point of Sanrio's changed business plan for Hello Kitty. It works.
For more business and financial news, click here.
*This is editorial content and expresses the opinion of the author.