Several of the largest marijuana stocks have seen their share prices more than triple over the past 12 months. Some have even quadrupled in value -- or come very close to doing so.
But can the great marijuana stock boom of the last year or two continue? There's plenty of uncertainty about what might happen with enforcement of U.S. federal marijuana laws. However, marijuana stocks could keep going up for a while to come. Here are three charts that show why.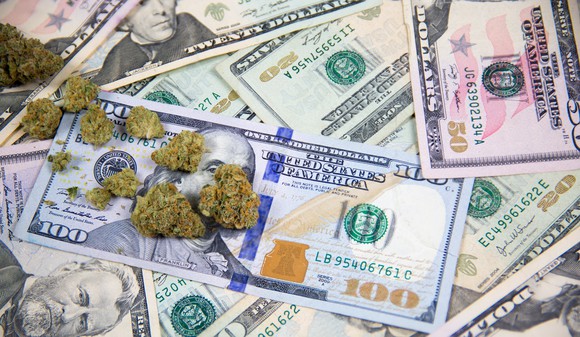 1. Public support
The single most important driving factor behind soaring marijuana stock prices is the growing support for legalization. This chart underscores just how quickly support for marijuana legalization has grown.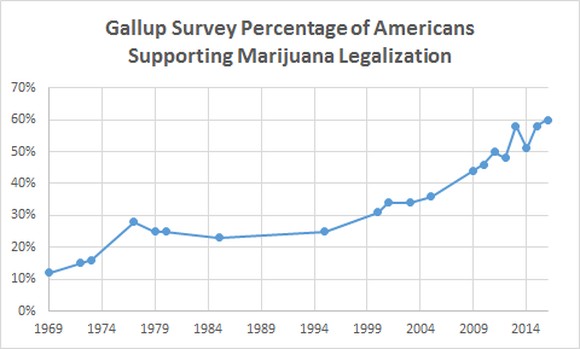 The increase in support for marijuana legalization in the 21st century has been dramatic. Why? The Pew Research Center, which has reported similar survey results on support for marijuana legalization as Gallup, found that a key catalyst was higher support among Americans born between 1981 and 1997, the "Millennial generation."
All millennials are now eligible to vote. As more of them exercise that right, it seems likely that there will be increasing social acceptance of legalized marijuana.
2. Legalization
Increased public support has led to legalization in quite a few states. There has especially been a surge in legalization over the past five years.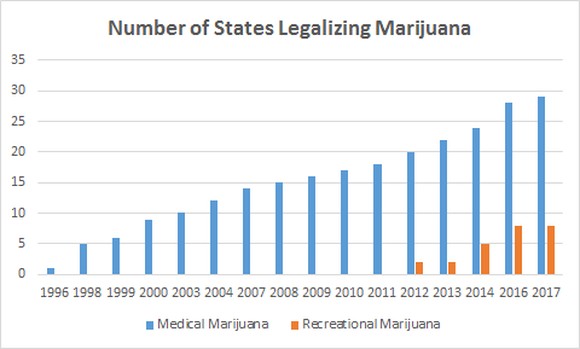 Canada legalized medical marijuana...
More