Cable multi-service operator (MSO) in the U.S., Charter Communications Inc. CHTR, recently got embroiled in a dispute with U.S. telecom behemoth Verizon Communications Inc. VZ.
Charter Communications had filed a complaint with the New York State Public Service Commission stating that Verizon was slow in responding to its requests to access and work on the utility poles of the telecom operator.
This followed the $13-million fine charged by the New York State Department of Public Service from Charter Communications for failing to meet the broadband build out requirements pertaining to the approval of its merger with Time Warner Cable.
Under the deal, Charter Communications had to expand its network to an additional 145,000 unserved or under-served homes and businesses by May 18, 2020. The state wanted 25% of the work to be completed in a year, followed by an additional 25% in the years that followed. As of May 18, 2017, Charter Communications had extended its network to only 15,164 out of the 36,250 premises that were to be covered.
In the filing, Charter Communications clearly stated that out of the 822 pole attachment applications (for access over 55,000 poles) submitted to Verizon, access to only 4,048 poles (179 applications) was allowed. This hardly makes up for 7% of the total pole applications submitted. Charter Communications also paid $409,296 to Verizon as application fees.
Charter Communications' ability to complete its network expansion plan largely depends on its ability to access poles owned by third parties. The third parties' timely approval is further based on the success of their contractual and regulatory obligations. Similar to other cable providers, Charter Communications works with multiple pole owners but has been particularly facing problems with Verizon.
However, Verizon claims to have been cooperative to help Charter Communications speed up its construction efforts.
Since pole attachments have become a disturbing issue for service providers, a number of service providers like Alphabet Inc.'s GOOGL Google Fiber have advocated for a one-touch make-ready process that allows them to move existing utility lines from Verizon, AT&T Inc. T and other service providers.
Zacks Rank and Price Performance
Currently, Charter Communications is a Zacks Rank #3 (Hold) stock. You can see https://www.zacks.com/stocks/buy-list/?ADID=zp_1link&ICI... _1link">the complete list of today's Zacks #1 Rank (Strong Buy)stocks here.
Over the past three months, share price of Charter Communications rallied 1.61%, outperforming the Zacks categorized Cable Television industry's 2.37% decline.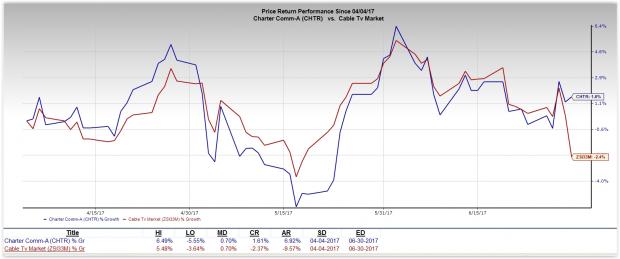 5 Trades Could Profit "Big-League" from Trump Policies
If the stocks above spark your interest, wait until you look into companies primed to make substantial gains from Washington's changing course.
Today Zacks reveals 5 tickers that could benefit from new trends like streamlined drug approvals, tariffs, lower taxes, higher interest rates, and spending surges in defense and infrastructure. See these buy recommendations now >>
Want the latest recommendations from Zacks Investment Research? Today, you can download 7 Best Stocks for the Next 30 Days.
Click to get this free report
Alphabet Inc. (GOOGL): Free Stock Analysis Report
AT&T Inc. (T): Free Stock Analysis Report
Verizon Communications Inc. (VZ): Free Stock Analysis Report
Charter Communications, Inc. (CHTR): Free Stock Analysis Report
To read this article on Zacks.com click here.
Zacks Investment Research