Thanks to the economic miracle of offering cheap money to the least creditworthy of society, The Atlanta Fed just increased its forecast for Q3 GDP from +0.7% to +1.3% - though this is still less than half consensus estimates. The driver of this 'almost doubling' was due to a 15.3% increase in seasonally adjusted motor vehicle assemblies in July stuffing inventories even fuller. Of course, as we previously noted, this is entirely unsustainable and we await the mean-reversion in August and September.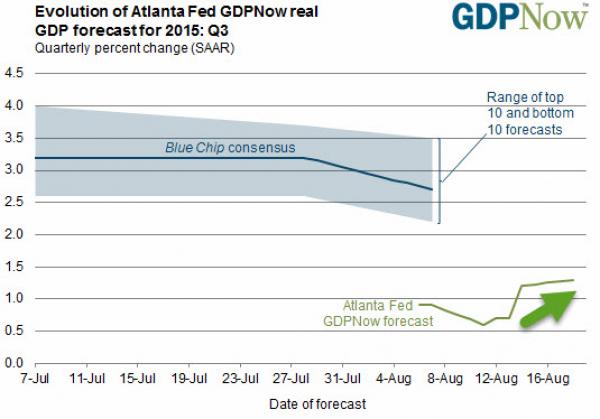 The GDPNow model forecast for real GDP growth (seasonally adjusted annual rate) in the third quarter of 2015 is 1.3 percent on August 18, up from 0.7 percent on August 13. The forecast for real GDP growth increased from 0.7 percent to 1.2 percent after Friday's industrial production release from the Federal Reserve. Most of this increase was due to a 15.3 percent increase in seasonally adjusted motor vehicle assemblies in July that boosted the forecast of the contribution of real inventory investment to third-quarter GDP growth from -2.2 percentage points to -1.8 percentage points.
But as we showed previously, this is simply unsustainable as automakers face a massive inventory already...
Automakers just unleashed a massive production surge to keep the dream alive...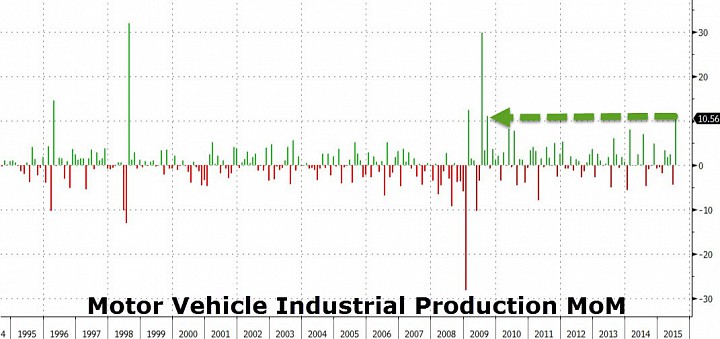 With inventories at record highs (having risen for 61 straight months)...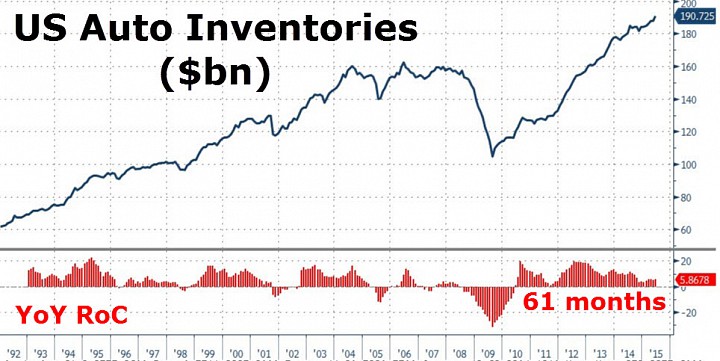 Which would be fine if sales were keeping up - but they are not...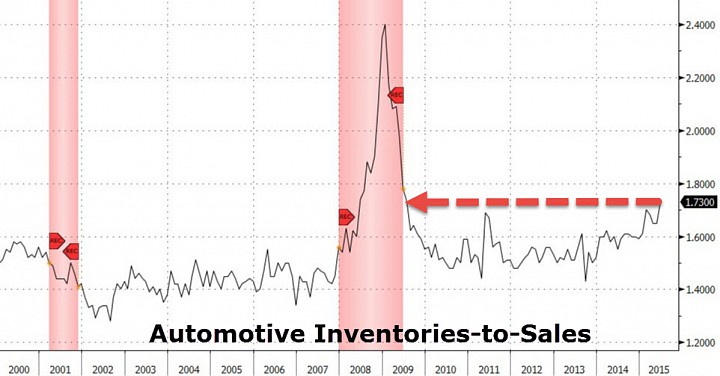 And now the subprime auto loan market is set to collapse...
To sum up...
The only way automakers are making sales is by lowering credit standards to truly mind-numbing levels.... that cannot last.
China's economic collapse has crushed sales forecasts for the automakers.
Inventories are already at record highs.
And July saw a massive surge in producton.
*  *  *
What comes next is simple... a production slump.. and we look forward to checing back with The Atlanta Fed as that data hits their forecast...