Due to an overall decline in food-can demand, Ball Corporation BLL recently announced that it will cease food-can production at its Springdale, AR, tinplate food and aerosol packaging manufacturing plant in fourth-quarter 2017.

Global food and aerosol-can sales unit volumes have declined in recent years primarily due to lower consumer spending. Notably, changes in preferences for products and packaging by consumers of pre-packaged food and beverage cans significantly impacted the company's sales.

The Springdale plant closure is the result of the above-mentioned factors. The plant, however, will continue to produce and assemble aerosol cans, cut and coat flat sheet steel, and produce components used by other Ball Corporation food and aerosol facilities.
Ball Corporation Price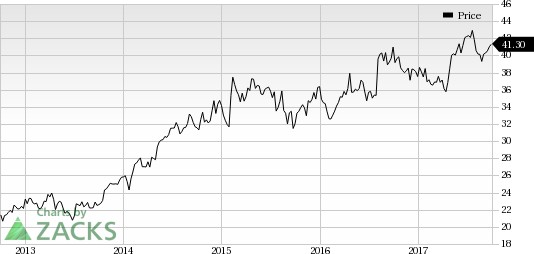 Further, employees of the plant will be provided benefits, including outplacement and severance pay, in accordance with company policies. During the second quarter, Ball Corporation ramped down its Charlotte, NC regional support center. Recently, the company announced the termination of production at three beverage packaging plants in Birmingham, AL; Chatsworth, CA; and Longview, TX.

Moreover, Ball Corporation believes the decline in its food-can business is likely to persist due to timing issues with some customers. In addition, one of the company's large customers is experimenting with an alternative substrate which remains a concern for volume.

Concerns regarding the company's food-can business and escalating expenses have hurt Ball Corporation's share price performance. The company has underperformed the industry to which it belongs in a year's time. The stock has gained around 2.2%, while the industry recorded growth of 5.7%.



Zacks Rank & Stocks to Consider

Ball Corporation currently has a Zacks Rank #5 (Strong Sell).

Better-ranked stocks in the same sector include KION GROUP AG KIGRY, Lawson Products, Inc. LAWS and Komatsu Ltd. KMTUY. All three stocks flaunt a Zacks Rank #1 (Strong Buy). You can see the complete list of today's Zacks #1 Rank stocks here.

KION GROUP has an expected long-term earnings growth rate of 7%.

Lawson Products has an expected long-term earnings growth rate of 15%.

Komatsu has an expected long-term earnings growth rate of 12.7%.

Today's Stocks from Zacks' Hottest Strategies

It's hard to believe, even for us at Zacks. But while the market gained +18.8% from 2016 - Q1 2017, our top stock-picking screens have returned +157.0%, +128.0%, +97.8%, +94.7%, and +90.2% respectively.

And this outperformance has not just been a recent phenomenon. Over the years it has been remarkably consistent. From 2000 - Q1 2017, the composite yearly average gain for these strategies has beaten the market more than 11X over. Maybe even more remarkable is the fact that we're willing to share their latest stocks with you without cost or obligation.
Want the latest recommendations from Zacks Investment Research? Today, you can download 7 Best Stocks for the Next 30 Days.
Click to get this free report
Ball Corporation (BLL): Free Stock Analysis Report
Komatsu Ltd. (KMTUY): Free Stock Analysis Report
Lawson Products, Inc. (LAWS): Free Stock Analysis Report
KION GROUP AG (KIGRY): Free Stock Analysis Report
To read this article on Zacks.com click here.
Zacks Investment Research