Bricks-and-mortar retailers have been under pressure for long as these have been facing constant threats from digitalization. The surge in web-based shopping is wreaking havoc on departmental stores with lackluster sales, store closures and filings of bankruptcy (read: Forget Broader Retail; Bet on Online Retail ETFs).
As of now, online retail sales make up about one tenth of total retail and about 5% of annual e-commerce revenue in the U.S. The space is developing fast with the increased usage of smartphones and other mobile Internet devices.
As per statista, in 2013, 41.3% of global internet users had purchased products online; the figure is expected to grow to 46.4% by 2017. More than the U.S., the real growth opportunities lay in the under-penetrated emerging markets.
Notably, shares of Macy's M, Kohl's corp. KSS and Dillard's DDS dropped recently after their earnings releases thanks to same-store sales declines (read: 3 ETFs & Stocks to Buy Post June Retail Sales).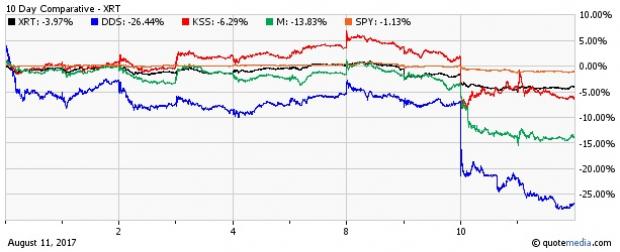 The U.S. retailers are closing down stores at the quickest clip in over a decade. Bankruptcies are being filed at a dreadful pace. SPDR S&P Retail ETF XRT lost about 3.4% in the last 10 days.
Short sellers and options traders now expect more upheaval in the U.S. retail sector, as per the source. So far this year, XRT has seen inflows of only $81.1 million in assets and since the start of April, the fund shed about $172.9 million in assets, as per etf.com.
Investors are shorting the companies more aggressively than other stocks within the S&P 500 index, according to data from research firm IHS Markit. Going by the Wall Street Journal article, the number of bearish put options outstanding has risen 25% since the beginning of April, while the number of bullish options has tumbled 26%, as per Trade Alert.
What About Upcoming Retail Sales Event?
There are several events when retail sales see a surge. One such event is back-to-school/ college season which continues from mid-July through early/mid-September. NRF's annual survey conducted by Prosper Insights & Analytics showed that total collective spending is expected to touch $83.6 billion – its second-highest level on record. The figure is up over 10% from the year-ago period. However, about 45.5% of these shopping is likely to be done online.
As per Earning Trends issued on August 9, 2017, retail earnings are likely to drop 0.9% in Q2 on 4.1% revenue growth. For the upcoming third quarter, earnings are likely to decline 1.2% on 4.8% revenue growth.
A Technical Look at the Retail ETF - XRT
If we take a look at XRT – a popular retail ETF on the market – the downtrend is clearly visible. The fund was down over 10% this year (as of August 11, 2017).
The Relative Strength Index for XRT is presently 41.57 suggesting that the fund is approaching an oversold territory. The short-term moving average (9-day) for XRT is below the long-term average (200-day) suggesting bearishness for this ETF. The current price of XRT is trading below the parabolic SAR (PSAR) indicating a bearish trend for the product.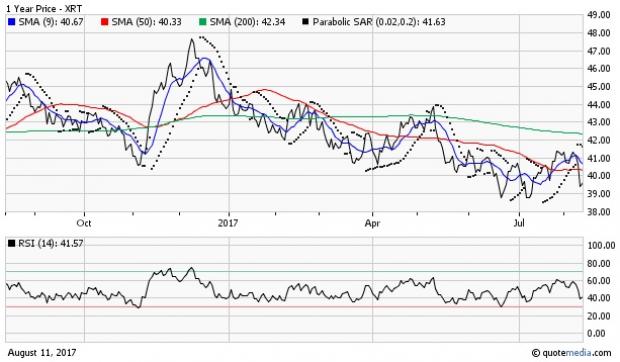 Want key ETF info delivered straight to your inbox?
Zacks' free Fund Newsletter will brief you on top news and analysis, as well as top-performing ETFs, each week. Get it free >>
Want the latest recommendations from Zacks Investment Research? Today, you can download 7 Best Stocks for the Next 30 Days.
Click to get this free report
SPDR-SP RET ETF (XRT): ETF Research Reports
Macy's Inc (M): Free Stock Analysis Report
Dillard's, Inc. (DDS): Free Stock Analysis Report
J.C. Penney Company, Inc. Holding Company (JCP): Free Stock Analysis Report
Kohl's Corporation (KSS): Free Stock Analysis Report
To read this article on Zacks.com click here.
Zacks Investment Research
Want the latest recommendations from Zacks Investment Research? Today, you can download 7 Best Stocks for the Next 30 Days. Click to get this free report