Meet Dr. Gertjan Vlieghe, partner and senior economist at hedge fund Brevan Howard Asset Management.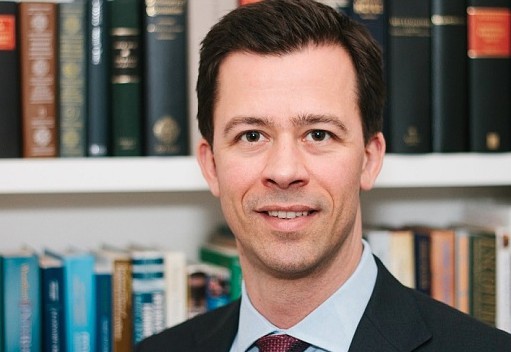 Vlieghe, a dual British-Belgian national, has a PhD from the London School of Economics where his dissertation centered around monetary policy, asset prices, and credit markets. For reference, here's a very dry, and very tedious summary of his academic work, courtesy of Barlcays (feel free to skip):
In his publicly available academic papers, Mr Vlieghe highlighted the importance of credit channel frictions for the transmission of monetary policy. In his PhD thesis, he investigated the links between house prices, consumption and monetary policy. Among other things, he showed that mortgage market deregulation tends to amplify the response of consumption relative to housing investment following an unanticipated monetary policy shock.
In another paper, Mr Vlieghe uses a model with credit constraints to show the implications of a negative productivity shock. In particular, he shows that the initial optimal response of GDP (a big drop) should be considered in relation to the subsequent sub-optimal allocation of capital (away from the most productive agents) translating into sticky, low productivity growth and lower output. The consequence for monetary policy is that the central bank should tolerate an initial and temporary increase in inflation (within certain limits) in order to mitigate future misallocation of capital.
After school, Vlieghe found work at the BOE where he spent seven years, eventually becoming economic assistant and speechwriter to then governor Mervyn King.
After that, Vlieghe moved to Deutsche Bank where he worked as a bond strategist before landing at Brevan Howard. 
Ok, so another former policymaker lands (multiple) lucrative positions in the private sector. What else is new, and more importantly, why should you care?
Because for Vlieghe, the revolving door has now roundtripped - the economist is headed back to the BOE, this time as a member of the monetary policy committee.
Here's The Guardian with more:
Chancellor George Osborne has announced that Gertjan Vlieghe, a senior economist at hedge fund Brevan Howard, will replace David Miles on the Bank of England's monetary policy committee.

 

His appointment to the Bank's nine-member MPC, starting in September, comes as the debate around interest rates heats up. After more than six years of rockbottom rates at 0.5% ushered in by the financial crisis, some policymakers say the time to raise borrowing costs is nearing. Governor Mark Carney has told borrowers to start preparing for a rise and hinted it could happen around the turn of the year.

 

Miles has not once voted for a move in either direction in interest rates in more than 70 policy meetings at the Bank, although he has one more vote to go next week. He used his final speech as an MPC member toindicate a rate rise was getting closer and he also rejected the "dove" label ascribed to him given his apparent support for monetary stimulus during his six years there.

 

Vlieghe, who has a PhD from the London School of Economics, takes over from Miles as an "external member"of the committee, one of four rate-setters appointed by the chancellor to bring in expertise from outside the Bank. He is appointed for an initial three-year term.
And although MNI warns that "pigeon holing him as a hawk or dove would risk committing the fallacy of trying to tag avian labels on to sophisticated, evolving views of policy risks," Barclays isn't about to 'chicken' out when it comes to guessing where Vlieghe will 'roost' when it comes to policy decisions:
In line with his previous works, Mr Vlieghe may recommend keeping monetary policy accommodative (as long as inflation expectations remain anchored) and focus on fixing the credit distribution channel in order to allow for efficient reallocation of capital. While these recommendations might be the only ones possible within the BoE's mandate, we believe analysis of the long-term impact of low absolute levels of investment in the private and public sectors are necessary in order to help solve the productivity puzzle. Regarding the pace of rate increase, Mr Vlieghe will most likely agree with keeping the pace as (slow and) gradual as possible, in order to minimise negative wealth effects on households, as he appears to believe that the negative response on consumption may be amplified in a highly deregulated mortgage market such as in the UK and boost the recovery in investment and therefore potential output.

 

Overall, we believe the replacement of David Miles by Mr Vlieghe will maintain the balance of views within the MPC, although possibly make them slightly more dovish in the near term. Barring the fact that Mr Miles has been relatively hawkish in recent weeks, in the past he has called for more quantitative easing, in a way that appears compatible with some of Mr Vlieghe's views. Accordingly, we expect Mr Vlieghe to join the ranks of Mark Carney, Ben Broadbent and Sir Jon Cunliffe, in expressing a cautious stance, if not supporting Andy Haldane's view of a rate cut being as likely as a hike. Also, having worked at the central bank as well as on the market side, Mr Vlieghe's communications should be well measured and won't cause friction, we believe.
So here we have a former BOE employee and speechwriter for a BOE governor who went on to use what he learned at the central bank to help Deutsche Bank, and then Brevan Howard make money, and now, he's going to return to the BOE, this time as a voting member. 
Besides marking a hilarious new chapter in the public/private revolving door saga that pervades financial markets, this particular appointment comes with a particularly amusing punchline. Vlieghe will "retain his rights to a share of future earnings" in Brevan Howard, which is the very same hedge fund that hosted the event at which the ECB's Benoit Coeure famously told a non-public audience of hedge funds that "the central bank would moderately front-load" its QE purchases, earlier this year.
The takeaway: expect more "Chatham House rule" meetings in the very near future.
*  *  *
Full statement from HM Treasury
The Chancellor today (Tuesday 28 July) announced that Dr Gertjan Vlieghe has been appointed as external member of the Monetary Policy Committee (MPC).
Dr Vlieghe will be appointed for an initial three year term which will take effect from 1st September 2015. As an external member of the MPC, Dr Vlieghe will hold one of nine votes to decide the future path of UK monetary policy. The MPC meets monthly to set monetary policy it judges will enable the inflation target to be met.
The Chancellor of the Exchequer, George Osborne, said:
"Monetary policy plays a critical role in our long term economic plan, delivering economic security to working people."
"Dr Vlieghe is an economist of outstanding ability who brings experience from his time at both the Bank of England and the financial services industry to the role and will be a strong addition to the MPC."
Dr Vlieghe replaces Professor David Miles who comes to the end of his extended second term at the end of August. Professor Miles was first appointed to the MPC on 1 June 2009 and has made a significant contribution to monetary policy making and analysis during his six years on the committee.
In announcing the recruitment process for Professor Miles' successor in May, the Chancellor said:
"I also want to put on record my thanks to David Miles for his service to the MPC, which has benefited enormously from both his expertise and insightful contributions during his time in office."
About Dr Gertjan Vlieghe
Dr Gertjan Vlieghe is Partner and Senior Economist at Brevan Howard Asset Management having previously been a Director at Deutsche Bank.
Prior to his move to the financial services industry, he worked at the Bank of England for seven years where he became economic assistant to the Governor, Lord Mervyn King.
Dr Vlieghe received his PhD from the London School of Economics where his dissertation focused on monetary policy, asset prices and credit market imperfections.