I just wrote about the
EUR/USD pair from a long term perspective
(daily charts), but did want to bring to everyone's attention an important macro release to look out for overnight that could help impact the EUR crosses and that is the German IFO Business Climate Index.
The IFO Index is expected to edge up further for the August period to a reading of 107.1, compared to July's 106.2. This indicator carries a lot of weight for European eco-watchers as it is a leading indicator for the health of German businesses - the growth engine of the Euro-zone at this point.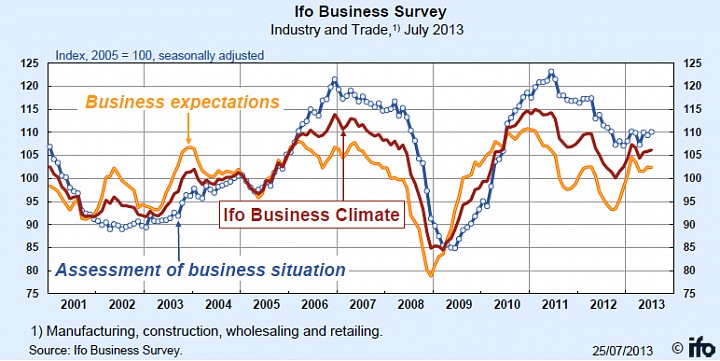 As we can see, the index has rebounded well in late 2012 and throughout 2013.
With the current narrative that the Euro-zone is starting to show an incipient recovery, the bigger surprise/shock would be if the index fell in August, and showed businesses expectations about future activity/orders weaken. That will likely have the EUR screeching lower.
A more in-line scenario may help lift the
EUR/USD or keep it in sideways action, depending on how risk sentiment develops in the market.

- Nick