After posting earnings beat in the first quarter of 2017, Skechers USA Inc. SKX succumbed to a negative earnings surprise in the second quarter. The Manhattan Beach, CA-based company delivered quarterly earnings of 38 cents a share that missed the Zacks Consensus Estimate of 44 cents. Although this footwear retailer witnessed improved top-line performance, it failed to act as a savior for the bottom line that fell 20.8% year over year due to increased operating expenses and higher effective tax rate.
The company reported net sales of $1,025.9 million that increased 16.9% from the year-ago quarter and also came ahead of the Zacks Consensus Estimate of $966 million, marking the third consecutive quarter of revenues beat. Sales for the quarter mainly gained from solid performances at the company's domestic and international wholesale business and company-owned global retail operations. The company concluded the quarter under review with low-double digit jump in backlog on a global basis.
Further, Skechers' domestic eCommerce business contributed to sales growth in the quarter, registering an increase of 27.9%. The company currently operates eCommerce sites in Chile, Germany and U.K., and has launched additional sites in Spain and Canada in the quarter under review.
Sturdy top-line performance has aided the shares to advance 13.9% in the past six months that comfortably outperformed the industry's growth of 7.7%.
Gross profit for the reported quarter grew 17.3% to $488.3 million, while gross margin expanded 20 basis points (bps) to 47.6%. Operating income came in at $86.3 million, down 14% from the prior-year quarter, while as a percentage of net sales it decreased 300 bps to 8.4%.
Management now projects third-quarter 2017 net sales in the band of $1.050–$1.075 billion compared with $942.4 million reported in the prior-year quarter. The current Zacks Consensus Estimate for revenue is pegged at $1.06 billion. Additionally, the company anticipates earnings per share in the range of 42–47 cents compared with 42 cents delivered in the year-ago period. The current Zacks Consensus Estimate for the quarter stands at 56 cents, which could witness a downward revision in the coming days.
The company expects to deliver flat sales in the domestic wholesale business and envisions double-digit growth at its international business as well as company-owned retail stores.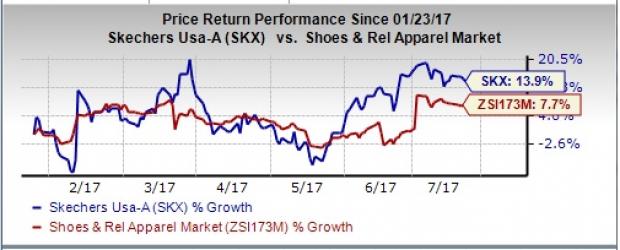 Segmental Sales Synopsis
The domestic wholesale revenues rose 6.4% year over year. The company shipped 11.4% more pairs compared with the prior-year period. However, average price per pair declined 4.5%.
Skechers' international wholesale business revenues, which constituted 35.1% of total sales, advanced 18.6% on the back of a 19.4% rise in wholly-owned subsidiary and joint venture (JV) businesses and 16.1% growth in distributor business. The company's JV business registered growth of 62.4% for the quarter buoyed by double-digit growth in China and sales from South Korea.
The company's JV business is gaining from the transition of distributors in Israel and South Korea. These along with the transition of Latin American and Central Eastern European distributors to subsidiaries are likely to benefit international sales.
On a combined basis, global company-owned retail business sales grew 28% driven by higher store count and comps growth of 7.1%. Domestic retail sales rose 14.5%, while International retail sales surged 67.4%. Comps increased 7.7% at domestic retail stores and 5.1% at international retail stores.
Store Update
Skechers operated 614 company-owned retail outlets globally, comprising 179 international locations at the end of the quarter. During the quarter, the company opened 31 stores. Looking ahead, the company anticipates opening 35–40 Skechers stores more in 2017.
At the end of the quarter, Skechers also operated 1,691 branded stores internationally, owned and operated by JVs, franchisees and distributors.
During the quarter, 187 third-party owned stores were opened, including 107 stores in China, 14 in India, 10 in Indonesia, eight in Saudi Arabia, four in Spain, three each in Australia, Turkey, Qatar and Italy, two each in Angola, Netherlands, Philippines, Taiwan, Thailand and UAE, and one each in Botswana, Brunei, Bulgaria, Canada, Denmark, Egypt, England, Iceland, Japan, Kazakhstan, Kosovo, Lebanon, Malaysia, Mexico, Northern Ireland, Pakistan, Poland and Vietnam. Additionally, the company closed 14 third-party owned stores.
So far in the third quarter, Skechers has opened four third-party owned stores comprising two in India and one each in Algeria and Australia. The company plans to open a total of 240–260 third-party owned stores in the second half of 2017.
Other Financial Aspects
Skechers, which carries a Zacks Rank #3 (Hold), ended the quarter with cash and cash equivalents of $751.6 million, long-term borrowings (net of current installments) of .3 million, and shareholders' equity of $1,779.1 million, excluding non-controlling interest of $104.2 million.
Capital expenditures incurred during the quarter were $47.6 million on store openings, remodels, and land to be utilized for China distribution center. Management now envisions capital expenditures of about $35–$40 million for the remaining year, reflecting planned opening of an additional 35−40 company-owned retail outlets, corporate upgrades and store remodeling projects.
Looking for High Performance Stocks
You may consider better-ranked stocks such as Best Buy Co., Inc. BBY and Deckers Outdoor Corporation DECK both flaunting a Zacks Rank #1 (Strong Buy), and Burlington Stores, Inc. BURL holding a Zacks Rank #2 (Buy). You can see also the complete list of today's Zacks #1 Rank stocks here.
Best Buy delivered an average positive earnings surprise of 33.8% in the trailing four quarters and has a long-term earnings growth rate of 11.8%.
Deckers delivered an average positive earnings surprise of 74% in the trailing four quarters and has a long-term earnings growth rate of 9.8%.
Burlington Stores delivered an average positive earnings surprise of 22.6% in the trailing four quarters and has a long-term earnings growth rate of 15.9%.
Will You Make a Fortune on the Shift to Electric Cars?
Here's another stock idea to consider. Much like petroleum 150 years ago, lithium power may soon shake the world, creating millionaires and reshaping geo-politics. Soon electric vehicles (EVs) may be cheaper than gas guzzlers. Some are already reaching 265 miles on a single charge.
With battery prices plummeting and charging stations set to multiply, one company stands out as the #1 stock to buy according to Zacks research.
It's not the one you think.
Want the latest recommendations from Zacks Investment Research? Today, you can download 7 Best Stocks for the Next 30 Days.
Click to get this free report
Best Buy Co., Inc. (BBY): Free Stock Analysis Report
Burlington Stores, Inc. (BURL): Free Stock Analysis Report
Skechers U.S.A., Inc. (SKX): Free Stock Analysis Report
Deckers Outdoor Corporation (DECK): Free Stock Analysis Report
To read this article on Zacks.com click here.
Zacks Investment Research