Asian stocks rose a second day, extending a rally that's added $4.1 trillion to global stocks this month as a run of weaker-than-estimated economic reports from China, Europe and the U.S. scuttled bets on the Federal Reserve raising interest rates this year. The dollar pared a third straight weekly drop.
The MSCI Asia Pacific Index is heading for its longest streak of weekly gains since April, with gauges from China, Thailand and New Zealand delivering some of the world's best returns since Oct. 9. The Shanghai Composite Index surged almost 5 percent since last Friday, the biggest such advance in two months, as the government unveiled further reforms of state-run industries and weak economic reports confirmed policy makers have more room to loosen monetary policy. U.S. oil advanced for the first time this week.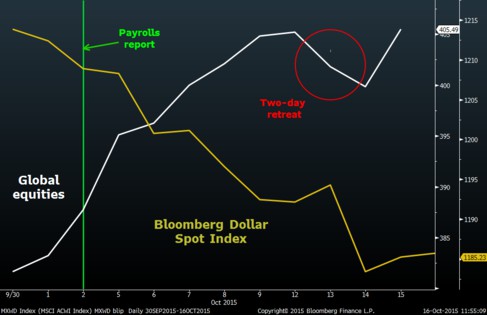 "The Fed probably won't move rates yet and that could help support the share markets," Tony Farnham, a strategist in Sydney at Patersons Securities, said by phone. "While the global economy isn't taking off as people would like it to, it's not as if we're falling into a deep abyss. There are some spots in the global economy that are not so dire."
Stronger-than-expected U.S. consumer prices data Thursday failed to bolster odds on the Fed raising borrowing costs before the year is out, with data on major economies around the world trailing analysts' estimates by the most in four months. Traders are betting that...
More