Sony Corporation SNE reported first-quarter fiscal 2017 earnings per share of ¥62.70 (56 cents), which surpassed the Zacks Consensus Estimate of 48 cents by 16.7%.
Also, earnings grew a massive 281.4% from the year-ago quarter figure, thanks to decent revenue growth.
Inside the Headlines
Sony's sales and operating revenues were up an impressive 15.2% year over year to ¥1,858.1 billion ($16.6 billion). Solid top-line rise in seven of the company's eight segments drove the quarterly sales improvement. Especially, the spectacular performance of Financial Services and Semiconductors segment acted as major catalysts.
Additionally, operating income came in at ¥157.6 million ($1,407 million), up a whopping 180.5% from the year-ago quarter. Robust improvement in the operating results of the Semiconductors and Imaging Products & Solutions ("IP&S") segments proved conducive to an increase in operating income.
Semiconductors sales and operating revenues jumped 41.4% year over year to ¥204.3 billion ($1.8 billion). Strong sales of image sensors for mobile products and absence of the impacts of Kumamoto earthquakes boosted sales of this segment.
Financial Services revenues were up 30.3%, year over year to ¥303.2 billion ($2.7 billion). Healthy investment performance of the "separate account" at Sony Life proved conducive to sales growth of this segment. Impressive rally of the Japanese stock market drove the investment performance in the separate account.
Moreover, sales and operating revenues of the Imaging Products & Solutions ("IP&S") segment climbed 27.3% year over year to ¥155.6 billion ($1.4 billion). Increase in unit sales and an improvement in product mix (on account of a shift to high value-added models in Still and Video Cameras) acted as tailwinds for the IP&S unit. Also, absence of impact from the Kumamoto earthquakes acted as a catalyst.
The Music segment experienced an 18.8% increase in sales to ¥168.6 billion ($1.5 billion) on a year-over-year basis. It benefited from higher visual media and platform sales. Also, Recorded Music sales grew supported by healthy sales of albums. These include The Chainsmokers' Memories...Do Not Open and Harry Styles' self-titled album.
The Home Entertainment & Sound ("HE&S") segment sales and operating revenues came in at ¥256.9 billion ($2.3 million), up 8.9% on a year-over-year basis. The top-line rise came on the back of improvement in product mix reflecting a shift to high value-added models.
Sales and operating revenues form the Pictures Segment were up 12.3% year over year to ¥205.8 billion ($1.8 billion). Higher sales in Television Productions and Media Networks more than offset the revenue decline in Motion Pictures, thus driving overall growth. While higher licensing revenues for U.S. television series – including The Last Tycoon and Better Call Saul – drove Televisions Production sales, robust advertising revenues in India boosted Media Networks sales.
Sales and operating revenues at the Game & Network Services ("GN&S") segment climbed 5.4% year over year to ¥348.1 billion ($3.1 billion). Improvements in the PS4 software sales (including sales through the network) and impressive market traction of PlayStationVR proved conducive to increase in sales. However, price slash of PS4 hardware hindered this segment's growth to some extent.
Mobile Communications ("MC") sales edged down 2.5% year on year to ¥181.2 billion ($1.6 billion) due to change in product mix of smartphones.
Sony Corp Ord Price, Consensus and EPS Surprise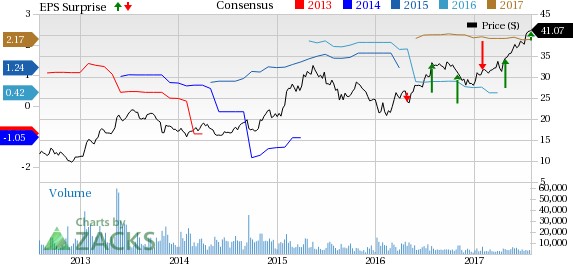 Sony Corp Ord Price, Consensus and EPS Surprise | Sony Corp Ord Quote
Liquidity & Cash Flow
As of Jun 30, 2017, Sony's cash and cash equivalents were ¥984.2 million ($8.8 million) compared with ¥631.4 billion recorded at the end of Jun 30, 2016.
Long-term debt totaled ¥601.5 million ($5.4 million) compared with ¥681.5 million as of Mar 31, 2016.
Acquisition
Concurrent with the earnings release, Sony's operating arm, Pictures Television Networks, signed an agreement to acquire a substantial majority stake in Japanese anime distributor, Funimation Productions, Ltd., ("Funimation"). The closing of the transaction, which is valued at $150 million, is subject to regulatory approvals and certain other conditions.
Funimation licenses and distributes Japanese anime content in the U.S., and operates the subscription streaming service FunimationNOW, available via PlayStation Store, iTunes Store, Google Play, Amazon Apps, Xbox Store and mobile devices. Funimation has enjoyed a solid growth trajectory since 2011. Sony believes this acqusition will help it deliver the best anime to fans across all screens and platform.
Guidance
Concurrent with the fiscal first-quarter results, Sony revised the revenue guidance for fiscal 2017. Currently, the company expects total sales to be around ¥8,300, up 3.8% from the earlier figure of ¥8,000. The upward revision is largely attributable to lesser-than-expected impact of foreign exchange rates.
The company reiterated its operating income guidance and continues to expect it to be around ¥500 billion, a jump of 73.2% from fiscal 2016. Improvements in operating income are expected to be driven by recovery of Semiconductors and Pictures segments. These forecasts assume an exchange rate of $1= ¥110.
Per segments, three of the company's divisions, namely, GN&S, IP&S and HE&S, are expected to garner higher revenues than previously expected in April. Favorable movements of foreign exchange rates are likely to supplement the top line of these segments. Overall, the GN&S segment is anticipated to benefit from higher network sales. Improvement in the product mix, on account of a shift to high value-added models, is expected to benefit the IP&S and HE&S segments.
The forecasts for sales and operating income for the MC, Pictures, Music and Financial Services segments remain unchanged from the April forecast. Sony remains confident that increase in smartphone unit sales will support growth of MC segment. Increase in media networks and television productions sales, as well as insurance premium revenues are expected to stoke growth of the Pictures and Financial Services segment respectively.
However, sales of the Music segment are likely to remain flat year on year, primarily due to a decline in the physical and digital download sales in Recorded Music. In addition, the company has slashed its sales expectation for the Semiconductors segment. Lower-than-expected image sensor unit sales for mobile products are likely to play a spoilsport for the Semiconductor business.
Our Take
Sony entered fiscal 2017 on a cheerful note, with spectacular top- and bottom-line growths. The lingering effects of the Kumamoto earthquakes, which had washed out a chunk of its profits for fiscal 2016, have subsided to a large extent. Also, the impressive rebound of the Semiconductor business is a major positive and is likely to accelerate the company's growth momentum. Other growth drivers include strong performances of the gaming, IP&S and HE&S segments.
In addition, Sony's focus on cost-saving initiatives, lower exposure in low-profit geographic regions, and reduction in advertising and promotion expenses are expected to drive the top line. Over the past few quarters, major restructuring efforts and internal shuffles have helped Sony optimize its business structure, thus raising profitability. This apart, we believe the company's bolt-on acquisitions and strategic investments will help it expand its addressable markets.
Other Stocks to Consider
Sony currently carries a Zacks Rank #3 (Hold). Better-ranked stocks in the same space include Nintendo Co., Ltd. NTDOY, H&R Block, Inc. HRB and Wynn Resorts, Limited WYNN. While Nintendo and H&R Block sport a Zacks Rank #1 (Strong Buy), Wynn Resorts carries a Zacks Rank #2 (Buy). You can see the complete list of today's Zacks #1 Rank stocks here.
Nintendo has a positive earnings surprise of 190.0%, with three consecutive beats over the trailing four quarters.
With three beats in the trailing four quarters, H&R Block has a positive average surprise of 9.0%.
Wynn Resorts has beat earnings twice for as many misses over the trailing four quarters and boasts an average positive surprise of 11.3%.
Will You Make a Fortune on the Shift to Electric Cars?
Here's another stock idea to consider. Much like petroleum 150 years ago, lithium power may soon shake the world, creating millionaires and reshaping geo-politics. Soon electric vehicles (EVs) may be cheaper than gas guzzlers. Some are already reaching 265 miles on a single charge.
With battery prices plummeting and charging stations set to multiply, one company stands out as the #1 stock to buy according to Zacks research.
It's not the one you think.
Want the latest recommendations from Zacks Investment Research? Today, you can download 7 Best Stocks for the Next 30 Days.
Click to get this free report
Wynn Resorts, Limited (WYNN): Free Stock Analysis Report
Sony Corp Ord (SNE): Free Stock Analysis Report
Nintendo Co. (NTDOY): Free Stock Analysis Report
H&R Block, Inc. (HRB): Free Stock Analysis Report
To read this article on Zacks.com click here.
Zacks Investment Research