It appears the US Democratic party and Clinton campaign are not alone when it comes to problems preserving highly sensitive information. According to the Globe and Mail, Canada's Vice-Admiral Mark Norman has been relieved of his duties as the Canadian military's second-highest-ranking officer over alleged leaks of highly classified information.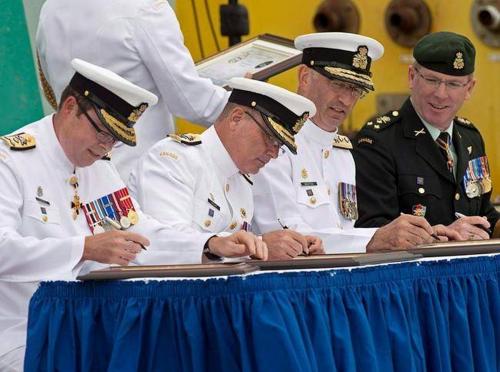 Vice-Admiral Mark Norman, commander of the Royal Canadian Navy, Rear Admiral
Dave Gardam, Rear Admiral John Newton, and Lt.-Gen Stuart Beare, left to right
The G&M reports that General Jonathan Vance, chief of the defense staff, ordered Mr. Norman's removal after an investigation of "pretty high-level secret documents" that had allegedly been leaked. The source would not provide further information on the nature of the sensitive leaks.
It is unknown whether the alleged leaks were to journalists, business interests or another country. For now, the Canadian military is offering no explanation for this extreme measure which took place Monday morning.
Vice-Adm. Norman has served in the Forces for 36 years and was previously in charge of the Royal Canadian Navy. He commanded the Royal Canadian Navy for more than four-and-a-half years until General Vance appointed him as vice-chief in January 2016.
The role of vice-chief of the defense staff is an extremely powerful position, similar to that of a chief operating officer at a company. The VCDS is the leader for corporate strategies in the Forces and is supposed to promote security inside the military. Gen. Vance signed an order for Vice-Adm. Norman's removal Friday and the change took effect Monday. Gen. Vance is in Europe this week on "military business," according to the Forces.
"The Chief of the Defense Staff has temporarily relieved the VCDS, Vice-Admiral Mark Norman, from the performance of military duty," Lieutenant-Colonel Jason Proulx, spokesman for Gen. Vance, said. "For the time being, he will not be carrying out the functions of VCDS."
Vice-Admiral Ron Lloyd, currently the commander of the Navy, has been appointed as the interim vice-chief of the defense staff. Lt.-Col. Proulx declined to explain why the military is using the word "temporarily" to describe Vice-Adm. Norman's removal.