The third-quarter reporting cycle is past the halfway mark with 272 S&P 500 members, representing 64.2% of the index's total market capitalization, having already released their results.
Per the latest Earnings Preview, total earnings of these companies are up 8.7% on a year-over-year basis (75.7% of the companies beat EPS estimates). Total revenues are up 6.7% (66.2% of the companies beat top-line estimates).
Third-quarter earnings of S&P 500 companies are anticipated to be up 5.4% from the year-ago quarter on revenues that are estimated to increase 5.5%. Notwithstanding the weak performance of the Finance sector, total earnings from the remaining index are expected to rise 7.7% while revenues are anticipated to grow 6.1% on a year-over-year basis.
Notably, estimate revisions for the fourth quarter have been favorable. Though estimates largely moved north at the beginning of the earnings season, of late, there has been some movement in the opposite direction. Consequently, estimates are currently at the same level as the beginning of the quarter. However, with more companies releasing better-than-expected results, the revisions are anticipated to trend upward again.
Technology Earnings Picture So Far
As of Oct 27, 54.4% of the total market capitalization has reported results. Total earnings of these technology companies surged 22% on a year-over-year basis (79.3% of the companies beat EPS estimates) while total revenue increased 8% (86.2% of the companies beat top-line estimates).
The sector is benefiting from increasing demand for data centers, cloud-based platforms, Augmented/Virtual reality devices, advanced driver assisted systems (ADAS), Artificial Intelligence (AI) solutions and Internet of Things (IoT) related software.
These were evident from recent results reported by Intel INTC and Microsoft.
Expectations
Earnings for the technology sector are now anticipated to be up 16% (up from 99%) on top-line growth of 7.6% (up from 6.9%).
Let's take a sneak peek into three technology companies that are set to report their quarterly earnings on Nov 1:
We expect Facebook, Inc's FB results to be driven by strength in online and mobile advertising revenues as well as Instagram in third-quarter 2017.
Facebook's mobile ad business has fast emerged as the major contributor to its advertising revenues. Digital ad revenues are expected to sustain the momentum. Notably, Instagram's ad platform is also an important cash cow for the company.
Additionally, a huge user base of over 2 billion is a major positive for Facebook.
Though it is approaching saturation level in North American and European markets, growth possibilities abound in Asia and the rest of the world.
However, with ramped up investments, increasing cost is a headwind for the company. Moreover, increasing competition from Snapchat and Twitter is a concern.
Facebook stock has gained 56.4% year to date, substantially outperforming the 29.5% rally of the industry it belongs to. Facebook currently sports a Zacks Rank #1 (Strong Buy). You can see the complete list of today's Zacks #1 Rank stocks here.
We anticipate ANSYS Inc ANSS, the dominant player in the high-end design simulation software market, to gain from its strong simulation portfolio in the third quarter. Growing recurring revenues base is also a positive. The company's collaborations with the likes of NVIDIA, Taiwan Semiconductor Manufacturing Company, PTC and Synopsys are further tailwinds.
However, transition from perpetual license contracts to longer term, time-based licenses at some of the company's largest customers (in mature markets like the United States and Japan) is expected to affect software license and maintenance revenue growth in the near term.
Shares of ANSYS have gained 46.8% year to date, outperforming the industry's 36.3% rally. ANSYS currently has a Zacks Rank #3 (Hold).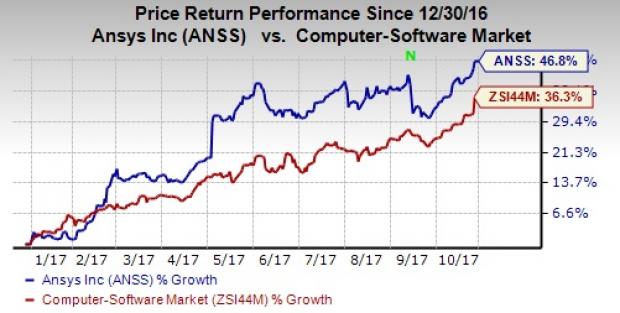 Cognizant Technology Solutions Corp's CTSH third-quarter results are expected to be driven by its domain expertise and development of capabilities in sync with the ongoing digital transition. Acquisitions and partnerships have also played an important role in the company's growth.
However, geographic concentration risks with North America being a significant revenue contributor, and increasing competition from peers like Accenture, Infosys and Wipro are headwinds.
Cognizant stock has gained 34.7% year to date, outperforming the 26.9% rally of the industry it belongs to. Cognizant currently has a Zacks Rank #2 (Buy).
Wall Street's Next Amazon
Zacks EVP Kevin Matras believes this familiar stock has only just begun its climb to become one of the greatest investments of all time. It's a once-in-a-generation opportunity to invest in pure genius.
Want the latest recommendations from Zacks Investment Research? Today, you can download 7 Best Stocks for the Next 30 Days.
Click to get this free report
Facebook, Inc. (FB): Free Stock Analysis Report
Cognizant Technology Solutions Corporation (CTSH): Free Stock Analysis Report
ANSYS, Inc. (ANSS): Free Stock Analysis Report
Intel Corporation (INTC): Free Stock Analysis Report
To read this article on Zacks.com click here.
Zacks Investment Research