Mylan (MYL) has been falling sharply after it raised a firestorm of criticism for bumping the price of its Epipen. The pharmaceutical company has since released a "generic" brand. Still, when we look at the daily chart of MYL, we can see that it has not shaken off this "dirty" pharma dip.

MYL Daily Chart 9/10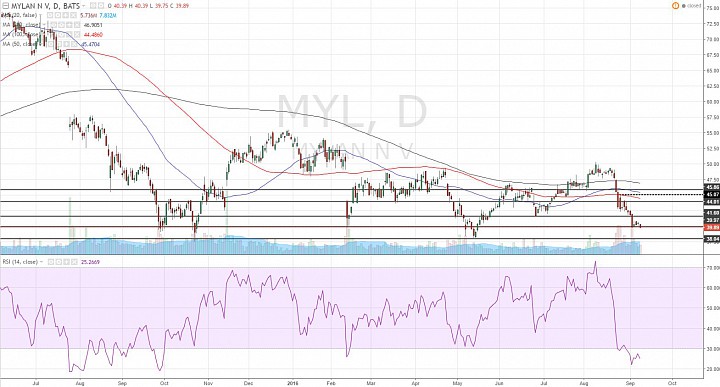 (click to enlarge) 
Continuing south with a stop at 38
- As we can see in the daily chart, MYL is in a "falling knife" situation. 
- Even after stalling around 40 last week, price closed the week with a new low.
- The clear break below 40 opens up the next key support, and it is indeed the most critical support MYL shares will see. 
- Around 38 is a common support since 2015. We can see price bought here again in May 2016. 
What kinda of reaction to expect?
- I think there can be quite a violent reaction here at 38, or even just above it (because traders all see 38 at a key support). 
- Now, the upside from this bounce is probably going to be limited, but I would not be surprised if its a 10%-12% swing back to the 42-42.50 area. 
There is of course the risk that 38 will eventually be broken, which opens up at least the 30 handle. I think the more likely scenario is that price bounces off 38, but stays pressured in the medium-term until all the legal stuff becomes clear. Meanwhile, if you are short on MYL, it might be time to consider decreasing the short exposures even if you don't go long at 38.