Intel is now helping vendors like Cherry Mobile Create sub-$50 Android phones.
Spreadtrum, of which Intel has a stake, is also helping vendors create $22 Firefox OS smartphones.
Due to Apple's enthusiastic support for mobile browser ad blocking on iOS devices, Google has urgent need for greater Android One phone sales.
The Android One project was intended to expand the mobile advertising channels of Google (NASDAQ:GOOGL). The pure Android OS in Android One phones was to guarantee that no Android OEM partners will try to steal advertising eyeballs from Google. The enthusiastic support of Apple (NASDAQ:AAPL) for iOS Safari ad-blocking makes it more urgent for Google to further increase the presence of Android One smartphones in the world.
While Google sells premium handsets $275 stock Android OS phones like the Nexus 5, it also tried to popularize $100 Android One handsets in India last year. Unfortunately, the MediaTek-powered Android One phones from Google's OEM partners in India failed to attain commercial success.
The low market appeal of $100 stock Android OS phones prompted Google to reboot its plan. It now intends to propagate Android one phones with $50 price tags. The problem now is MediaTek has yet to offer a processor to make it possible for Android One phone manufacturers to meet the new $50 Suggested Retail Price (SRP) of Google.
OEMs Will Find $50 Android One Phones Will Only Benefit Google
While Micromax and Spice agreed to play minions to Google's $100 Android One ambition, those two India-based firms will find it very hard to make a profit in selling $50 stock Android OS handsets. Unless Google offers Miramax cash incentives or ad revenue sharing, there is no compelling reason for it to support the $50 Android One idea.
Even if MediaTek supplies super cheap processors, Miramax would still rather sell its own brand of $50 Android phones and get paid by third-party companies to pre-install their apps. This is more financially viable than giving Google's Android One project a free ride.
Hiring Intel To Help It Launch Its Own $50 Android One Handset
The better solution therefore is for Google to ask for help from Intel (NASDAQ:INTC) . Like its approach with the Nexus, Google will just have to go all-in on its $50 Android One phone project. Google only needs to hire one or two sub-contractors to build its own $50 Android phone. LG or Huawei could assemble the $50 Google phone and use Intel's super cheap Atom x3 processors.
I'm proud to report that my country's biggest smartphone vendor, Cherry Mobile, has teamed up with Intel to create an Android phone using the 3G-enabled Atom x3 processor. The Cherry Mobile MAIA Fone i4 has a SRP of only 1,999 pesos ($43).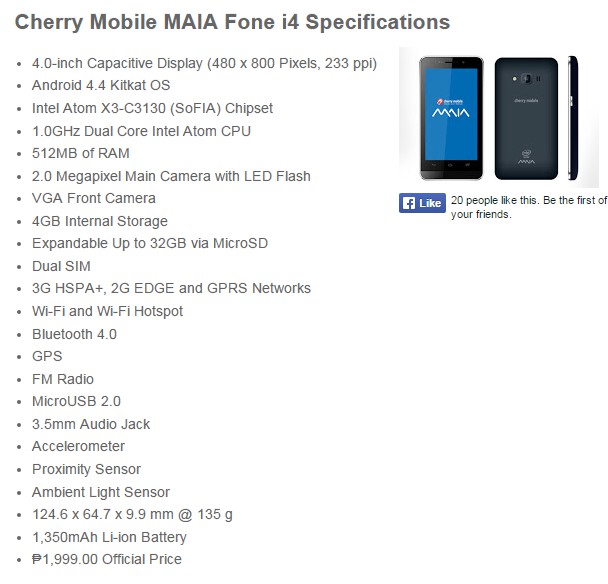 Cherry Mobile is Google's official partner for Android phones here in the Philippines. After the initial success of the first $100 carrier-backed Cherry Mobile One Android One handset, Google asked Cherry Mobile to release the more expensive $130 G1 Android One handset last month.
Google also recently launched the $190 BQ Aquaris A 4.5 Android One smartphone in Spain and Portugal. I support Google's move to offer higher-priced Android One handsets. However, I still say Google has a compelling reason to make its $50 Android One phone a reality.
The more people that uses a stock Android OS device, the more advertising eyeballs that Google could own. Intel and Cherry Mobile's $43 Fone i4 could serve as a template to create a little more expensive Android One version using the Atom x3.
I believe that a $7 more expensive version of the Fone i4 will give it 1GB of RAM. More RAM should boost its performance as a stock Android OS device. Asustek (OTC:ASUUY) has had great success with Intel-powered Android phones since last year. Intel's 64-bit virtualization of Android has helped Asus create 1GB RAM-equipped phablets and phones that run fast even under Asus's Custom User Interface and usual bloatware of its own pre-installed apps.
I hope Google will soon trust the 28nm 64-bit Atom x3 SoC that ARM-based semiconductor firm Rockchip helped design. Intel and Rockchip has created a dirt-cheap x86 mobile processor that is as energy-efficient as any MediaTek entry-level ARM processor.
But just in case Google is still not fully convinced that an x86 chip from Intel could perfectly run on stock Android One phones, there's the Spreadtrum ARM-based processors. Intel owns 20% of Spreadtrum's parent company, Tsinghua Holdings.
I'm sure Google and Intel can persuade Spreadtrum to sell its entry-level 64-bit ARM-based chips for $50 Android One phones. Cherry Mobile is using Spreadtrum's single-core 1.0GHz Spreadtrum SC6821 processor to help it create the 999 pesos only ($21.5) Fire OS smartphone, the Cherry Mobile Ace.
I believe a single-core Spreadtrum SoC could decently run stock Android 5.0 OS if Google will give it at least 1GB of RAM. The threat of Fire OS smartphones is bigger than Samsung's (OTC:SSNLF) Tizen platform.
Unlike Samsung, which is still by its lonesome on Tizen, other companies are actually really selling Fire OS phones. The $50 Android One mission of Google is therefore also a defensive manuever against dirt-cheap Firefox OS smartphones.
Conclusion
Intel's x86 chips helped Google Chromebooks win big in the education market. This is the peerless advantage of using x86 processors - they are compatible with almost any modern operating systems. Google knows all too well that Microsoft (NASDAQ:MSFT) is ignoring the Atom x3 and Atom x5 for its Lumia smartphones.
Google could really negotiate an advantageous supply contract with Intel because that chipzilla is desperate to increase its market share in smartphone application processors. Microsoft continues to rely on Qualcomm (NASDAQ:QCOM) Snapdragons for its entry-level sub-$100 Lumia phones.
I would appreciate if Google will use Intel's dirt-cheap Atom processors to counter the threat of $80 Windows 10 Lumia phones with $50 Android One handsets. Nadella's shift toward freemium strategy requires Microsoft to be more like Google. Microsoft wants to sell as many Windows 10 devices as possible for data gathering/advertising purposes.
Microsoft aims to have 1 billion Windows 10 devices as soon as possible. Nadella's ambition further aggravates Google's future in mobile. Windows 10's free licensing adds to the threat of the iOS platform, which is now increasingly being antagonistic over Google's multi-billion dollar income from advertising to iPhone/iPad users.
The person who could only afford a $50 Android phone is still a precious pair of real advertising eyeballs. Google needs the $50 Android One handset to further increase the 1.4 billion people who already has an Android device. Unlike Apple, I do not think Google will ever allow greedy third-party browser extension developers to make selling ad-block tools on Android One devices.
I rate GOOGL/GOOG as a Buy. This advertising behemoth's stock has outperformed its mega-cap peers this year. The majority of investors believe Google was and still is the grandmaster when it comes to digital advertising.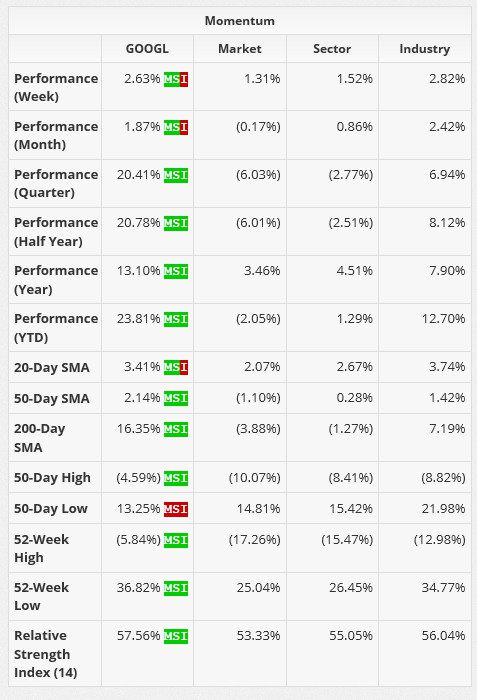 (Source: Getaom.com)
After the Microsoft snub, I was wrong to say that Intel's Atom x3 will only get bought by Chinese white-box phone vendors.
Cherry Mobile, the largest smartphone vendor in the Philippines, is using the Atom x3 for a sub-$50 Android phone.
SNS Network, a Malaysian firm, has also released an Atom x3-powered Android phone.
The Atom x3 is perfect for Google's ambitious $50 Android One smartphone project.
Cherry Mobile, the biggest vendor of smartphones in the Philippines, two new tablets and one Android smartphone powered by Intel's (NASDAQ:INTC) Atom x3 processors. The new MAIA brand of tablets and phone from Cherry Mobile is exclusively using Intel x86 processors.
I was therefore wrong to think that since Microsoft (NASDAQ:MSFT) snubbed the Atom x3 for its latest Lumia 550 entry-level Windows 10 phone, Intel's 3G-only Atom x3 would only have Chinese phone manufacturers for a client.
Cherry Mobile's launch of the MAIA series helps fortify my faith over Intel's future in smartphone application processors. Partnering with Cherry Mobile and local brands that are successful in their respective countries, gives Intel a chance to sell some more of its 3G-enabled Atom x3 chips.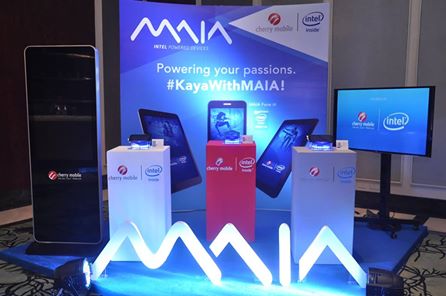 (Source: Cherry Mobile)
Intel Has A Great Partner in Cherry Mobile
Cherry Mobile first teamed up with Intel last year with Windows tablets and smartphones. The Intel-powered Cherry Mobile Alpha Morph and Alpha Play Windows tablets were very successful here in the Philippines. What I can surmise now is that Intel likely told Cherry Mobile to create the MAIA branding to help distinguish Atom x86-powered devices from Cherry Mobile's other ARM-based Android devices.
The MAIA Fone i4 is a 4-inch Android 4.4 OS dual-SIM smartphone with 512MB of RAM and 4GB ROM. It has a microSD slot, dual camera, and 3G HSPA+ connectivity. It uses the 28nm 1.0 GHz quad-core 64-bit Atom x3 SoC made by Rockchip.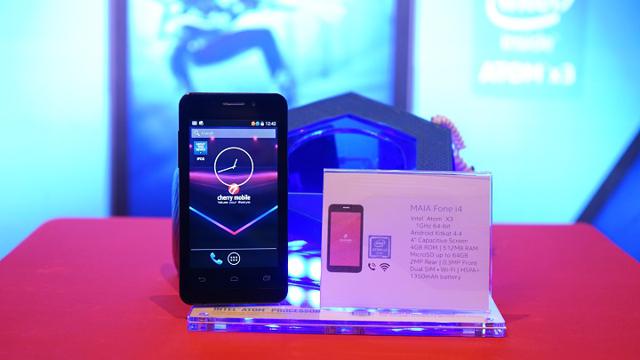 (Source: Cherry Mobile)
The MAIA Fone i4 retails for 1,999 pesos ($43) in Manila. The MAIA Fone i4 is therefore much cheaper than the cheapest Qualcomm (NASDAQ:QCOM) Snapdragon-powered Windows smartphone, the $86 Alpha Neon, also from Cherry Mobile.
The 2,999-peso ($64.5) MAIA Pad is a 7-inch Android tablet with 1GB of RAM and Atom x3. It is almost as cheap as Amazon's (NASDAQ:AMZN) $49.99 Fire Tablet. Yes, Intel is unlikely to be making any money from supplying chips to these two budget Cherry Mobile MAIA gadgets.
However, the third one, the 8-inch MAIA Smart TAB is a dual-OS Windows/Android tablet that uses the 22nm Bay Trail Atom 3735F processor. Intel has stopped giving discounts on Bay Trail tablet processors. The MAIA SMART Tab therefore might be accretive to Intel.
The obvious savings offered by a dual-OS tablet product will endear it to budget-conscious buyers. The 4,999 pesos ($107) MAIA Smart TAB is highly likely to become another huge hit here in the Philippines. The Windows 8.1/Android 4.4 feature of this 8-inch Intel-powered tablet makes it great for media entertainment, gaming and office productivity.
I dare opine that the dual-OS flexibility of the MAIA SMART Tab makes it a better value-for-money purchase than the $300 Apple (NASDAQ:AAPL) iPad Mini 3. Unlike Apple, Cherry Mobile gave it 2GB of RAM, a microSD expansion slot, USB OTG support, and 32GB of internal flash storage.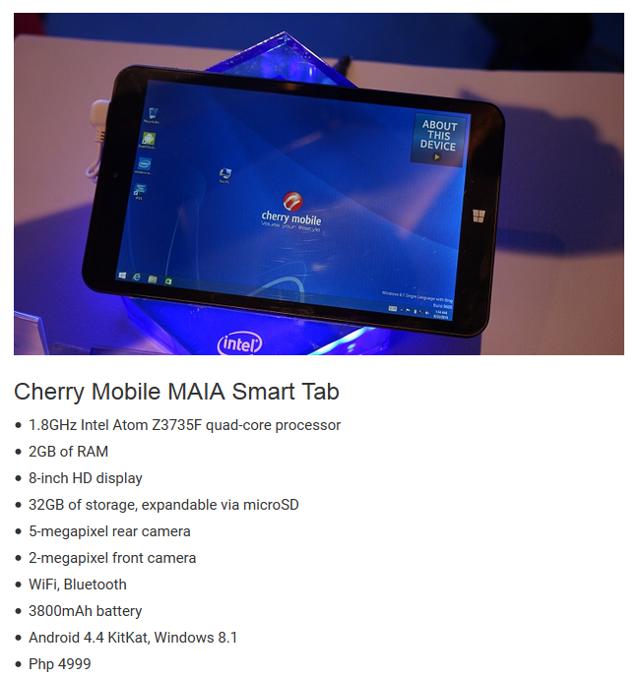 (Source: Cherry Mobile)
This dual-OS tablet product is also special because Cherry Mobile is the official partner of Google (NASDAQ:GOOG) (NASDAQ:GOOGL) for Android One smartphones in the Philippines. Google intensely dislikes dual-OS devices but Cherry Mobile still went ahead with the SMART Tab. Intel's close relationship with Google likely helped Cherry Mobile get away with the dual-OS nature of the SMART Tab.
Yugatech experts already said this cheap device is qualified for a free upgrade to Windows 10. They bought a MAIA SMART Tab and successfully upgraded it to Windows 10.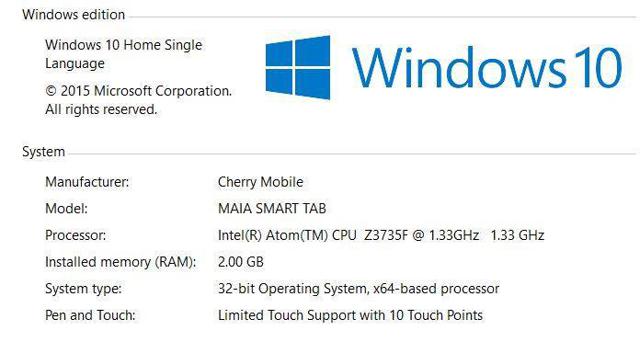 (Source: Yugatech)
The MAIA Smart TAB is therefore the better gadget to buy than the $132 Intel Atom x3-powered but Android-only Asus ZenPad 8 Android tablet. The quad-core Intel CPU and 2GB of RAM will let the SMART Tab run Photoshop CC and any other Windows software.
Filipino-owned Cherry Mobile is often considered as the Xiaomi of the Philippines. It was able to dislodge Samsung (OTC:SSNLF) as the Philippines' top vendor of phones by coming up with budget-friendly (but good quality) smartphones. Intel's management is smart enough to partner with the country's most successful phone vendor.
Samsung and Microsoft continue to snub the x86 Atom mobile processors anyway. It will be sweet revenge for Intel to help local vendors kill the sales of sub-$100 phones of Samsung and Microsoft. The Philippines is now the third largest market for smartphones in South East Asia.
IDC estimated that my country registered a 76% Year-over-Year growth in smartphone sales last year. Out of the 26.8 million that got shipped to the Philippines, 47% of it were smartphones.
26.8 x .47 = 12.596 million
Out of that 12.6 million smartphones, Cherry Mobile contributed 21.9%.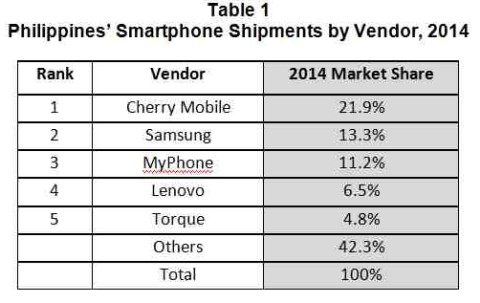 (Source: IDC)
Intel is smart enough to exploit the popularity of Cherry Mobile's brand. The reality now is that global brands like Samsung are no longer dominant in some emerging markets. MyPhone and Torque are also local smartphone companies owned by Filipinos that are stealing sales from Samsung handsets.
Just like in India and China, Samsung lost its sales leadership to local brands Micromax and Xiaomi. The partnership with Cherry Mobile is a great example of Intel's willingness to collaborate with successful Asian/European local brands.
SNS Network of Malaysia also used the Atom x3 inside its JOI Phone 5 and JOI LITE 7 Android tablet. Just like Cherry Mobile, SNS Network first ventured with an Intel-powered 2-in-1 Windows 8.1 tablet. This eventually led to SNS Network branching out to selling Android phones with x86 Atom chips.
Another non-Chinese OEM client of the Atom x3 is KIANO of Poland. The KIANO SlimTab 7 3GR uses the Atom x3-C3130 CPU. It also has 1GB of RAM, 8GB of ROM, and runs on Android OS 5.1.
Intel is unlikely to quit the smartphone processor business anytime soon. As long as there are successful local vendors that trust the x86 Atom for their products, Intel will only get emboldened to produce better smartphone processors. Microsoft and Samsung are making a big mistake in ignoring Intel Atom chips.
In the long run, those two global brands will get slowly killed by agile local brands that are able to offer cheaper phones using Intel-made processors.
As per the example set by the sub-$50 Cherry Mobile MAIA Fone i4, the Atom x3 processor might be the key piece towards Google fulfilling its dream of selling $50 Android One phones for emerging markets.
Google already failed with its first generation of MediaTek-powered $100 Android One smartphones in India. Coming up with a $50 Android One version of the Intel-powered MAIA Fone i4 might be Google's saving grace.
I again reiterate my position that Intel should quit wooing the elusive Microsoft Lumia business. Intel instead should do its best to get inside Google's Android One global campaign.
INTC is a Buy.
More