After yesterday's epic squeeze ramp into OpEx, and today's hanging-by-a-thread range on no volume, we couldn't help but think of this...
And with this week's rally, valuations for the S&P 500 push back towards highs (P/E >18x once again)...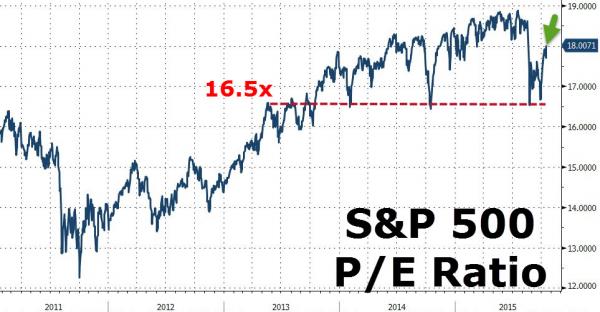 And we warned what happens next...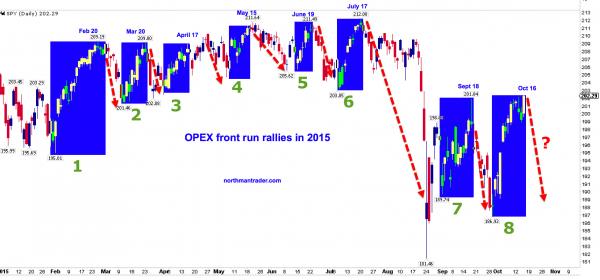 As Gold, Bonds, & Stocks all rise as The Fed rate-hike disappears over the horizon... From "rate-hikes are good for stocks" to "please njo rate hikes, we are not ready"!!!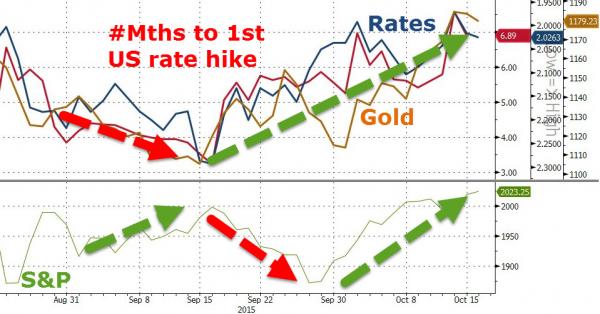 A very mixed bag for stocks this week... Trannies ugly (down 2.4% - worst week in 2 months, after last week's best week in 13 months) but Nasdqq up for the 3rd week in a row (the first 3 week gain since Feb 2015's big squeeze)...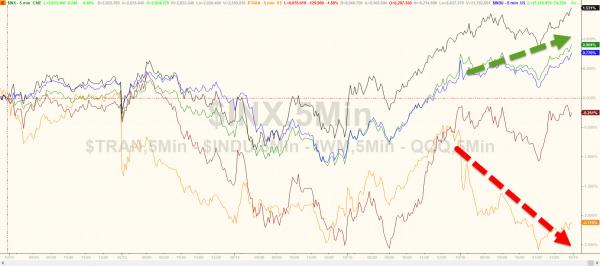 On the day,  futures drifted off the late spike highs overnight, spiked into the open (thanks to opex pinning), chopped around in a narrow range on dismal data before liftoff into the close sparked by crude into NYMEX Close then USDJPY lifted futures into p[anic-buying mode..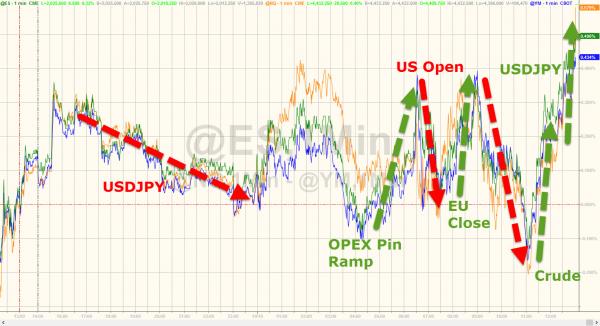 On the day the late-day ramp dragged all but small caps (and Trannies) into the green... on terrible volume.. Today's exuberance blamed on hope for a shitty print from China on Sunday night!!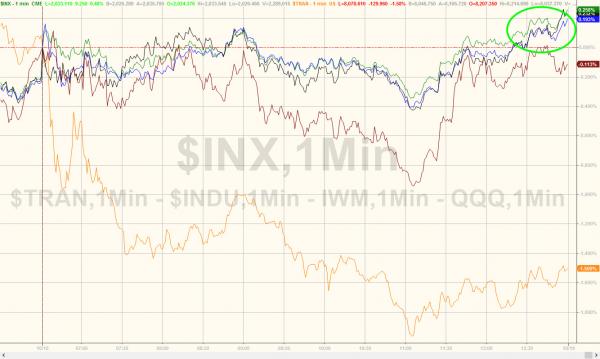 VIX had quite a week (most notably in VXX - the VIX ETF)...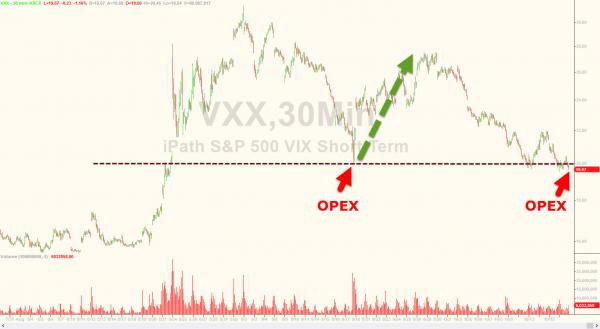 This dragged S&P 500 just into the green post-QE3...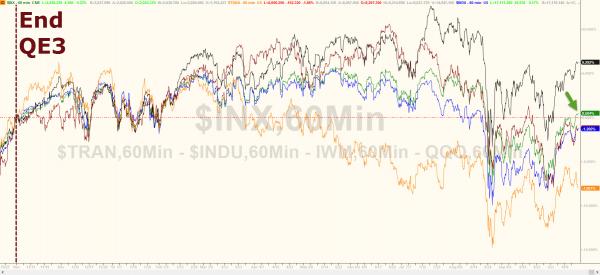 "Most Shorted" stocks have seen another rampalicious squeeze in the last 24 hours into opex but end the week lower (after last week's record-breaking surge)...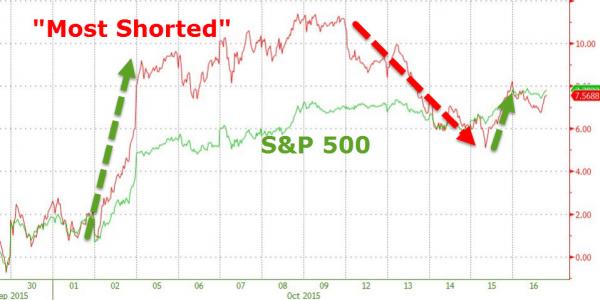 Valeant is a great example of today's illiquid insanity in stocks...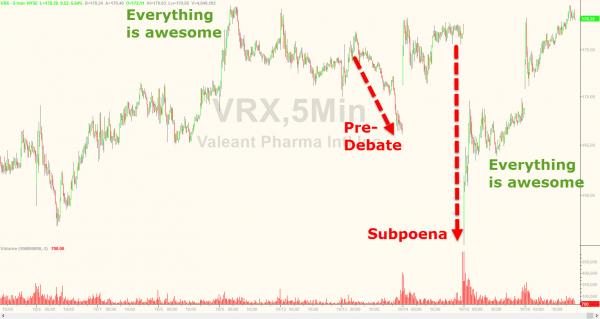 And TWTR...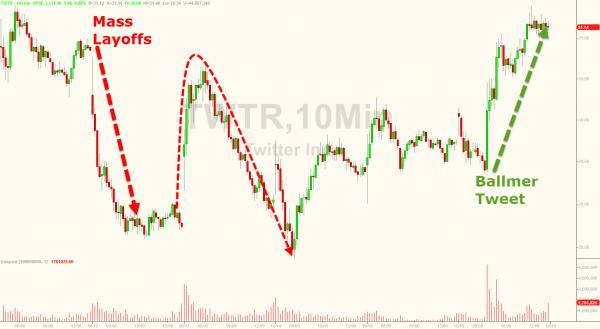 Treasuries end the week lower in yield (with a notable flattening in 2s10s and 2s30s)...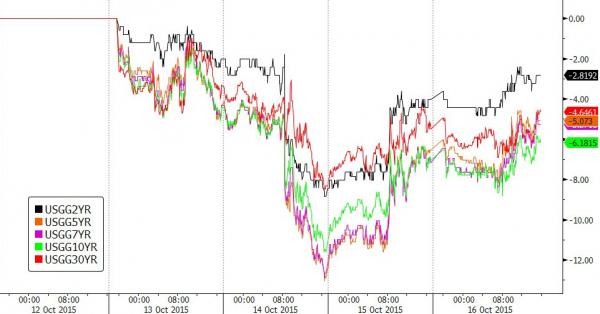 2s30s dropped 3bps on the week - the biggest flattening in 10 weeks...BUT 2s10s is now the flattest since May 2013...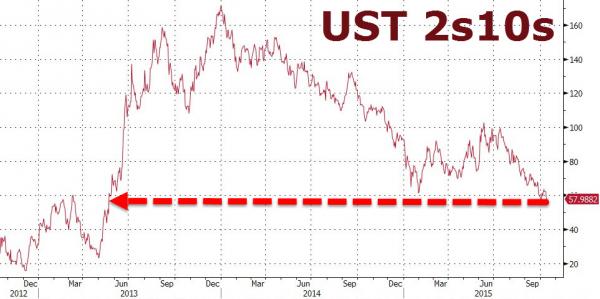 The USDollar continued to drift higher against the majors (extending yesterday's gains), faded during US pm session and ended the week lower...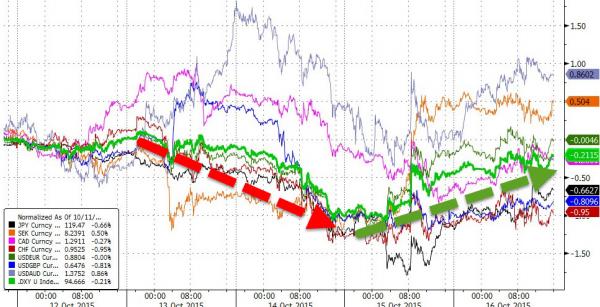 The USDollar also fell for the 3rd week in a row against Asian FX, almost fully retracing the China devaluation surge...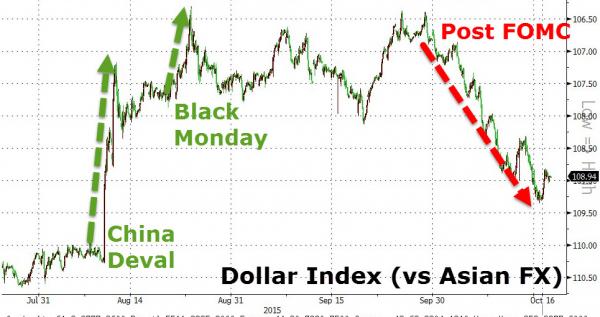 Commodities were mixed on the week with crude tumbling (though bid today) to its worst week in 2 months and gold and silver rising (with copper limping lower)...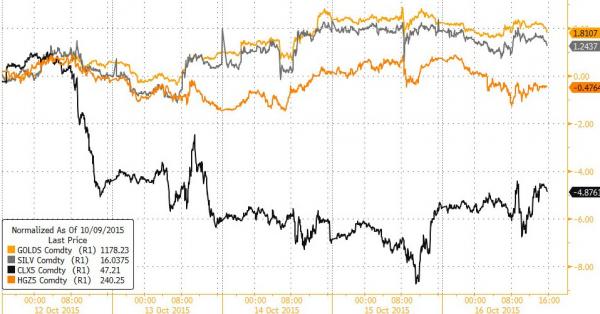 Gold had its best week in the last 5 (and is up 4 of the last 5 weeks)... closing baove its 200-day moving average...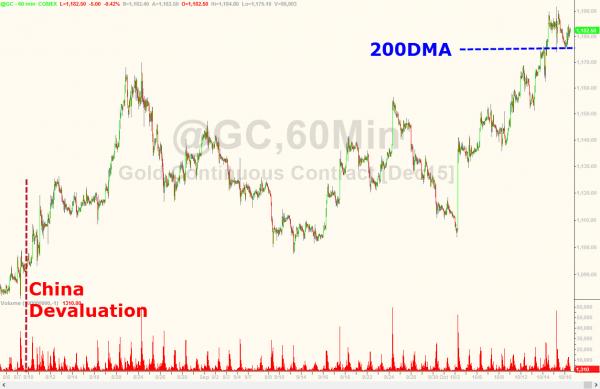 The biggest mover across the commodity complex was in Coffee...biggest drop in almost 8 months...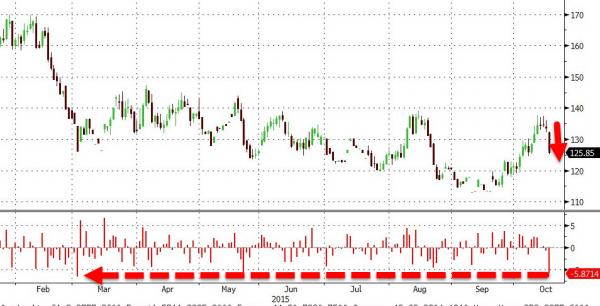 Charts: Bloomberg
Bonus Chart: Bad news is officially Good news...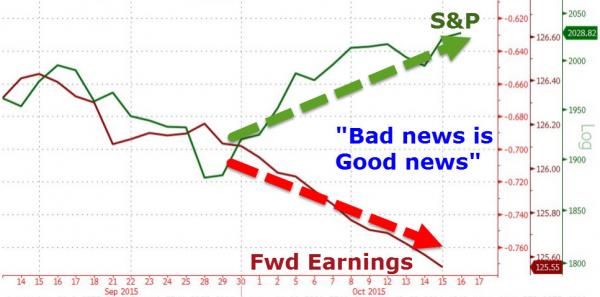 Bonus Bonus Chart: Philosophical thought to end the week...
Having a bad day? At least you're not in a coma with Khloe Kardashian making medical decisions for you.

— Dawn Kopecki (@Dawn_Kopecki)

https://twitter.com/Dawn_Kopecki/status/655080582716612608