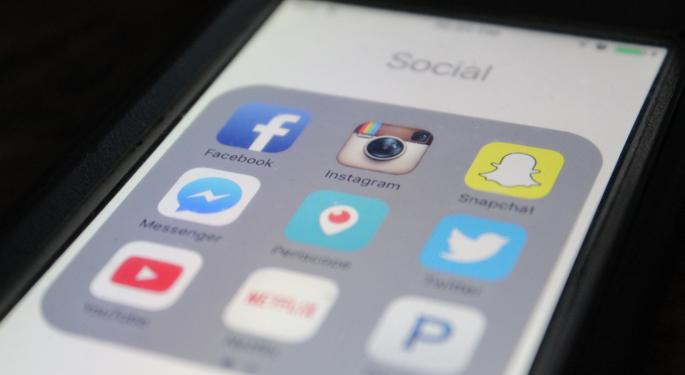 One of the key highlights of Facebook Inc FB 5.83%'s third-quarter earnings call was its positive commentary on video.
The social media giant remains fully committed to putting "Video First" across its family of apps, as increase in net speeds and smartphone capabilities encourage more people continue to create and share more video content than ever.
Facebook is catering to this increasing video content by Live Video, Instagram Stories and the company is also testing new camera and videos in select markets.
In addition, Facebook is also focused on expanding the use cases of platform, including the recent rollouts of FB Workplace and Marketplace.
However, Facebook shares are under pressure following its cautious commentary on 2017 ad revenue growth, headcount-related opex and infrastructure capital investment. Notably, Facebook emphasized that ad load growth would slow and unlikely to be a material contributor to ad revenue in 2H17.
"We view slowing ad loads as a conscious decision by FB to preserve user engagement rather than a function of slowing demand, and believe FB has multiple levers to drive long term ad growth across its family of apps," Cowen analyst John Blackledge wrote in a note.
Further, the company expects revenue growth to sequentially drop in the fourth quarter on tougher year-over-year comps and also narrowed the FY16 non-GAAP opex range to +40–45 percent versus prior range of +45–50 percent.
As a result, Blackledge's fourth-quarter revenue/EBITDA estimates move up to $8.4 billion/$5.7 billion from earlier estimate of $8.3 billion/$5.4 billion. The analyst also raised '17 EPS estimate to $5.42 from $5.23.
Following strong third-quarter results that beat Cowen estimates on ad revenue, EBITDA and EPS by 1 percent, 7 percent and 12 percent, respectively.
"In our view, the business appears remarkably strong; we would be buyers on the dip and reiterate Outperform rating," Blackledge added.
The analyst has a price target of $150, while the stock is currently down 5.6 percent to $120.04.
Date
Firm
Action
From
To
Nov 2016
Wells Fargo
Maintains
Outperform
Nov 2016
BTIG Research
Downgrades
Buy
Neutral
Nov 2016
Cantor Fitzgerald
Maintains
Buy
© 2016 Benzinga.com. Benzinga does not provide investment advice. All rights reserved.