In a shocking decision that will likely render veterans and active servicemembers apoplectic with rage - to use the Trumpian parlance of our times - a military judge spared deserter Bowe Bergdahl what many speculated could be a lengthy prison sentence after the disgraced Army Sergeant - who walked off his base in Afghanistan in 2009 and was promptly captured by the Taliban - pled guilty to desertion last month.
Bergdahl, who delivered a tearful apology at the beginning of the sentencing hearing earlier this week after hearing stories from the wives of soldiers who were killed or disabled while searching for him, will instead accept a dishonorable discharge, a reduction in rank from sergeant to E1, and also be required to pay a $1,000 fine from his salary for the next 10 months.
To put that in context, a charge of desertion typically carries a life sentence in prison. And in the past, soldiers who deserted were executed. The sentencing hearing took place at Fort Bragg, in North Carolina.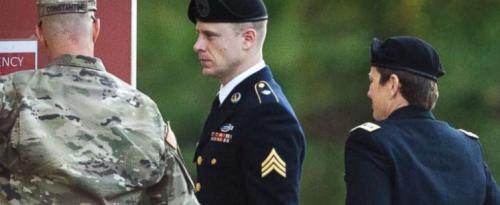 Bergdahl, a 31-year-old soldier from Hailey, Idaho, said he tried to escape more than a dozen times from his Taliban captors - where he was caged, kept in the darkness and beaten - before President Barack Obama brought him home in 2014 in a swap for five Taliban prisoners at Guantanamo Bay.
Bergdahl made no deal with prosecutors to limit his punishment, so the judge has wide leeway to determine his sentence.
One woman who testified during the hearing was Shannon Allen, the wife of Mike Allen, a soldier who was shot in the head during a search mission in Afghanistan. She delivered emotional testimony, tearing up as she described how her husband, who is a quadriplegic, can no longer play with her children and how they "can't even hold hands anymore."
Army Natl Guard Master Sgt. Mark Allen was shot in the head in 2009 while searching for Bergdahl in Afghanistan. https://t.co/befsf4yCZl pic.twitter.com/k4DEiA162N

— Nick Short ???????? (@PoliticalShort)

https://twitter.com/PoliticalShort/status/922837151837859840?ref_src=twsrc%5Etfw
Bergdahl's lawyers asked the judge for leniency during sentencing hearings, arguing he had a previously undiagnosed mental illness when he left his post.
"Hypothetically, he probably should not have been in the Army," said Capt. Nina Banks, one of Bergdahl's military defense attorneys, in her closing argument.
Bergdahl suffered from numerous mental illnesses, including schizotypal personality disorder and post-traumatic stress disorder, according to Dr. Charles Morgan, a forensic psychiatrist and professor at the University of New Haven and Yale University, who testified for the defense Wednesday.