With U.S. stocks sitting near all times, Wall Street strategists are getting more cautious about what's in store for the benchmark indexes over the near term.
To this end, Bank of America Merrill Lynch Head of U.S. Equity and Quantitative Strategy Savita Subramanian compiled a list of ten reasons (and 21 charts!) why U.S. equities are at "elevated risk of correction."
Positioning
Subramanian notes that short interest as a share of float for U.S. stocks has hit a 12-month low. The upshot here was recently detailed by Citigroup Inc.'s Tobias Levkovich, who warned that investors were turning more bullish, taking the potential "sentiment 'oomph'" out of the market as short positions have been unwound.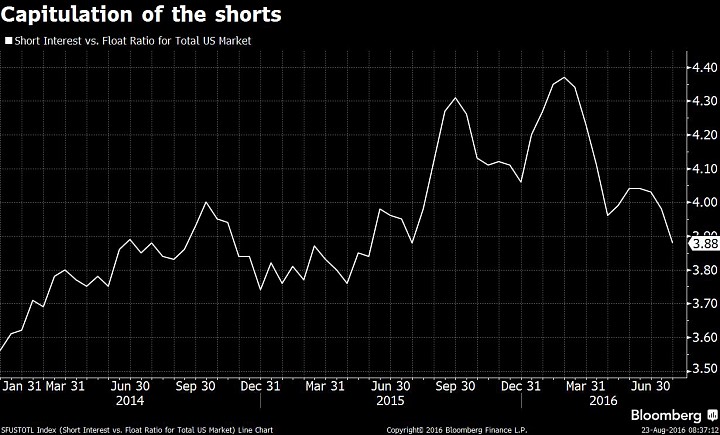 The Most Hated Rally, in other words, is starting to get a bit of love.
Economic Surprises
Citigroup's U.S. economic surprise index has retreated sharply over the past month, signaling that the preponderance of data hasn't been solidly exceeding analysts' expectations. As U.S. stocks have loosely followed the gyrations of economic surprises over the past year, the recent breakdown in this relationship may signal rockier waters ahead.
Valuations
While acknowledging that these...
More