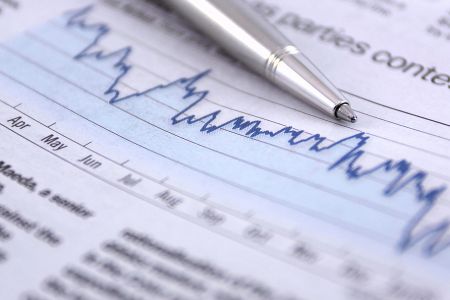 Gauges of inflation gaining upside momentum.
**NEW** As part of the ongoing process to offer new and up-to-date information regarding seasonal and technical investing, we are adding a section to the daily reports that details the stocks that are entering their period of seasonal strength, based on average historical start dates.   Stocks highlighted are for information purposes only and should not be considered as advice to purchase or to sell mentioned securities.   As always, the use of technical and fundamental analysis is encouraged in order to fine tune entry and exit points to average seasonal trends.
Stocks Entering Period of Seasonal Strength Today: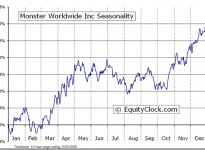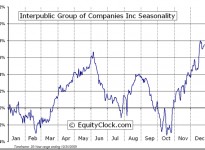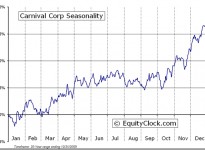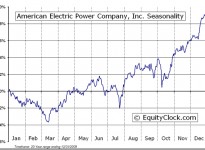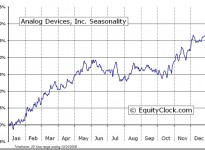 The Markets
Stocks traded higher on Tuesday as investors reacted positively to the latest set of earnings reports.  UnitedHealth Group was the largest contributor to the Dow Jones Industrial Average after the company posted better than expected earnings and guidance.  The stock gapped higher by almost 7%, trading back to resistance at its all-time high.  The break above a double-bottom pattern projects upside potential to around $150, or an additional 4.6% above present levels.  Shares of the health care company benefits from a period of seasonal strength that runs between now and March, similar to other health care providers.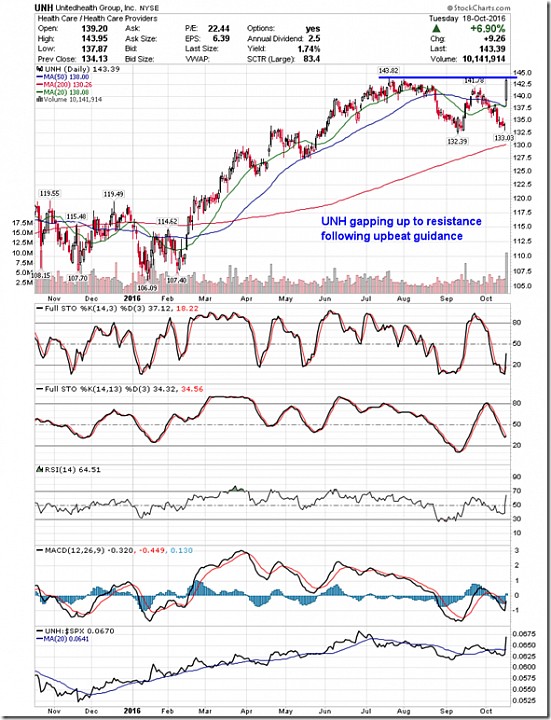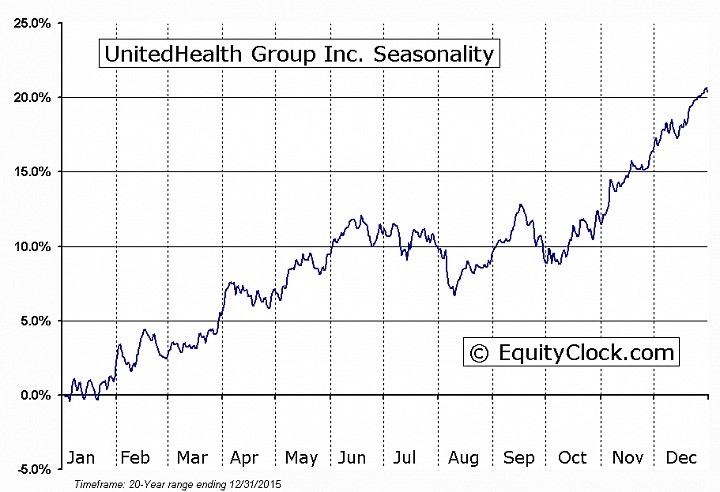 The gain on the session pushed the S&P 500 Index back up against minor resistance at 2145, a level broken one week ago.  Significant support at 2120 continues to hold firm.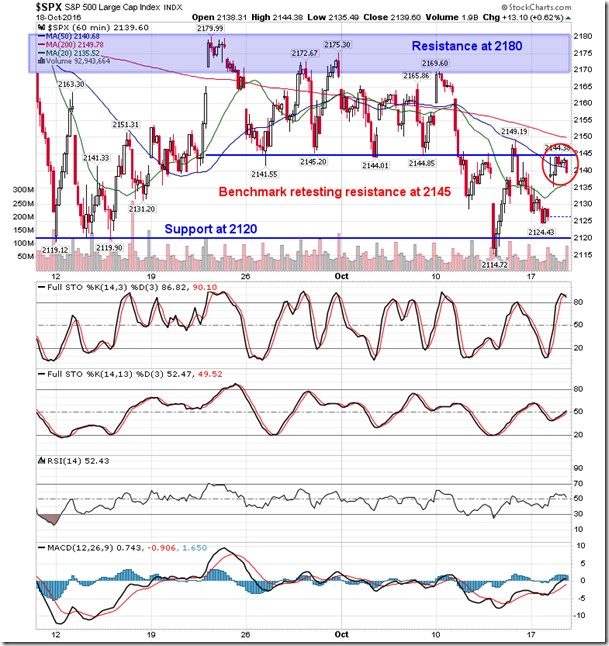 On the economic front, the latest read of consumer inflation was released before Tuesday's opening bell.  The headline print indicated that the Consumer Price Index rose 0.3% last month, inline with the consensus estimate.  Excluding food and energy, the index rose a less than stellar 0.1%, missing forecasts calling for a 0.2% rise.  Non-seasonally adjusted, the year-to-date change continues to lag the historical norm, which is no surprise given low interest rates.  The rise in both core and non-core CPI is inline with the Fed's annual inflation target of 2%.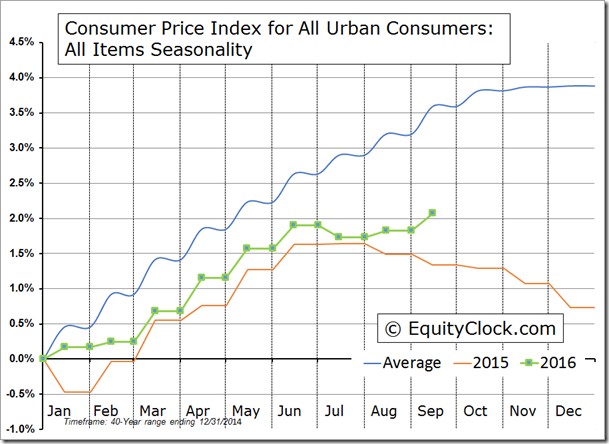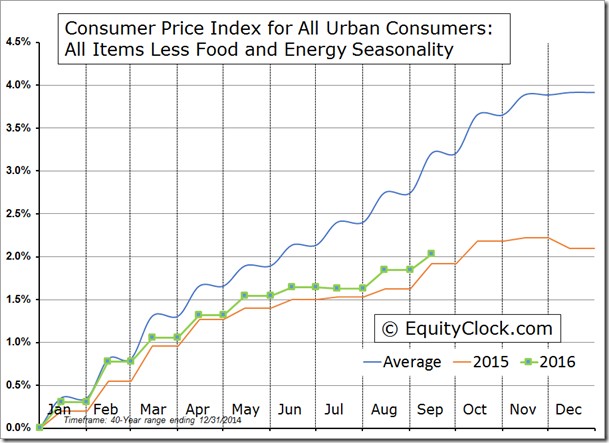 Looking at the 5-year breakeven inflation rate, a bullish setup is emerging.  The gauge of inflation expectations bottomed earlier this year and has since moved higher, closing in on resistance around 1.6%.  The pattern charted over the past couple of years resembles that of a head-and-shoulders bottoming pattern, the target of which suggests a move to levels above the Fed's target of 2%.  The inflation gauge just broke above a multi-year declining trendline, presumably putting the disinflationary pressures behind us and setting the stage towards the inflationary path that the Fed desires.  While inflation used to be one of the few measurable parameters that argued against a Fed rate hike, with this bullish trend shift, the argument is becoming weaker.

Sentiment on Tuesday, as gauged by the put-call ratio, ended bullish at 0.97.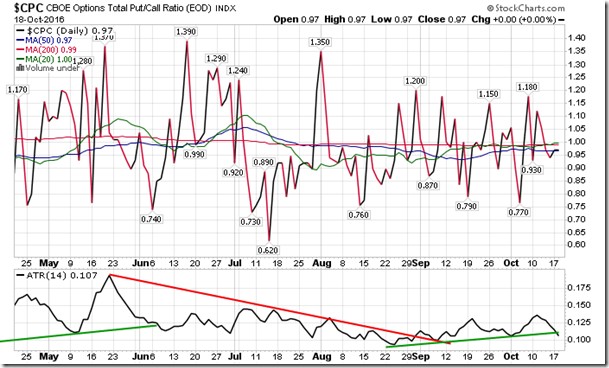 Seasonal charts of companies reporting earnings today:
S&P 500 Index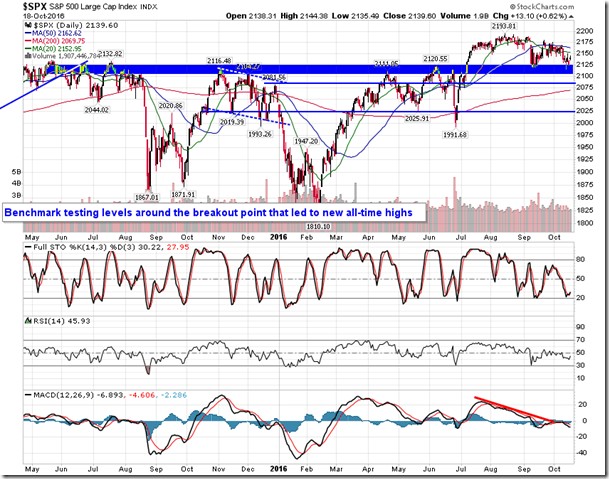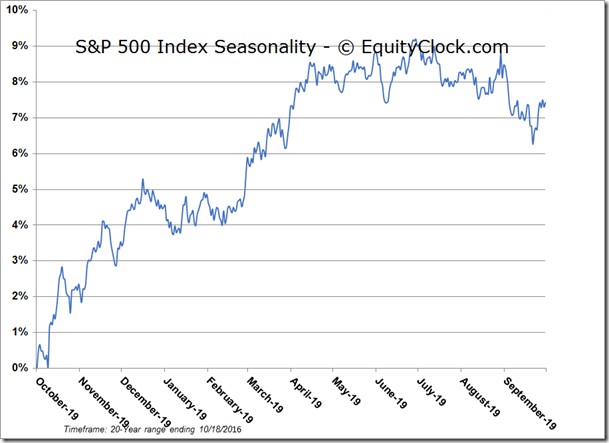 TSE Composite