Headquartered in Sarasota, Florida, Roper Technologies, Inc. ROP designs, manufactures and distributes medical and scientific imaging products and software, radio frequency (RF) products, services and application software, industrial technology products and energy systems and controls products and solutions.
Roper Technologies caters to selected segments of a broad range of markets, which include oil & gas, scientific research, medical diagnostics, semiconductor, refrigeration, automotive, water & wastewater, power generation, agricultural irrigation and other niche industries.
However, the company is significantly exposed to cyclical slowdown in markets like Energy and Industrial. Sluggish macroeconomic growth is a concern for the company, as it lowers infrastructure spending, which negatively impacts Roper's overall growth.
Zacks Rank: Currently, Roper Technologies has a Zacks Rank#2 (Buy) but that could change following its third quarter 2017 earnings report which has just released. You can see the complete list of today's Zacks #1 Rank (Strong Buy) stocks here.
Roper Technologies, Inc. Price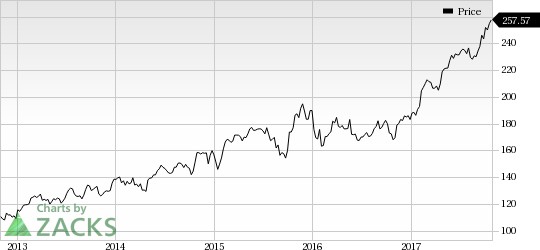 Roper Technologies, Inc. Price | Roper Technologies, Inc. Quote
We have highlighted some of the key details from the just-released announcement below:
Earnings: Roper reported adjusted earnings per share of $2.36 beating the Zacks Consensus Estimate of $2.30.
The company expects fourth quarter earnings in the band of $2.56 - $2.62. For 2017, the company expects adjusted earnings per share in a range of $9.27–$9.33, compared with $9.12–$9.30 per share.
Revenue: Revenues of $1.16 billion were up 23% year over year while adjusted revenues grew 24% to $1.17 billion.
Key Stats: Adjusted gross margin increased 170 bps to 63% in the quarter.
Check back later for our full write up on this ROP earnings report later!
Zacks' Best Private Investment Ideas
While we are happy to share many articles like this on the website, our best recommendations and most in-depth research are not available to the public.
Starting today, for the next month, you can follow all Zacks' private buys and sells in real time. Our experts cover all kinds of trades… from value to momentum . . . from stocks under $10 to ETF and option moves . . . from stocks that corporate insiders are buying up to companies that are about to report positive earnings surprises. You can even look inside exclusive portfolios that are normally closed to new investors.
Click here for Zacks' private trades >>
Want the latest recommendations from Zacks Investment Research? Today, you can download 7 Best Stocks for the Next 30 Days.
Click to get this free report
Roper Technologies, Inc. (ROP): Free Stock Analysis Report
To read this article on Zacks.com click here.
Zacks Investment Research