The Fed's Bill Dudley is out on the speaking-circuit today and dropped some clangers during the Q&A. Initially proclaiming that monetary policy should be independent from politics he then admitted that "The Fed can't be completely walled off from politics." Then he spooked stocks with his comment that "actual inflation is not needed for confidence on the 2% goal," or roughly translated - we'll hike no matter what the data says...
*DUDLEY: MONETARY POLICY SHOULD BE INDEPENDENT FROM POLITICS
*DUDLEY: FED CAN'T BE COMPLETELY WALLED OFF FROM POLITICS
*DUDLEY: ACTUAL INFLATION NOT NEEDED FOR CONFIDENCE ON 2% GOAL
*DUDLEY: NEGATIVE-RATE BENEFITS DIDN'T OUTWEIGH COSTS IN CRISIS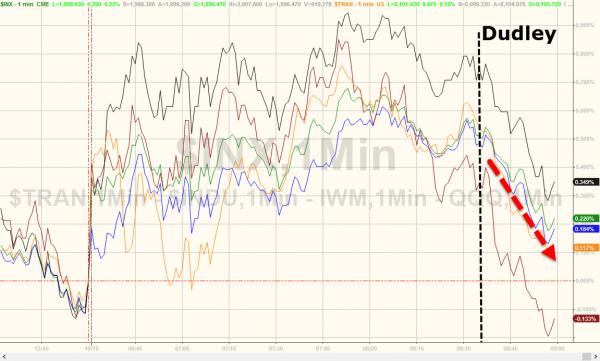 However, what likely sent stocks most lower was the promise that The Fed rate-path will be shaped partly by the market reaction... i.e. the lower stocks go the easier The Fed will be and if stocks rally, The Fed will tighten more.