Intercept Pharmaceuticals, Inc. ICPT is scheduled to report third-quarter 2017 results on Nov 1, before the opening bell.
Last quarter, the company reported a narrower-than-expected loss. Let's see how things are shaping up for this announcement.

Intercept's stock has declined 43.4% year to date against the industry's gain of 5.3%. In particular, shares have plunged significantly over the last few days due to safety issues regarding the approved drug Ocaliva.
Surprise History
Intercept's track record is pretty mixed, with the company reporting a narrower-than-expected loss in three of the last four quarters and wider-than-anticipated loss in one. The company has posted an average negative earnings surprise of 2.96% over this period.
Intercept Pharmaceuticals, Inc. Price and EPS Surprise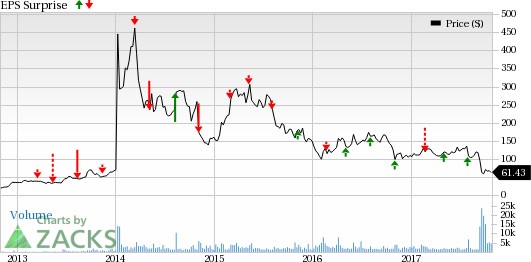 Intercept Pharmaceuticals, Inc. Price and EPS Surprise | Intercept Pharmaceuticals, Inc. Quote
Factors at Play
Intercept received a major boost with the FDA's approval (in May 2016) of its lead drug, Ocaliva, in combination with ursodeoxycholic (UDCA), for the treatment of primary biliary cholangitis (PBC) in adults with an inadequate response to UDCA or as monotherapy in adults unable to bear with UDCA. In December 2016, the European Commission also granted conditional approval to Ocaliva for the same indication.
The initial uptake of Ocaliva has been encouraging. However, there has been a lot of turmoil regarding the drug's safety.
The dose recommended for earlier stage PBC patients with no or mild hepatic impairment was 5 mg once daily, which was increased after three months to 10 mg once daily based on tolerability and treatment response. On the other hand, in late-stage patients with moderate or severe hepatic impairment (Child Pugh B or C cirrhosis), recommended dosing starts at 5 mg once weekly, with the possibility to gradually increase to a maximum of 10 mg twice weekly.
However, there have been a few safety issues. Deaths have been reported in PBC patients with moderate or severe hepatic impairment (Child Pugh B or C cirrhosis). The FDA reported 19 deaths due to Ocaliva and stated that the drug may also affect the liver.
However, Intercept conducted an analysis and concluded that that these patients were prescribed once daily doses of Ocaliva, which is seven times higher than the recommended weekly dose. The analysis was conducted in consultation with the FDA. The company concluded that deaths occurred due to the overdosing of the drug.
Consequently, Intercept issued the Dear Healthcare Provider letter. Thereafter, the FDA issued their own safety communication to reinforce recommended label dosing. Intercept is also working with the FDA on further updates to Ocaliva's label for safety purposes.
Nevertheless, such side-effects will limit the sales potential.
Meanwhile, Ocaliva is being evaluated for other indications including non-alcoholic steatohepatitis (NASH) and primary sclerosing cholangitis (PSC). The company has initiated a phase III study (REGENERATE) on Ocaliva for the treatment of non-cirrhotic NASH in patients with advanced liver fibrosis. Enrolment for the interim analysis cohort in the REGENERATE trial was completed (data readout in the first half of 2019).
Meanwhile, Intercept also initiated a phase II study, CONTROL (Combination OCA aNd sTatins for monitoRing Of Lipids), on OCA. The study is being conducted to evaluate the effect of Ocaliva in combination with statin therapy on lipid metabolism in patients with NASH.
Intercept expects operating expenses to be in the range of $380-$420 million in 2017.The company believes that continued commercialization of Ocaliva in PBC in the United States and other markets, sustained clinical development for OCA in PBC and NASH and the continued advancement of INT-767 and other pipeline programs are likely to drive growth.
We expect investors to remain focused on sales ramp up of Ocaliva and pipeline updates during the third-quarter earnings call.
Earnings Whispers
Our proven model doesn't conclusively show that Intercept is likely to beat estimates this quarter. This is because a stock needs to have both a positive Earnings ESP and a Zacks Rank #1 (Strong Buy), 2 (Buy) or 3 (Hold) to be able to beat earnings. That is not the case here as you will see below.
Zacks ESP: The Earnings ESP, which represents the difference between the Most Accurate estimate and the Zacks Consensus Estimate, is -2.39%. This is because the Most Accurate estimate is pegged at a loss of $3.63 while the Zacks Consensus Estimate is pegged at a loss of $3.55. You can uncover the best stocks to buy or sell before they're reported with our Earnings ESP Filter.
Zacks Rank: Intercept currently carries a Zacks Rank #3 which when combined with a negative ESP makes surprise prediction difficult.
Note that, Sell-rated stocks (#4 or 5) should never be considered going into an earnings announcement, especially when the company is seeing negative estimate revisions.
Stocks That Warrant a Look
Here are some health care stocks that you may want to consider, as our model shows that they have the right combination of elements to post an earnings beat this quarter.
Clovis Oncology, Inc. CLVS has an Earnings ESP of +2.01% and a Zacks Rank #2. The company is scheduled to release third-quarter results on Nov 1. You can see the complete list of today's Zacks #1 Rank stocks here.
Incyte Corporation INCY has an Earnings ESP of +38.64% and a Zacks Rank #3. The company is expected to release third-quarter results on Oct 31.
Agenus Inc. AGEN has an Earnings ESP of +8.11% and a Zacks Rank #2. The company is scheduled to release third-quarter results on Nov 7.
Zacks' Best Private Investment Ideas
While we are happy to share many articles like this on the website, our best recommendations and most in-depth research are not available to the public.
Starting today, for the next month, you can follow all Zacks' private buys and sells in real time. Our experts cover all kinds of trades… from value to momentum . . . from stocks under $10 to ETF and option moves . . . from stocks that corporate insiders are buying up to companies that are about to report positive earnings surprises. You can even look inside exclusive portfolios that are normally closed to new investors.
Click here for Zacks' private trades >>
Want the latest recommendations from Zacks Investment Research? Today, you can download 7 Best Stocks for the Next 30 Days.
Click to get this free report
Incyte Corporation (INCY): Free Stock Analysis Report
Agenus Inc. (AGEN): Free Stock Analysis Report
Clovis Oncology, Inc. (CLVS): Free Stock Analysis Report
Intercept Pharmaceuticals, Inc. (ICPT): Free Stock Analysis Report
To read this article on Zacks.com click here.
Zacks Investment Research