On Aug 12, chemical maker,
Huntsman Corporation
HUN
was upgraded to a Zacks Rank #1 (Strong Buy). Going by the Zacks model, companies sporting a Zacks Rank #1 have higher chances of outperforming the broader market.
Why the Upgrade?

Estimates for Huntsman have been moving north over the last 60 days. The Zacks Consensus Estimate for the current year has increased 6% to $2.31 per share over this period. Moreover, the Zacks Consensus Estimate for 2018 has moved up 9.7% over the same time frame to $2.71.
Huntsman also has an impressive earnings surprise history, outpacing the Zacks Consensus Estimate in the trailing four quarters, delivering a positive average earnings surprise of 26.36%.
Moreover, Huntsman has significantly outperformed the
industry
over a year. The company's shares have rallied around 47% over this period, compared with roughly 16.7% gain recorded by the industry.
Huntsman's adjusted earnings of 85 cents per share for second-quarter 2017 topped the Zacks Consensus Estimate of 67 cents. Revenues of $2,616 million came in line with the Zacks Consensus Estimate. The second quarter benefited from enhanced free cash flow generation, solid underlying fundamentals and the company's downstream strategy. The company expects to attain earnings growth in all business segments in 2017.
Huntsman recently announced the completion of initial public offering (IPO) by its subsidiary, Venator Materials PLC, a global chemical company and manufacturer of titanium dioxide (TiO2) pigments and performance additives. Venator's ordinary shares has started trading on the NYSE under the ticker symbol "VNTR".
Huntsman plans to use the net IPO proceeds of about $475 million and roughly $725 million of net proceeds from the Venator debt distribution to repay its existing debt. Significant debt reduction worth $1.2 billion will make Huntsman's trailing 12-month pro-forma net-debt-to-EBITDA roughly 2.5 times.
Further, the debt reduction will lower Huntsman's annual cash interest expense by about $45 million. The company has repaid over $2 billion of debt, including the Venator proceeds, since Jan 2016.
According to the company, the IPO is a significant milestone as it will create considerable value for shareholders through debt reduction. Huntsman's increased financial strength and the completion of this IPO makes it well-poised toward completing the merger of equals with Clariant.
Huntsman Corporation Price and Consensus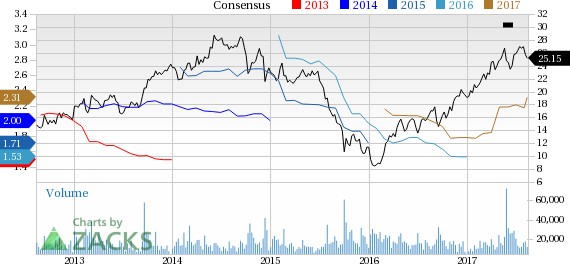 Huntsman Corporation Price and Consensus | Huntsman Corporation Quote

Other Stocks to Consider

Other top-ranked companies in the basic materials space include Arkema S.A. ARKAY, The Chemours Company CC and Kronos Worldwide KRO. All three stocks flaunt a Zacks Rank #1. You can see the complete list of today's Zacks #1 Rank stocks here.

Arkema has an expected long-term earnings growth of 12.8%.
Chemours has an expected long-term earnings growth of 15.5%.
Kronos Worldwide has an expected long-term earnings growth of 5%.
5 Trades Could Profit "Big-League" from Trump Policies

If the stocks above spark your interest, wait until you look into companies primed to make substantial gains from Washington's changing course.
Today Zacks reveals 5 tickers that could benefit from new trends like streamlined drug approvals, tariffs, lower taxes, higher interest rates, and spending surges in defense and infrastructure. See these buy recommendations now >>
Want the latest recommendations from Zacks Investment Research? Today, you can download 7 Best Stocks for the Next 30 Days.
Click to get this free report
Kronos Worldwide Inc (KRO): Free Stock Analysis Report
Huntsman Corporation (HUN): Free Stock Analysis Report
Arkema SA (ARKAY): Free Stock Analysis Report
Chemours Company (The) (CC): Free Stock Analysis Report
To read this article on Zacks.com click here.