The railroad business has been tough lately, and companies like CSX (NASDAQ: CSX) have had to deal with the ups and downs of the industrial economy and its impact on shipping volume. Coming into Wednesday's first-quarter financial report, however, CSX investors were excited about the prospects for a resurgence in the railroad's growth prospects.
With a new CEO at the helm, CSX's results were indeed strong. Moreover, the company sees more good things happening in the months to come. Let's look more closely at CSX to see how it did and what lies ahead for the railroad going forward.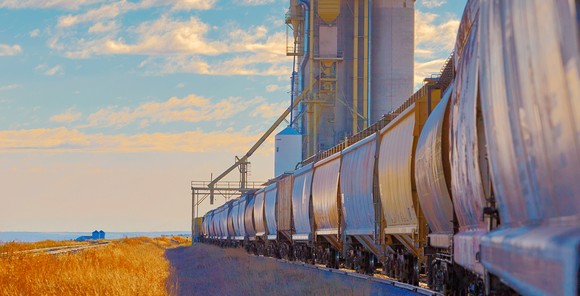 Image source: CSX.
CSX toots its horn
CSX's first-quarter report continued an improving trend in the railroad's performance. Sales were up almost 10% to $2.87 billion, which was almost double the top-line growth rate that most investors were expecting to see. On a GAAP basis, net income inched upward by just 2% to $362 million. But after taking in account one-time restructuring charges, adjusted earnings of $0.51 per share were $0.08 higher than the consensus forecast among those following the stock.
Looking more closely at the numbers, CSX saw solid performance in most of its business segments. The biggest revenue increase came from the coal segment, where sales climbed by nearly a third to $522 million. From a volume basis, coal gains were relatively small, and the biggest increases came in shipments of minerals and the metals and equipment unit, which saw volume rise 21% and 13% respectively...
More