Orthopedic reconstructive products manufacturer, Zimmer Biomet Holdings, Inc. ZBH is slated to report its first-quarter 2016 financial numbers on Apr 28, before the opening bell. 
Last quarter, the company had delivered a positive earnings surprise of 2.45%. Impressively, Zimmer Biomet's earnings have outpaced the Zacks Consensus Estimate in all of the past four quarters, with an average beat of 3.2%. Let's see how things are shaping up prior to this announcement.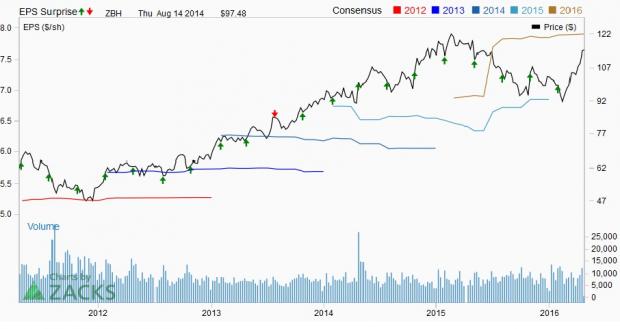 Why a Likely Positive Surprise?
Our proven model shows that the company is likely to beat earnings because it has the right combination of two key ingredients.
Zacks ESP: Zimmer Biomet has an Earnings ESP of +1.04%. That is because the Most Accurate estimate is $1.95 while the Zacks Consensus Estimate is pegged lower at $1.93. This is a meaningful and leading indicator of a likely positive earnings surprise.
Zacks Rank: Zimmer Biomet has a Zacks Rank #2 (Buy). Note that stocks with a Zacks Rank #1 (Strong Buy), 2 or 3 (Hold) have a significantly higher chance of beating earnings estimates. Conversely, Sell-rated stocks (Zacks Rank #4 or 5) should never be considered going into an earnings announcement.
The combination of Zimmer Biomet's Zacks Rank #2 and +1.04% ESP makes us reasonably confident of a positive earnings beat.
What is Driving the Better-than-Expected Earnings?
During the last reported quarter, Zimmer Biomet witnessed severe revenue-related headwinds in its dental division due to a supply disruption associated with a voluntary field action in response to a packaging issue. However, we are encouraged by the company's commitment to find remedies in this matter by the end of the first quarter. Hence, we expect to see a rebound in the company's dental revenue down the line which may initiate from the first quarter itself.
Overall, the market assumption for 2016 remains quite favourable for Zimmer Biomet. According to the company, the musculoskeletal market is expected to grow approximately 3% in 2016 with global market conditions remaining stable when compared to full-year 2015.
Revenue acceleration is projected across multiple product categories including Persona, the personalized knee system; The Oxford Partial Knee; Gel-One Cross-linked Hyaluronate; Knee Creations Subchondroplasty; and the Arcos Modular Femoral Hip Revision System. A set of new product launches will add further impetus to it.
Additionally, starting from the first quarter through 2016, Zimmer Biomet expects to realize increasing sales-force productivity, driven by added stability and specialization in its global sales organizations, and supported by benefits of its medical education and training programs.
In the first quarter of 2016, the company projects revenue growth rate of 0.5% to 1% at constant exchange rate or CER. Foreign currency translation is expected to reduce the company's reported first-quarter revenues by 2.5%. First-quarter adjusted EPS is envisioned between $1.90 and $1.95.
Further, with a strong cash balance, Zimmer Biomet intends to return half of its net income to stockholders through annual share repurchase programs and target suitable acquisitions in the musculoskeletal space. This should attract more investors to the stock.
Other Stocks to Consider
Here are some other companies you may want to consider as our model shows they too have the right combination of elements to post an earnings beat this quarter: 
Align Technology Inc. ALGN has an Earnings ESP of +12.82% and a Zacks Rank #2.
Becton, Dickinson and Company BDX has an Earnings ESP of +2.49% and a Zacks Rank #2.
Gilead Sciences Inc. GILD has an Earnings ESP of +1.65% and a Zacks Rank #2.
Want the latest recommendations from Zacks Investment Research? Today, you can download 7 Best Stocks for the Next 30 Days. http://woas.zacks.com/adv/7stock_report.pdf?ADID=ZACKS_PFP_7... blog">Click to get this free report >>
Want the latest recommendations from Zacks Investment Research? Today, you can download 7 Best Stocks for the Next 30 Days.
Click to get this free report
GILEAD SCIENCES (GILD): Free Stock Analysis Report
ALIGN TECH INC (ALGN): Free Stock Analysis Report
BECTON DICKINSO (BDX): Free Stock Analysis Report
ZIMMER BIOMET (ZBH): Free Stock Analysis Report
To read this article on Zacks.com click here.
Zacks Investment Research