The EUR/USD has been consolidating this week, but ahead of tomorrow's US NFP and unemployment data, the pair has bullish bias. 
The 1H chart shows shows that this week's range was widened to 1.3767 and 1.3880, but the 5/1 price action pushed even higher to 1.3888. Then after a bearish cycle during the US session, EUR/USD remains above the 1.3853 intra-session support pivot.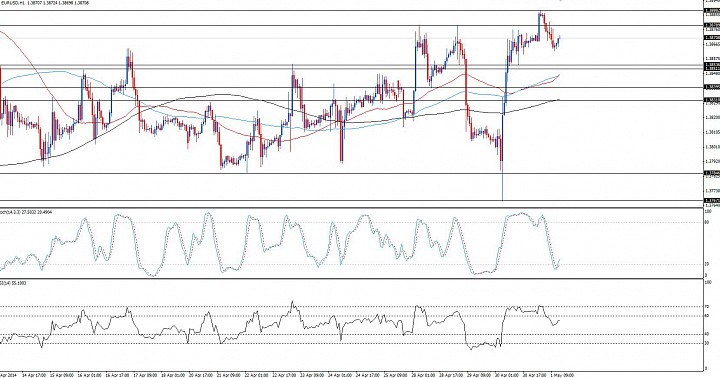 (eurusd 1h chart, 5/1)
This price action suggests the market is ready to continue higher extending a bullish trend that has been in place since at least July 2013. However, tomorrow's US jobs data is causing hesitation.  

However, if the market fails to push above 1.39 tomorrow, and ends up falling below 1.3765, then EUR/USD might be turning bearish. Otherwise, the market is neutral to bullish and about to extend toward 1.3905 and 1.3966 (2014-high).