On Jul 11, The Middleby Corporation MIDD was downgraded to a Zacks Rank #4 (Sell) from a Zacks Rank #3 (Hold). Going by the Zacks model, companies carrying a Zacks Rank #4 have chances of performing weaker than the broader market over the upcoming quarters.
Over the last one month, Middleby's shares lost 8.84%, as against 1.11% growth registered by the Zacks categorized Machinery-General Industrial industry.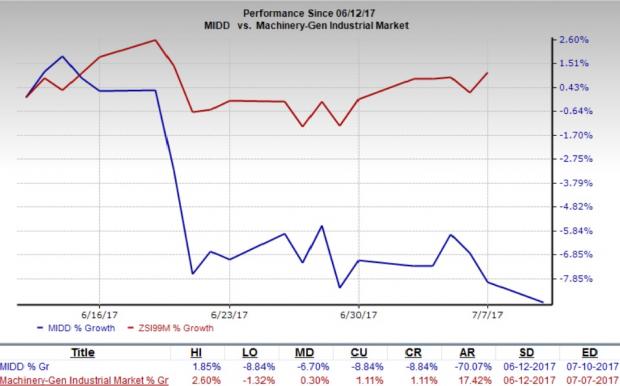 Reason for the Downgrade
Middleby's overseas businesses are exposed to currency translation risks. For instance, adverse foreign exchange impact lowered the company's top-line results by $13.3 million in first-quarter 2017. The company believes that a stronger U.S. dollar might continue to dent its foreign market revenue and profitability even in the quarters ahead.
Moreover, dismal oil prices are thwarting the oil companies' sales, thus significantly reducing the extent of Greenfield investments made in the sector. Lower investments made by the companies are hurting the sales of heavy equipment, machinery parts and steel producers, like Middleby.
Additionally, we believe that extensive industry rivalry might weaken Middleby's competency in the market, in turn denting its near-term top- and bottom-line performances. Furthermore, possibility of a sudden input price inflation remains a major concern.
Over the last 30 days, the Zacks Consensus Estimate for the stock also moved south for both 2017 and 2018, underlining negative market sentiment.
Stocks to Consider
Some better-ranked stocks in the industry are listed below:
Apogee Enterprises, Inc. APOG has an average positive earnings surprise of 3.42% for the last four quarters and currently flaunts a Zacks Rank #1 (Strong Buy). You can see the complete list of today's Zacks #1 Rank stocks here.
Deere & Company DE also sports a Zacks Rank #1 and has an average positive earnings surprise of 70.41% for the past four quarters.
AGCO Corporation AGCO carries a Zacks Rank #2 (Buy) at present and has an average positive earnings surprise of 40.39% for the trailing four quarters.
More Stock News: 8 Companies Verge on Apple-Like Run
Did you miss Apple's 9X stock explosion after they launched their iPhone in 2007? Now 2017 looks to be a pivotal year to get in on another emerging technology expected to rock the market. Demand could soar from almost nothing to $42 billion by 2025. Reports suggest it could save 10 million lives per decade which could in turn save $200 billion in U.S. healthcare costs.
A bonus Zacks Special Report names this breakthrough and the 8 best stocks to exploit it. Like Apple in 2007, these companies are already strong and coiling for potential mega-gains. Click to see them right now >>
Want the latest recommendations from Zacks Investment Research? Today, you can download 7 Best Stocks for the Next 30 Days.
Click to get this free report
Apogee Enterprises, Inc. (APOG): Free Stock Analysis Report
Deere & Company (DE): Free Stock Analysis Report
AGCO Corporation (AGCO): Free Stock Analysis Report
The Middleby Corporation (MIDD): Free Stock Analysis Report
To read this article on Zacks.com click here.
Zacks Investment Research