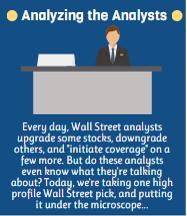 Calumet Specialty Products Partners fails every major safety test for an MLP. Because of that, there's a very real risk that its distribution could be reduced at some point in the future. ... Investors looking for safety should steer clear of this one. ... -- Matt DiLallo
Five days ago, my Foolish colleague Matt DiLallo penned this warning to investors considering an investment in Calumet Specialty Products Partners (NASDAQ:CLMT) stock. Two days later, Calumet announced it was taking on $400 million in debt to try to keep itself liquid, and suspended payment of its dividend, which had been averaging an annual yield of nearly 27%.
Three days after that -- this morning -- four Wall Street analysts woke up to the fact that Calumet is in trouble, and downgraded the stock.

Calumet Specialty Products Partners.
The news
Oil refiner and master limited partnership (MLP) Calumet has suffered at least four (and counting) downgrades in the wake of its dividend cut. So far, RBC Capital, Janney Capital, and Wells Fargo have all downgraded the company to various flavors of hold, while investment banker Raymond James went one step farther and cut the stock to underperform (aka sell).
And yet, across the spectrum of analysts commenting on Calumet, expectations continue to call for the stock price to rise at Calumet. According to a survey of analyst comments published on TheFly.com, these same analysts who are downgrading Calumet today expect the stock to rise to anywhere from $7 to $10 within a year!
Now here's the question to ask: Given that these analysts were so very wrong about Calumet...
More