About company
Ford Motor Corporation is the second largest American automaker. on Forbes Lists Ford is 41 World's Most Valuable Brands and 69 Global 2000. It operates through two business sectors: Automotive and Financial Services. The Other Financial Services segment includes a variety of businesses, including holding companies and real estate. During the financial crisis at the beginning of the 21st century, it was bankrupt, but since then it has returned to profitability. We also should mention that Ford is an S&P 500 company, giving it special status as one of the large-cap companies making up the S&P 500 Index.
Financial situation
Ford make the best showing, which we believe should give investors a better performance opportunity than most of other stocks. The strengths of the company can be seen in multiple areas, such as its revenue growth, increase in net income, solid stock price performance, good cash flow from operations and growth in earnings per share.
Despite of these advantages there is a big minus - company has had generally high debt management risk.
Company reported significant operating margin and pre-tax results improvement in the most recent quarter compared to the same quarter a year ago.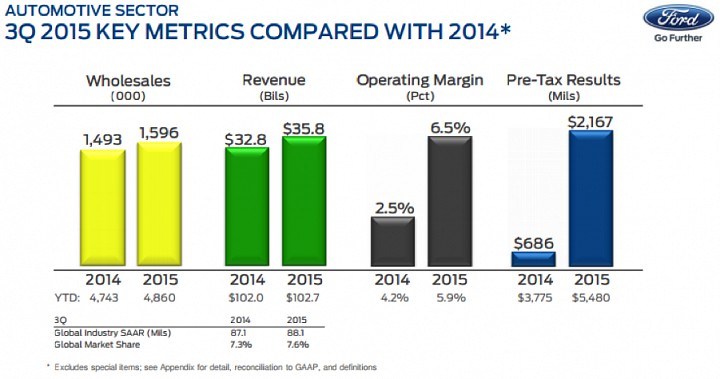 According to Ford Motors Co
Technical Analysis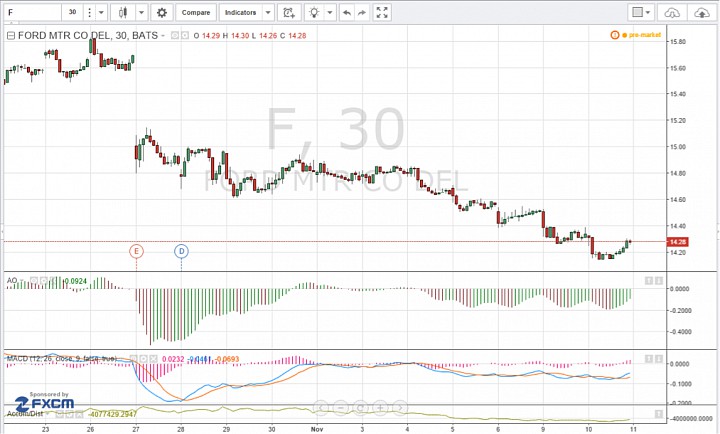 Source: made by TRADEintime (based on tradingview)
In fact, using MACD indicator in this case, it is hard to determine what to do with stocks further.
We see that AO crosses below the zero line, so short term momentum is now falling faster than the long term momentum. This present a bearish selling opportunity. But again it is difficult to say how long this trend will continue. There is no any signal that the security will soon return to normal levels.
After publishing the report for the third quarter, the company's shares have fallen due to small decline in earnings from 0,47 to 0,45. But in the meantime in comparison with the previous year earnings have grown on 0,21.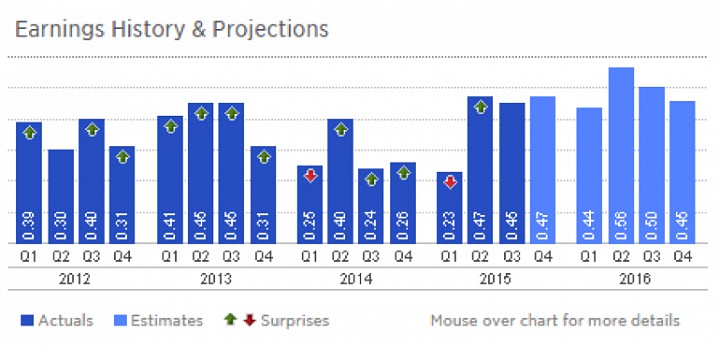 According to Ford Motors Co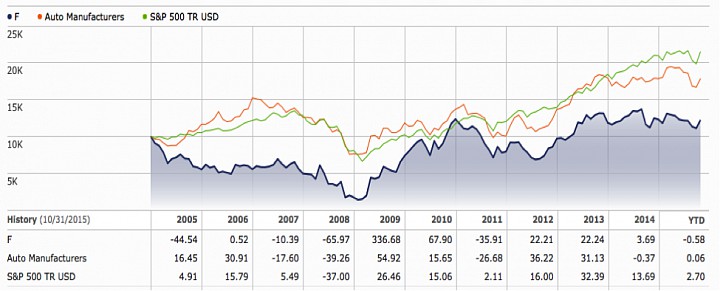 Source: Morningstar
Automobile stocks slumped in the end of the October and this trend remain the same. The S&P 500 industry group of automotive organizations had fallen almost 4 percent in a week, making these stocks one of the worst performing groups in the index. Ford Motors declined approximately 3.5 percent in the week.
However, we believe that this so-called «crisis» in auto stocks market could have created some attractive buying opportunities for Ford Motors, it is trading at a lower price to their average price on the stock.
Valuation

Source: made by TRADEintime (based on data from Morningstar)
The company were currently trading at P/E of 12, so investors are willing to pay 12 dollar for 1 dollar of current earnings. It is a very good factor.
In the absence of a significant increase in the value of shares Ford Motor Company offers good dividends in hope that it must be particularly important for investors, who are seeking to obtain a steady and growing income. Dividend Yield of Ford Motor Company is now 4.2%, which is higher than certain real estate investment trusts, and a further increase in the dividend is very likely. Given the fact that the shareholders can benefit from the growth of dividends, stock returns over time, perhaps investors reconsider their valuation of Ford Motor, and will pay more attention to the company as a source of income. In essence, high yield stocks provide investors with a measure of protection against falls in value of the company.
Our recommendations will not be unequivocal. For investors – they should hold shares as Ford have good fundamental characteristics. And for traders, who want to close their deals as soon as possible in a near future, they must buy shares.