Our opinion: downside potential
Street's opinion: small upside potential
Current price: 125.98 USD
Target price: 120.00 USD
Today we continue adding companies to our consumer goods industry research, now from the sport industry. Nike during more than 50 years of being has grown to be perhaps the most recognized brand in the industry.
NKE, together with its subsidiaries, designs, develops, markets and sells athletic footwear, apparel, equipment, and accessories for men, women and kids worldwide. Nike has a market cap of $88.5 billion and is a part of the consumer non-durables industry. Shares are up 36.7% year-to-date. But consider the Wall Street traders' axiom, which was also approved many times by Warren Buffett, the best time to sell a stock is when everyone is buying it.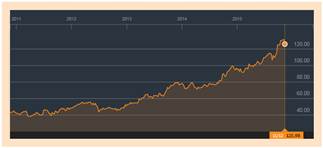 Source: Bloomberg
Nike (NYSE:NKE) has been "an absolutely amazing stock this year," says MKM Partners chief technical analyst Jonathan Krinsky, but now is the time to sell after shares hit the 52-week high few days ago.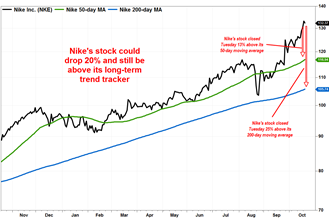 Source: MKM Partners
Let's move to fundamental aspects of Nike. During the last Investor Day Mr. Parker (President & CEO) gave an overview of Nike's five year plan that includes growing revenue to $50.0 billion by FY20 (2015 revenue ~30 billion). He emphasized the tremendous opportunity for growth in China with the expansion of its middle class. Mr. Parker also introduced the new Advanced Product Creation Center in Nike's headquarters.
NKE Revenue, FY2005- 2020E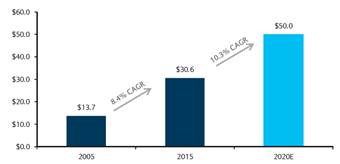 Source: Company's Reports
In our view, Parker's plans concerning China growth opportunities are overestimated due to our Chinese economy outlook. Investors note the Chinese faltering economy demonstrating the lowest rate of growth since China turning capitalist. Chinese demand connected with one-child policy probably will affect consumer industry, despite the fact there is no specific timetable set to imply such policy. Companies are seen potentially getting modest losses if families become larger and parents of newborns start to spend much more on their kids than on themselves.
Moreover, we need to take into consideration FX swings that creates some risk to EPS given Nike is nearly 60% international. NKE prefers to perform all of its operations in USD, so exchange rate fluctuations can have large short-term effects. Because Nike is very dependent on manufacturing and sales overseas, exchange rate fluctuations are something to prepare for.
Nike is currently trading at 29.6x our FY16 EPS of $4.25 and 25.7x our FY17 EPS estimate of $4.90. Our 12-month price target of $120 represents 24.5x our FY17 EPS estimate of $4.90. We rate the shares of Nike Overweight.
-AU