Gold continues to decline on the daily chart as the expectations among investors for higher interest rates continues to support the demand for US Dollar. Yesterday a study by the San Francisco Federal Reserve published that Fed officials see interest rates rising earlier than the market expect weakening the demand for safe haven currencies like Japanese Yen and Gold. Gold always reacts opposite to US dollar as the higher dollar makes dollar priced commodities more expensive for holders of other currencies. This week investors will be looking at the Unemployment Claims, Retail Sales and Consumer Sentiment Report.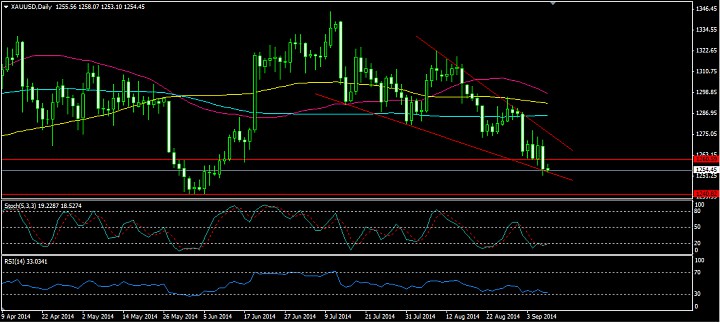 XAUUSD : Daily Chart
On the daily chart, the commodity still seems to be trading within the falling wedge but has declined below the support at 1260.59. If it declines below the falling support trend line the falling wedge pattern will fade away otherwise there are chances that Gold might trim its losses by breaking above the falling resistance trend line. The gain will only come if Fed will show dovish view on the economy otherwise Gold is expected to continue following bearish trend.