The GBP/USD had a sharp decline following Brexit but found support above 1.2790 early in July. Since then, it has been choppy as we can see in the 4H chart.

GBP/USD 4H Chart 8/26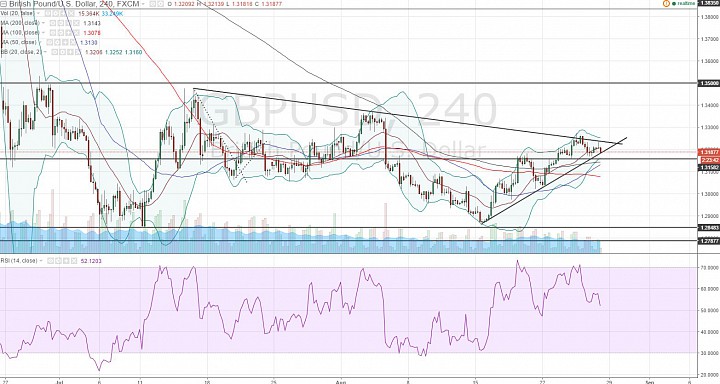 (click to enlarge)

Consolidating with bearish bias:
- The 4H chart shows GBP/USD in a consolidation between roughly 1.35 and 1.2790. 
- It should be noted that the prevailing trend was bearish (even before Brexit).
- Also, within the consolidation, we are seeing lower highs. 
- The fact that the mid-August low missed the previous lows earlier in July does suggest that the market neutralized, but does not provide the case for a bullish market. To me, GBP/USD is bearish-neutral.
- Instead, I believe that there is still some bearish bias. A break above 1.35 will be needed to convince me GBP/USD is no longer bearish.

Event risks:
- Today, we will get preliminary US GDP data for Q2. The advanced estimate was 1.2%, and economists believe there could be a slight revision to 1.1%.
- An even bigger event risk is Yellen's scheduled speech in Jackson Hole. The market will be monitoring her words for clues on whether there will be a rate hike in September (unlikely), or December (some think so). 

Bullish scenario:
- I am not going to speculate what the data will be, or even how the market will react in different scenarios. 
- BUT, I will say that IF the market reacts by dragging GBP/USD below 1.3150, I would be convinced that it can fall back at least towards 1.29 if not 1.28. 
- Note that the 1.3150 area is the central pivot of the consolidation range. Also note a rising speedline that would be clearly broken if price falls below 1.3150. 

Bullish scenario:
-  Failure to break below 1.3150 could be a sign that bulls are still in charge. 
- We can expect some volatility today, but let's say price does break below 1.3150 briefly but springs back above 1.32, I would take that as a false break. A false break can translate into a bullish continuation in the short-term.
- If price can hold above 1.32 today after some volatility, then the next challenge is a falling trendline. A break above 1.3235 clears today's near-term resistance, and the falling speedline. 
- This scenario opens up the 1.34-1.35 area, where I would look to short the GBP/USD.