My, how the mighty have fallen.
Just a little over a month ago, Smith & Wesson (NASDAQ:SWHC) was enjoying yet another banner election year. With guns in politicians' crosshairs, there was every prospect that panicked gun owners would once again flood into gun stores, with fistfuls of dollars and ready to spend, fearful that a new president would soon try take their guns. Smith & Wesson was riding high in the saddle, until suddenly ...
Pew! Pew! Pew!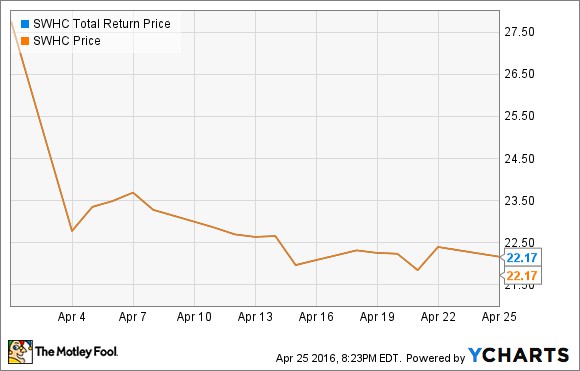 Three analysts took aim and Smith & Wesson stock tumbled to the ground.
What laid Smith & Wesson low?
According to the analysts -- Cowen and Co., CL King, and BB&T Capital -- new data from the FBI's National Instant Criminal Background Check System showed a 13.2% sequential slide in the number of background checks for handgun purchases between February and March. Background checks for would-be long gun purchasers likewise declined -- down 8%.
This set off a panic of another order entirely, and a stampede out of Smith & Wesson stock, driving the stock's price as low as 25% below its March 14 peak. And it raises an intriguing question for value investors:
Is even a 13% decline in gun sales (which the...
More