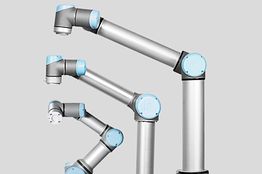 Shares of chip equipment vendor Teradyne (TER) are down $3.29, or 9%, at $33.51, after the company yesterday afternoon beatQ2 expectations and also forecast this quarter higher, but came up short with its "bookings" number for new orders.
Some are digger even deeper: An apparent point of weakness was in the company's "Universal Robots" business, a Danish company Teradyne acquired in June of 2015, for $285 million, whose results came up short relative to expectations. Its products are principally robotic armatures that can be used to automate the inspection of semi wafer surfaces for defects,
The shortfall has depressed shares of equipment peers today, despite an upbeat report yesterday from Lam Research (LRCX).
Lam stock is down $6.75, or 4%, at $161.60, giving up last night's gains. Shares of Applied Materials (AMAT) are down $1.78, or almost 4%, at $45.67, and KLA-Tencor (KLAC) is down $1.56, or 1.6%, at $99.30.
Teradyne's orders in the quarter were $462 million, down from the year-earlier $595 million. The company's "book to bill" ratio slipped to 0.7 from 1.3 a year earlier. More on...
More