It looks like China is not done devaluing the yuan despite reassurances from top officials at the People's Bank of China that last month's currency devaluation is a one-off occurrence.
According to a report from research firm IDEAglobal, China is planning a massive 15-20% devaluation (not a typo) of its currency by year end 2016. IDEAglobal says the information in the report published late Tuesday comes a "reliably-informed Asian source."
China made a move to devalue the renminbi / yuan in August to try to help exports as the Middle Kingdom is trying to deal with a weakening economy and shaky financial markets.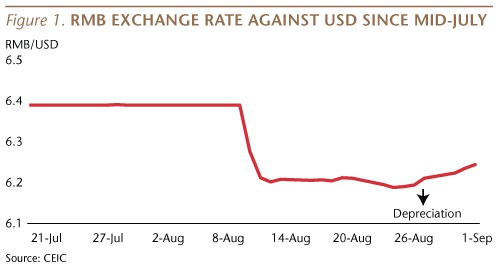 The IDEAglobal source noted: "Having achieved a 3 percent move in a few weeks, they would not want to stop here. Their ultimate target is probably a 15 to 20 percent minimum move in the trade-weighted index."
More on China's plans for yuan devaluation
The report included a question and answer session with the source, who argued Chinese authorities were looking for an additional 6% drop in the yuan by the end of the year and another 10% by year end 2016.
The source argued that the push for a weaker yuan by the PBOC must be viewed in the context of the decline in other Asian currencies such as the Japanese yen that have provided a competitive edge to exporters in...
More