Today Pound rose to four year highs against dollar after the Office for National Statistics released the U.K. unemployment data. The data showed that the unemployment rate in U.K. fell to five year low in three months till February. Comparing December 2013 to February 2014 with the previous three months, the number of people employed increase by 239000 and the number of unemployed people fell by 77000.
The number of people not in the labor force aged from 16 to 64 fell by 86000.

 Yesterday the data showed that the annual rate of consumer inflation in U.K. fell to 1.6% in March and Average earnings in the three months to February grew 1.7% compared to the previous year which indicates that wages are growing faster than prices for the first time after the Financial Crisis in 2008.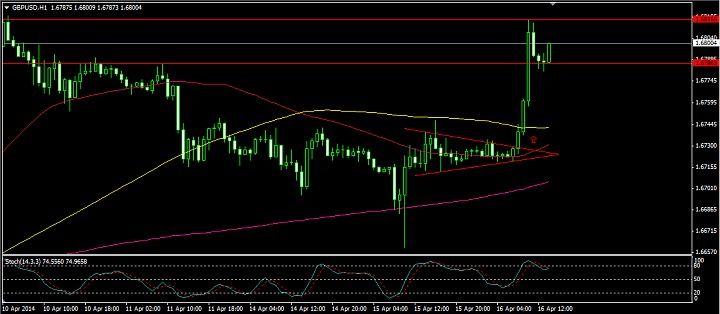 On the hourly chart, GBPUSD was consolidating and preparing itself for the breakout. The pair found resistance at 1.6816 and support at 1.6786 after the surge. The pair is not likely to come below this support level soon. May be the pair is going to move sideways for a while.