On Saturday, we noted with great irony, that just a day after Obama - with great pomp and even more preaching - killed the Keystone XL pipeline, that a freight train with 32 cards, belonging to Warren Buffett's BNSF, had derailed north of Alma, Wisconsin prompting several road closures and a voluntary evacuation of the affected area.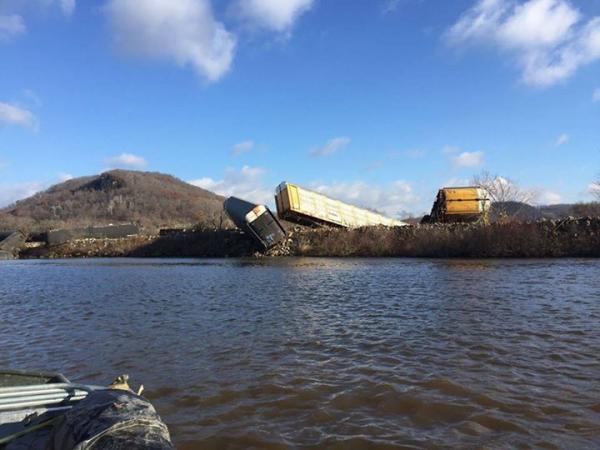 Then on Sunday, barely 24 hours later, in another Wisconsin derailment incident, a train, this time with 100-car, carrying crude oil, derailed near the intersection of S. Montgomery St. and West St. in Watertown on Sunday afternoon. The Mayor said the derailment happened around 2:00 p.m. While this train did not belong to BNSF but to Canadian Pacific Railroad instead, that was hardly comforting to the people.  The spokesperson said 13 cars tipped over, one of which was punctured and oil.
https://twitter.com/hashtag/breaking?src=hash

Another view from News Chopper 12 -

https://twitter.com/hashtag/Watertown?src=hash

train derailment. pic.twitter.com/BWyNclnR3Q

— ChrisGegg (@ChrisGegg)

https://twitter.com/ChrisGegg/status/663475675442057216
And then, moments ago in what we initially thought was a joke, http://www.kcrg.com/subject/news/public-safety/more-than-20-...">KCRG reported that close to two dozen train cars derailed after a crash Monday morning. Lt. Brett Grimshaw of the Des Moines County Sheriff's Office said the crash happened a little after 8 a.m. when a coal train hit a road grader that had been backed up onto the tracks.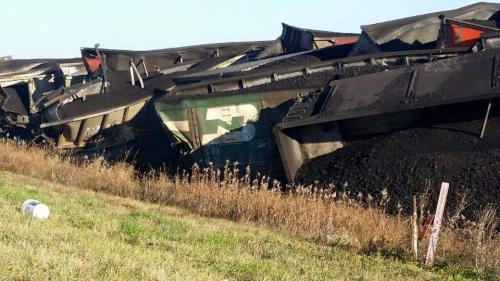 And before you ask, yes, this train, too, belongs to BNSF, which in turn belongs to Warren Buffett,
BNSF railroad spokesman Andy Williams said two locomotives and 21 of the 135 cars being pulled derailed near mile marker 249 of Highway 34, which is between Danville and New London close to the Henry County line.
The grader was backed up onto the rails while doing repairs on Highway 34 and didn't see the train coming, Grimshaw said. The grader's operator was thrown about 40 feet by the impact of the crash and was checked by paramedics. No injuries were reported, Grimshaw said.
Williams said the two tracks at the site are out of service until the spilled coal is removed and any track repairs are finished.
Which reminds of what we said yesterday:
There have been two massive BNSF oil train derailments in the US in the past two months pic.twitter.com/uLUUV2ZCds

— zerohedge (@zerohedge)

https://twitter.com/zerohedge/status/595965664793354241
And now make that 3 in the past 8 months. But at least the environment is safe because Obama finally pulled the plug on the "dangerous" Keystone XL pipeline.
Today, you canm make that 3 oil trains in the past 8 months, and now add one coal train to the mix.