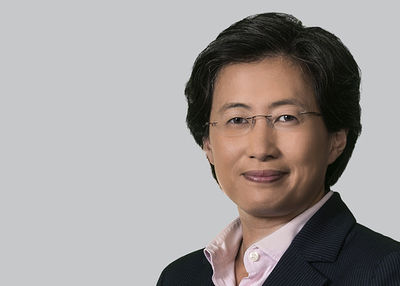 Advanced Micro Devices Inc. is Silicon Valley's cat with nine lives, dodging bullets over the years in the way of product setbacks, corporate restructurings, CEO mishaps and cash crunches.
Recently, with AMD's AMD, +1.03% stock hitting a two-and-a-half year low, some investors might be looking at its potential takeover value, especially after reports of yet another chip merger this week and the potential sale of the once pioneering Fairchild Semiconductor Intl. FCS, +3.12%
But don't expect Chief Executive Lisa Su, who just completed her first year in office, to give M&A rumors much attention. Su has her hands full trying to save the company, and is handcuffed to independence by a deal with rival Intel Corp. INTC, -0.15%
On Thursday, AMD said it signed a joint venture for assembling and testing its products, contracting out more of its costs as part of ongoing cost-cutting. It is already trimming its workforce by another 5% and on Thursday it said it would take another charge for an inventory write-down, further depressing its third-quarter results.The company also told analysts about other ways it is looking to survive the PC industry meltdown, such as potentially licensing out some of its vast 10,000-patent portfolio or even selling some patents outright.
AMD has a lot of valuable intellectual property and talented engineers, and many in Silicon Valley still root for the only serious competitor industry giant Intel has ever had in PCs and servers. Those traits would make it a potentially valuable acquisition target too, but any potential acquisition of the smaller chip company is a tricky proposition. AMD's valuable cross-licensing pact with Intel, which enables it to make x86 chips, is essentially nullified if either company...
More