After a bull run in May to 680, bitcoin has been consolidating. After falling to 538, BTCUSD has been trading in a triangle. A triangle reflects congestion, or increasing indecision. In the 4H chart, the moving averages are clustering together, and price is caught trading between the narrow spaces between the moving averages. Furthermore, July's price action has formed an even smaller triangle within the larger one since June. 
BTCUSD 4H Chart 7/23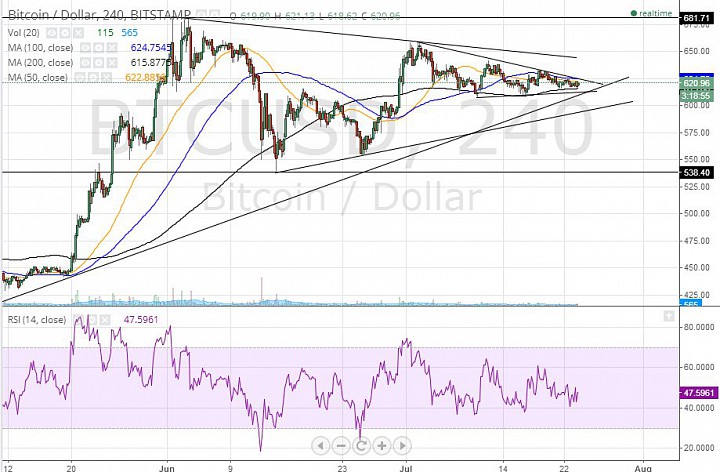 When you look at the 4H chart, you can notice some bullish bias:
1) Price was bullish in May.
2) Price is holding above a rising trendline that connects key support pivots in April and May. From this perspective, you can say that the uptrend since April is still intact.
3) The RSI tagged above 70 in July, and has since held above the 40 level. 

A push above the July triangle should test the June triangle resistance. The upside risk is toward the 680 high, but also toward a 710 resistance pivot.

A break to the downside however will have to a break below 600 to clear all the support factors we see in the 4H chart. That would open up the 538 low, but since May's trend was bullish, our bearish outlook should probably be limited to above this June-low.